Do not disturb is a truly useful service provided by the brand Apple. That's managing all incoming call, Messages, Alerts, and notifications at once during sleep, Meeting, Unknown call automatically after locked. Some custom settings really awesome once set that then we can enable/ Disable whenever we want from shortcut option in control center. Let's get an idea on Enable Do not disturb on iPhone 7, iPhone 7 Plus running on the latest iOS.
Allow calls option in Do not disturb settings very functional. That helps us to stop blacklisted list on Do not disturb mode.
Steps for Disable/ Enable Do not disturb on iPhone 7/ iPhone 7 Plus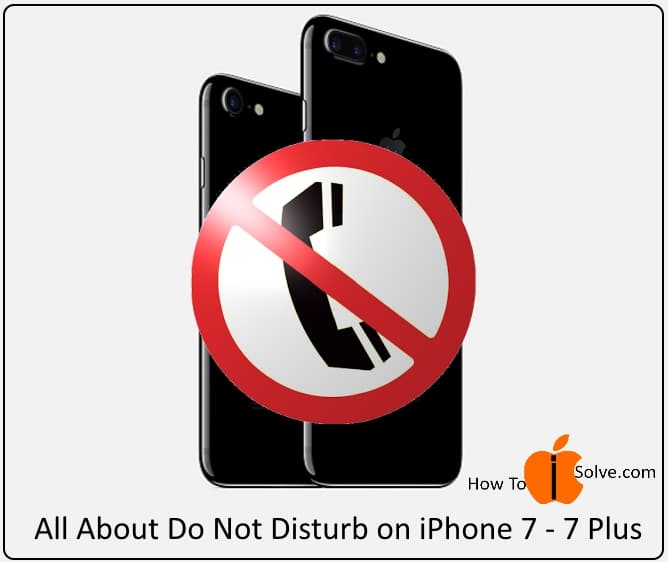 1: Open the Settings app on the iPhone.
2: Next, Find Do Not Disturb, and tap on it.
Manual: By enable this toggle, stop all incoming call, Alerts receiving on the locked screen. Once we enable this, Disable directly from the control center. It doesn't need to go settings app.
Scheduled: Auto enable do not disturb for the scheduled time interval. Make sure about AM or PM.
Allow Calls From Only selected contacts will be added in Do Not Disturb.
Options are Everyone, No One or Only for Favorites contacts in the contact app.
Groups: Existing created groups on the Phone app. Go to the Phone app > Top right corner Groups.
More Create group on iPhone phone app
Repeated Calls: This option for emergency users, someone wants to contact you on anyhow. Within three minutes if you received calls twice then it will be out of the Do not disturb service for your iPhone.
Silence: option for silence calls and notifications always. Or Device is locked.
Above settings are pre-defined, that we can set for all time and Enable it simply put our iOS device in Do not disturb mode.
Swipe up finger on the locked or unlocked screen, Tap on the crescent-moon icon. Turn on Do not disturb will show in top iPhone status bar – See screen below.
Doesn't need to turn off by Enable Do not disturb on iPhone 7/ 7 Plus or Other iPhone model running on the latest iOS. Enjoy and be busy in the restricted or silent zone.
in iOS 12 and later, there is a new customize Control Center available. User can manger
Get instant update or share, like our useful stuff on Facebook, Twitter or Google+.