🗓️
December 8, 2023
By ✍️
Jaysukh patel
iPhone 15 Premium models have a dynamic island and much more mind-blowing features. But a nasty error panic to some customers. here I'm talking about errors in terms of hardware problems related to the iPhone. Anyone had a black screen of death on iPhone 15 (Pro/Pro Max/ Plus) Model yet? Okay, don't need to worry, we'll teach you ideas as with older iPhones.
Doesn't matter if your iPhone is stuck on the Apple logo, Sometimes After Drop/ Fall and Water Damage, unable to activate iPhone 15, iPhone 15 Pro Max has a black screen after iOS 17 update or "Most of the restore or Downgrade iOS time" and more.
Get help for the Below circumstances
iPhone 15 Pro Max screen is black but still works
iPhone 15 Pro screen of Death
My iPhone 15 Screen went black after I dropped it
Water Damage and Dropped [Required Technical Assistant – Apple Technician(Recommended) or Local Technician]
Troubleshooting help on iPhone 15 Black Screen of Death
---
Solution 1: Not Enough Charge
iPhone 15 Pro Max is connected to the charger but not charging iOS 17.2 or later? You have probably damaged the system functioning of the iPhone by using the non-Apple charger. I have also seen people who end up with water damage in the charging port, and it causes unable to charge their iPhones. To verify what the real issue is, borrow one Apple Charger from your neighbor or friend and try to connect to the iPhone.
Look at the indications and check your device is facing what type of problem. Charge At Least 15 to 30 Minutes in the correct way.
[Cross] Battery with Lightning cable on your iPhone Screen, That means Charging Lightning cable is connected but the power source is not started.
[Right Way to Charge] iPhone Screen shows only an Empty red battery while the iPhone is on a charging pad or charging cable. Please put your phone in charging mode in a proper position. The loose cable is also an issue in iPhone won't charge, in case you charging your phone hours of hours.
Trick (A):- Unplug your Phone cable And re-plug the lighting cable to your Phone charging port (tightly).
Trick (B):- Sometimes, some iPhone case cover obstructs contact between the Phone port connection and the Lighting cable pin. If you have installed a phone case? Please Remove the Phone cover. And put your phone into charging mode.
---
Solution 2: Force Reboot Your iPhone
This is the easiest troubleshooting method that has fixed the weird issues of every iPhone user for the first time. So it's time to try your luck and fix iPhone 15 black screen after iOS 17 update. The methods vary as per model to hard restart the iPhone.
For All iPhone 15, 14 Models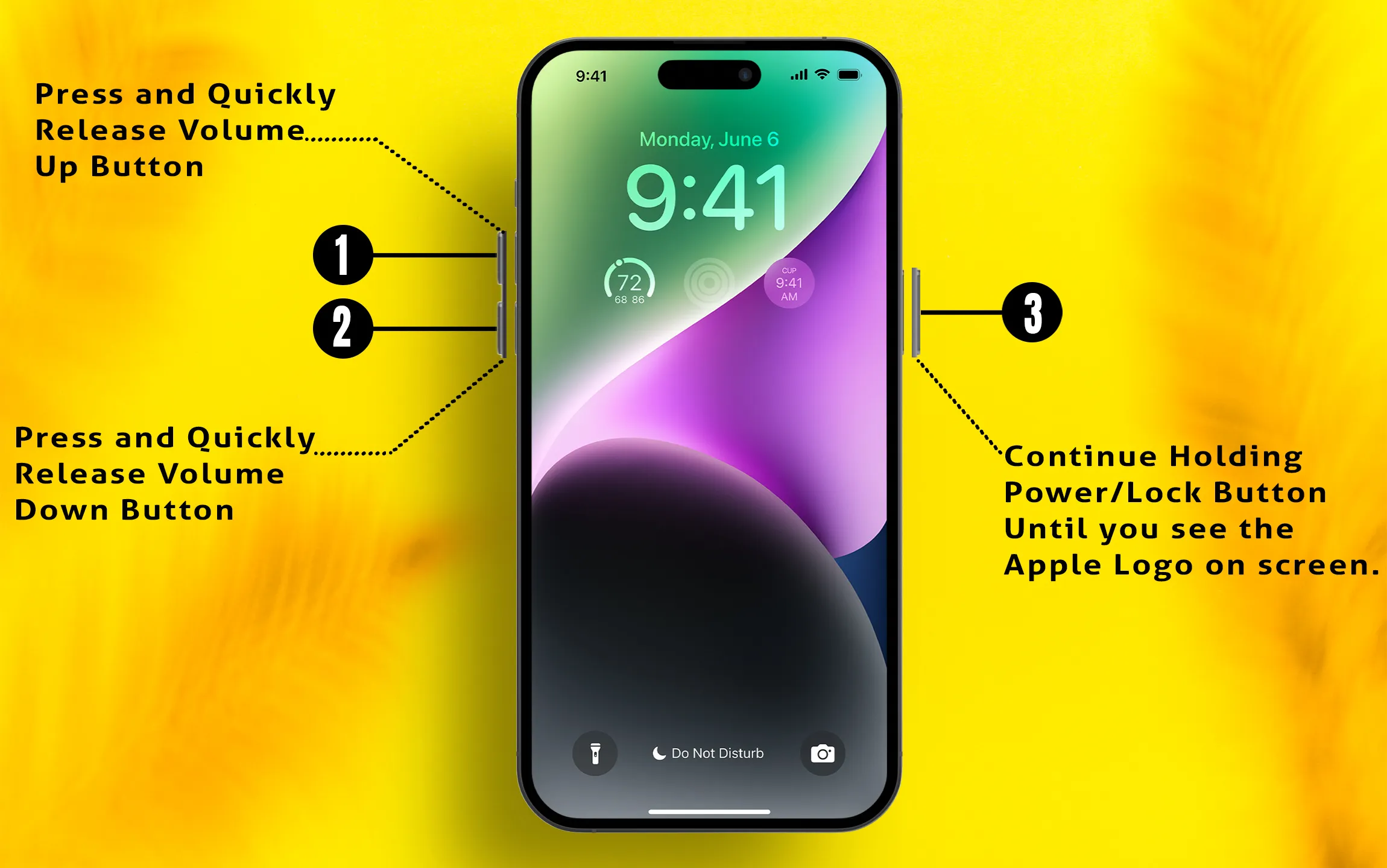 1→ Press and release the Volume Up button.
2→ Press and release the Volume Down key.
3→ Lastly, hold down the power key until you find the Apple logo on the screen.
This is how you can perform a force restart on your iPhone. If you still found the black screen look out for the next solution.
---
Solution 3: Fix iPhone's Black Screen after iOS update with iTunes
If we are talking about using iTunes to fix any issues on the iPhone, then there are only two options are available you can restore the iPhone or Update it to the latest version. With your iPhone 15 Pro Max black screen.
We will restore the device. Please note that you will lose all of your data which is stored in your iPhone once you restore the device.
Note: Restore Your iPhone using Finder on macOS
1→ Connect your iPhone using the lightning cable in the computer.
2→ Now, depending upon your iPhone model, carefully reboot the iPhone.
For iPhone 15, 14 series users;
Press and release the Volume Up button and Volume Down button one by one respectively.
Next, hold the Side button until you see the iTunes screen on iPhone.
When you see "Connect to iTunes" on the iPhone then release the buttons.
Open "iTunes."
Next, you will see a message like "There is a problem with the iPhone "iPhone" that requires it to be updated or Restored".
Go with "Restore," and iTunes will take a few minutes to complete the restoration.
---
Solution 4: Restore using iTunes on iPhone on Black screen
Other web sources on the internet say that you can restore your iPhone into Recovery mode, So First Hard Reboot, then Put it into DFU or recovery mode. But the problem is how can I hard reboot my iPhone after the black screen?
Is it possible to restore iPhone to the Black screen? Yes, follow my steps below.
First Connect your iPhone to iTunes using Lightning cable. Open iTunes on Mac or PC [iPhone should be updated].
Now, press and hold the Power/Side button and Volume down button for 10 seconds. Now release only side button but continuously press and hold on Volume down button. Until you see iTunes popup with the restore option.
"iTunes has detected an iPhone XS Max in recovery mode. You must restore this iPhone before it can be used with iTunes." Click on ok.
And Go with Restore iPhone. iTunes will download the latest firmware to install a New or last version of iOS automatically.
Use iTunes to set up your iPhone to get all the data back on your iPhone.
---
---
Solution 6: Contact the Apple Support
Since you have to read this solution, the above doesn't work out for you. In such a situation, we will consider that the problem might be with the hardware.
Loose contact of the screen, broken screen, or if you have changed the screen from a local shop, so it's time for you to meet the technical team of Apple Support.