Usually, we always get the Google's YouTube app update and it bug fixes or added a little new feature in its app. But there is no element to playing music or video on iPhone, iPad background or with turn the screen off/lock screen or while you use other apps. Since you might be looking for to listen to YouTube audio, Playlist or Play YouTube Videos in the background on iPhone and iPad or iPod, okay let's follow my post carefully. We will show you here an ideal way to playing YouTube in a background on iPhone and iPad running iOS 9, iOS 10 and iOS 11.x or later.
Not required any particular app to follow given method but just you need latest Safari browser. If you have upgraded safari app, then that's it. Apply this workaround on running iOS 9/ iOS 10/ iOS 11 iPhone (iPhone 8, iPhone 7/7 Plus, iPhone 6S/6, 6S/6 Plus/ iPhone 5S/5), iPad Air, iPad Mini, iPad Pro and enjoy YouTube in the background on your smartphone.
Guide to Play YouTube Videos in background on iPhone, iPad: iOS 11/ iOS 10/ iOS 9
YouTube Video in Background play means you want to listen to music on your iPhone, iPad or iPod Touch Speaker. Follow the tricks below, (We can't play YouTube App Background on iDevice), On Locked Screen YouTube App automatically stop to play Video or Audio. Also, doesn't payback YT Audio.
Step #1. Launch the Safari browser, default browser of iPhone, iPad
Step #2. Now tap on search/address bar and enter Youtube.com
Step #3. Tap on magnifying glass icon and search item that you want to play.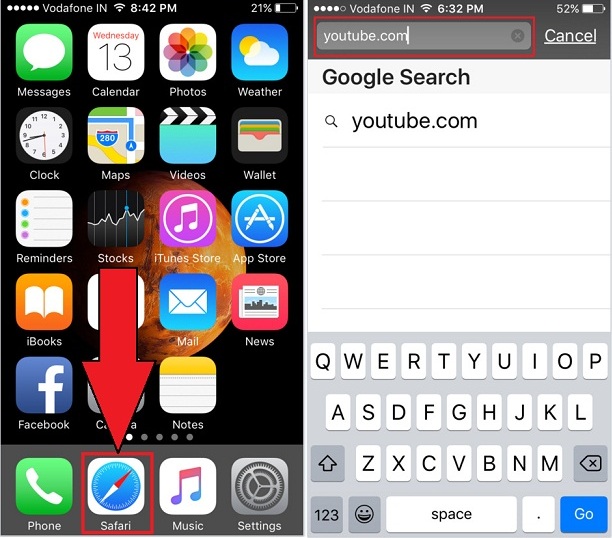 Step 4. Let's starts playing a video and turn your screen lock.
Through that, your YouTube music/video will be paused automatically so go on next step.
Step 5. Now again turn the screen on and Swipe up the iPhone screen to launch Control center.
Now tap on Play icon, appear above AirDrop,
iOS 11 control center UI changed (See Screen below for iOS 10/9/8), But for access YouTube player control in iOS 11, Swiping up a finger in the display, Tap & Hold on Music Widget for popping up full-screen Music Player.
You're done!
Hope, you can now launch another app, such as Messages, Instagram, Whatsapp, Facebook or Mail and keep listening while using that app.
You can also add YouTube browser page on your iPhone/ iPad Home screen, just follow below steps.
Make your YouTube Video Shortcut on Home page
This is a great Features for Safari app, Any web page we can set on iPhone/ iPad or iPod Touch home screen in the same way.
Launch YouTube on Safari > Tap on share icon> navigate Add to Home screen > Tap on Add.
That's it.
Let's share your feedback as a caption in the comments. And tell us how's feeling to Play YouTube videos in the background on iPhone, iPad.