Last Updated on Apr 10, 2023
Ways to block websites on iPhone safari running on the latest iOS and iPadOS, Apple gives a stunning option for filtering out targeted/ Selected website URLs or immature words on your iPhone, iPad, and iPod touch. In this process, you don't have to spend a penny and install a third-party app on your iOS device. This is the best parental control on your child's iPhone and iPad, like monitor your child's iMessage, Call, and more.
Here you have two different options about search in Google search results through the safari browser. No other third-party browser can work as Safari. And very secure so that no one can change it without a Passcode and permission.
Different Ways to Block Websites on Apple Devices

Steps for blocking or disabling selected website URLs from access on the iPhone Safari browser.
Open the Settings app on your iPhone. Next, Find and Tap on the Screen Time option. Now, Scroll to the Content & Privacy Restrictions option.
Next, Tap on the Content Restrictions option.
Then, Scroll to the Option, Web Content, and Tap on it.
Unrestricted Access

: No Any Restrictions on open and Visit Any website fron internet on Safari Browser.

Limit Adult Websites

: Limit access to many adult websites automatically. Specific allowed and restricted websites can be added below. add it manually in allows and never allows website URLs.
Allowed Websites Only

: Allow Access only to the websites below, add a new website from last add-website option. That's it.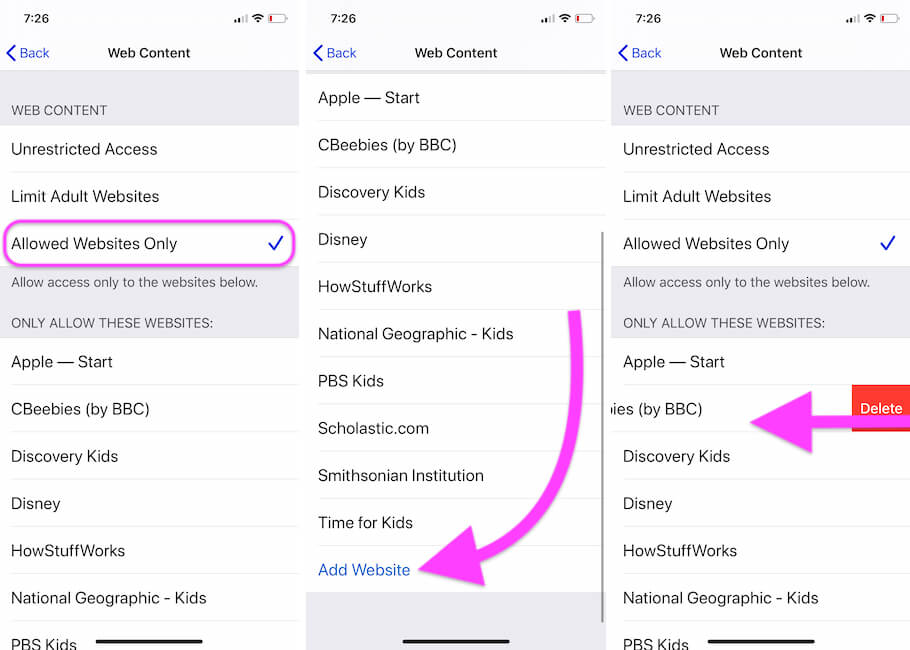 Use any of the options for restrict website access on safari iPhone, iPad browser.
Older iOS version users can find Restrictions settings using the below steps.
iPhone parental control apps also manage the Safari Web content while your kids visit the website. We can allow permission to the Third-Party app under the Safari settings on iPhone.
Go to the 

Settings

app on iPhone

Scroll to Safari

Content Blocker

Enable the App that manages your Kids activity

.
See my screen,
Block or stop immature words and Websites from a search result
Apple gives an option to set safari default search engine what the user wants, But restriction about blocking website and words works for all search engines that you had set.
To apply website restriction automatically, Go to the Setting > General > Restriction > Websites > Specific Websites only.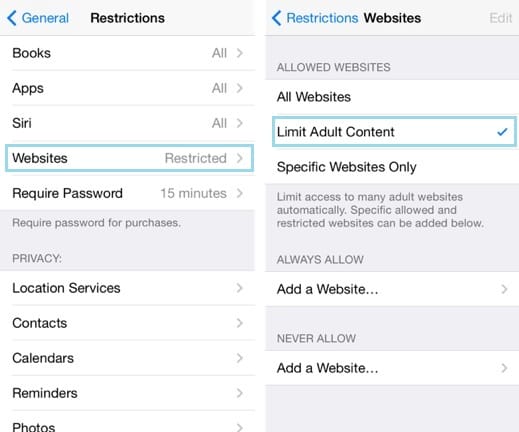 Note: in adding a website, you need a passcode. Without a passcode, you never change (Add or remove blocked URL). Due to security reasons, this is the best way to block websites on iPhones.
I hope you enjoyed these tricks a lot! Thanks for Visiting and Commenting.