🗓️
May 29, 2023
By ✍️
Jaysukh patel
Gets important information from your WatchFace At a glance using the Siri Watch Face. This Watch Face includes 14 different sources and reports in Card that we can swipe or rotate using the digital crown button or use Touch Gesture. Sources and Widgets are Days, Breath Control, Weather Temperature, Activity Ring, News Content, Home app, Alarm and more
The all-new watchOS is enriched with advanced technology, and now it will also be compatible with third-party applications. The Apple Watch Siri face operates on machine learning to separate the contents. From now onwards it will suggest the shortcuts and contents, and everything is decided by what you are doing.
For instance, after leaving the office, you daily play the Home Playlist and visit the store. Then the Apple watch Siri face feature will suggest you for shopping. Besides, it will notify you when there is the situation on the road like traffic. After adding third-party support in Apple Watch Siri Face will personalize your experience and all that apps will play cool with Siri face
Setup and Add New Siri Face on Apple Watch: WatchOS
Step 1: Launch "Watch" app on your iPhone.
Step 2: Tap "Face Gallery" on the bottom of that app.
Step 3: Search "Siri face" and tap to open it.
Step 4: Now below the "Description" you will find two different colors, choose one from them.
Step 5: Again select from "Top Right" and "Top Left" complications.
Step 6: Tap "Add" to activate Siri face.
Step 7: Head back to "My Watch" panel.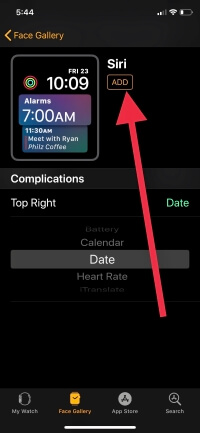 Step 8: Below "My Faces", tap on the recently created face.
Step 9: Next, locate "Data Sources" and de-select the applications that you don't want to use. By default, each application is selected.
Step 10: Did you see "Favourite Teams", under "Sports" category. If you want to use this feature, then open "iOS TV" application and choose sports teams you like the most. This action will show sports team on Siri face.
Step 11: Lastly, you will see third-party apps, tap on "Set as current Watch Face" to enable this feature.
---
Customize Siri Face on Apple Watch:
Once you "add Watch Face" on apple watch from your iPhone watch app.
Tap and Hold on Face, until you see "Customize" button on the screen.
Now Slide left to highlight custom sources that you can change using Digital Crown button on apple watch. To save or make changes press Digital crown button 2 times.
Now, your Apple Watch is ready with Siri face to use. Enjoy! Hope you guys you found the amazing guide here. Let's discuss more Siri face on Comment below.