🗓️
September 20, 2023
By ✍️
Jaysukh patel
Snapchat is one of the most popular messaging apps forever to use from any smart device. Excellent user experience with easy to share a photo with your Friends and Family. But of some critical problems or Account cheat problems may be the result of deleting your account permanently. Here is the guide on how to eliminate Snapchat accounts forever on iPhone/ iPad. It would be recoverable if you deleted it accidentally or by others before 30 days. Follow the easy steps for deleting accounts from your side, at least.
If you delete the account due to other reasons, like Removing the login session from App, Password is different. Then you have options to Sign out and change your password from app settings.
Steps for Delete Snapchat Account Permanently on iPhone
The below guides are also helpful for an iOS device (iPhone/ iPad/ iPod Touch) and in Windows PC or Mac Browser.
1: Go to the Snapchat account delete page.
2: Log in with the Snapchat username and password.
3: Once you log in successfully you can see the Lines of the yellow button in the row. The last option is to Delete My Account.
To send an Account Delete request, you need to re-submit your login details to Snapchat.
After this time no one can see your profile, Photo in search or list in your connected friends.
4: Account Deactivated message will appear on the screen.
Here you can see, within 30 days, you can recover the account back or Reactivate. After 30 days, it's not possible. For confirmation, you will get notification mail to your registered email ID.
To reactivate the same account, re-login the account as usual.
To log out or change a password, open the Snapchat app on iPhone/ iPad. Then, scroll down the screen with your finger; tap on setting gear at the top right corner of the screen.
Scroll down to below; The last option is Logout. And Under My Account section > Password.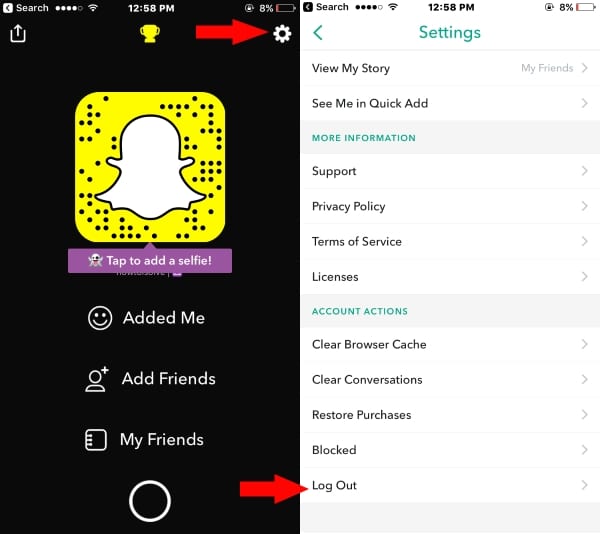 Can You Temporarily Disable Snapchat?
Yes, you can temporarily disable a Snapchat account if you want to take a break from it. However, you can deactivate your Snapchat account for 30 days. Meanwhile, your Snapchat friends would not be able to contact you in any way while the account is deactivated. To restore the deactivated Snapchat account, log in to Snapchat.
How Long Will My Snapchat be Temporarily Locked?
If the Snapchat account has been temporarily locked, message pop-ups on your phone, kindly wait for 24 hours of being closed, and then try to log in.
Make sure to uninstall the plugins, apps, sending spam, or any other third-party application that you are using to access Snapchat services; otherwise, your account might be permanently locked by Snapchat itself.
Can Snapchat Permanently Lock Your Account?
Snapchat can permanently lock your account only if,
Use of third-party applications to send spam, tweaks, or any plugin to quickly access the Snapchat services.
All of a sudden adding too many friends on Snapchat without verifying the account email/mobile number.
Sending spam messages, abusive content, illegal activities, etc, therefore if you are doing anything including this, stop, before Snapchat permanently blocks your account.
Get More: Tip to Delete Facebook Account Permanently on iOS
Will I Lose My Streaks if My Snapchat is Locked?
It is compulsory to send a snap to your friends to maintain streaks within 24 hours of sending the last picture. So, it is evident that if your account has been locked for some reason, unfortunately, all the streaks will be gone if you haven't sent them to snap, just like I said, within 24 hours of the last snap.
What Happens when You Delete Snapchat account
Generally, before deleting a snap account, you should read information like what happens when you delete a snapchat account. What do you lose in your life after you have taken up that big step? Read here.
How Long does Snapchat disable your account for?
If Snapchat has temporarily locked your account, then for 24 hours, your Snapchat account will be locked. So make sure to access the Snapchat account only after 24 hours of being temporarily locked.
What happens if Snapchat Locks your account?
You cannot access your account, can't send snaps, can't maintain streaks, and total control over your Snapchat account will be lost unless the Snapchat account is restored.
That's it. Any confusion on the above steps to permanently remove/ Delete the Snapchat account on iPhone/ iPad, then share with us.