Are you exploring the way to delete your Facebook account permanently? Let's we showing you here the way to deactivate Facebook account on iPhone, iPad temporary and guide to delete Facebook account permanently.
We don't know that why you wanted to delete FB account. I Guess, there are many reasons behind like you've already on another Facebook account, feeling FB Account hacked, spend too much time on Facebook, get too many emails/invitations and requests from Facebook, don't find Facebook useful, don't understand Facebook, have a privacy concern, don't feel safe on Facebook and maybe your cause whatever.
we are happy to help you, submit this Form, if your solution is not covered in this article.
Following outlined Steps through you can do deactivate Facebook account on iPhone, iPad. This is an ideal way to Remove facebook profile or Leave facebook from iPhone using iOS 10 devices. Special for iPhone X, iPhone 8, iPhone 8 Plus, iPhone 7, iPhone 7 Plus, iPhone 6S and earlier handsets, iPad Air, iPad Mini, iPad pro.
Steps with pictures to deactivate Facebook account on iPhone, iPad: iOS 10/ iOS 11 or later
Deactivate Facebook account means you can be reversed by only signing into an app or browser again. This is a very useful option to stay away sometimes from Facebook.
Make sure your Facebook app is installed with the latest version facebook app on iPhone from the app store.
#1. Open your iPhone/ iPad lock screen and Launch Facebook app.
#2. Tap on More tab [you can see at bottom-right side navigation]
#3. You'll get an action sheet, select Settings > Account Settings.
#4. Tap on General [see at top in list]
Next, See Below Manage Account option.
#5. Tap on Deactivate button under the Account option,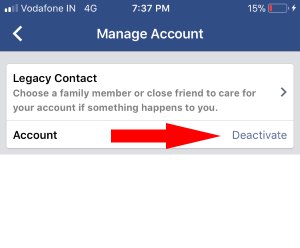 #6. You'll be asked re-enter your password and click on Continue. Now make confirm to deactivate your Facebook account.
That's it. Hope you'd like a great way to delete or to deactivate Facebook account on iPhone, iPad.
Learn how to delete Facebook account permanently
1. Log in into your Facebook account in any web browser
2. Open this https://www.facebook.com/help/delete_account in any web browser
Step 3. Tap or Click on Delete My Account
That's it. Now Facebook has set 14 days scheduled to delete your account. In this period you can be back thorough login your account again and will automatically cancel the deletion.
Note: For correct deletion, you must need to sign out of an iPhone or iPad apps linked to your FB account.
You might like: Use Two Facebook account on iPhone.
This will take action on Facebook Database not only for the device. To remove from the device only you need to sign out facebook account from the app.
Jaysukh Patel is the founder of howtoisolve. Also self Professional Developer, Techno lover mainly for iPhone, iPad, iPod Touch and iOS, Jaysukh is one of responsible person in his family.
Contact On: [email protected] [OR] [email protected]