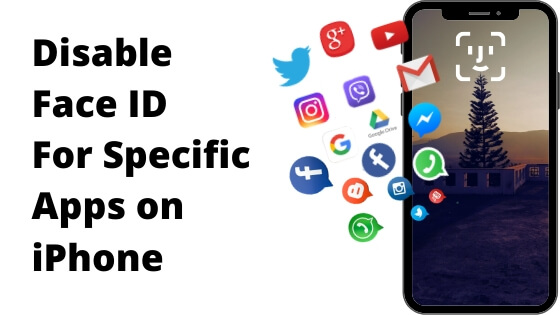 Last Updated on Oct 21, 2020
Apple's iPhone X was the turning point for Apple, the way we were using iPhone before iPhone X, without Top-Notch display, TrueDepth Camera, Face ID, etc. But now, we have a series of options to choose from, with the same but more advanced hardware and software features. Talking about the hardware improvements, the iPhone X or later series uses the TrueDepth camera for Face ID, and genuinely the new invention of Apple is succeeded. You can lock/unlock any app that supports Face ID, on iPhone X, say the Biometrics are fully customizable. If you don't want to use Face ID, then disable it or limit it to specific apps.
we are happy to help you, submit this Form, if your solution is not covered in this article.
Due to some or other reasons, if you want to disable Face ID for specific apps on iPhone, here's the quick guide. However, the Face ID is a great option to quickly access the banking apps, or these days nothing is more crucial than our social media apps. Once the Face ID is disabled, there will be no security to that app, neither Face ID nor Passcode. That app can be accessed by anyone without any need for Biometrics.
Disable Face ID For Specific Apps on iPhone
Open the Settings app on your iPhone > Scroll & Tap on Face ID & Passcode.
To Verify Your identity, Enter the iPhone's Passcode. Go to the last option, Other Apps under USE FACE ID FOR.
The very next screen will show the apps that you want to lock/unlock with Face ID.
Toggle Off the app for which you want to disable Face ID.
Close the app.
That's it! if you are looking for the solution of Download Free app from the app store without Face ID or Apple ID password.
Disable Password for Download Free Apps from App Store
Open the Settings app on your iPhone > Scroll & Tap on Face ID & Passcode.
To verify your identity, enter the iPhone's passcode.
Disable Face ID for iTunes & App Store.

Now, Go back and Disable the Password Required for Download free app from the app store.
Open Settings app on iPhone > iTunes & App Store.
Next, Tap on Password Settings > Under Free Download section, Turn off Require Password toggle.
That's it.
Certainly, not all the apps support PIN unless it is Banking App or some private app, so if the app doesn't have inbuilt PIN support, then there is no way to add the only a password to the app, for instance, WhatsApp, Facebook, etc.
Premium Support is Free Now
We are happy to help you! Follow the next Step if Your Solution is not in this article, Submit this form without Sign Up, We will revert back to you via Personal Mail. In Form, Please Use the Description field to Mention our reference Webpage URL which you visited and Describe your problem in detail if possible. We covered your iPhone 12, iPhone 12 Pro, iPhone 12 Mini, iPhone 12 Pro Max, iPhone 11 Pro, iPhone 11 Pro Max, iPhone 11, iPhone 8(Plus), iPhone 7(Plus), iPhone 6S(Plus), iPhone 6(Plus), iPhone SE, SE 2(2020), iPhone 5S, iPhone 5, iPad All Generation, iPad Pro All Models, MacOS Catalina or Earlier MacOS for iMac, Mac Mini, MacBook Pro, WatchOS 6 & Earlier on Apple Watch 6/5/4/3/2/1, Apple TV. You can also mention iOS/iPadOS/MacOS. To be Continued...
What do you think, will this help? Since removing Face ID from the apps, directly eliminates your control and privacy from that app. Besides, there is no way to add new Face ID by wearing Mask, as the iPhone will say "Try removing anything that may be covering your face".