Last Updated on Dec 20, 2022
This tutorial is all about how to Leave Facebook Group on iPhone, Android, and Desktop. From now on, every Facebook group will be filled with aggressive comments and arguing about whatever they have posted. Is that the same with you; Too Many Notifications, Fight In Comments, Baseless Talking? Unfortunately, this doesn't end here; when someone in the Group asks for a company recommendation, the GROUP CHAT GETS FILLED WITH TAGS!
However, there are various reasons for leaving FaceBook Groups. That's the reason many of the users are in favor of leaving Groups on FaceBook. If you have made up your mind, we will walk you through steps to leave Group on FaceBook, Android, iPhone, and Desktop here in the blog.
How to Leave Group on Facebook on iPhone, Android, PC 
What Happens When You Leave A Facebook Group?
There will be no notification to group participants when you leave the group. The group will remove from your group; similarly, your name will not appear in the group member list. You will no longer receive the annoying notification from group. People must familiarize themselves with the post they have seen before leaving the group.
Do Group Members Get Notifications?
When one of the members leaves the Facebook group, none of the participant or group participants receive a notification. By choice, the member can leave a comment or chat in the group. They can only know by sorting your name from the group participant list.
Will Your Participation In A Group Be Erased?
You will not be allowed to participate in private group activities. Plus, there is no way to delete or edit all the previous posts. So in case you want to delete a post, do it before leaving the Facebook group.
How to Leave Facebook Group on iPhone, iPad
This is the complete tutorial for leaving Group on Facebook on iPhone. Do it!
1→ Open Facebook App
2→ Click on Menu appears on the right-lower on the screen.
3→ Tap Groups
4→ Click on Your Groups Tab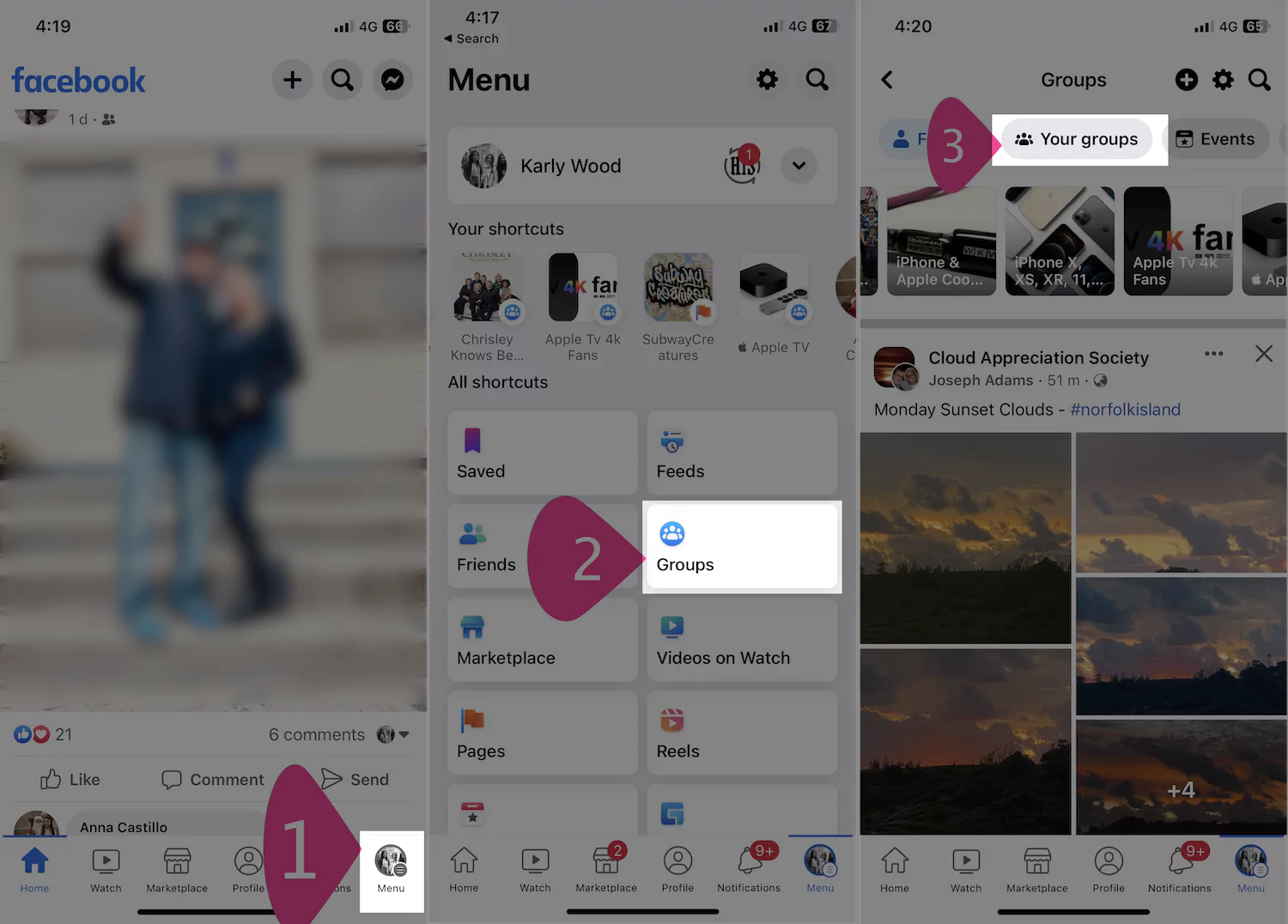 5→ Now scroll the screen, find and tap on a group that you want to quit.
For example, I'm tapping on Cooking and Entertainment
6→ So I'm open to a Group's Profile page
7→ Now click on Joined button
8→ so a little pop-up will come with three options, please Select leave Group
9→ A final confirmation pop-up will ask you, leave Group? Do you want to leave Cooking and Enternimanet?
Choose Leave Group

You'll automatically be removed from that particular Facebook group.
Note: If you face any trouble on how to leave Facebook on Android and Desktop, then prefer the above pictures. The procedure is almost the same for all devices.
How to Leave Group on Facebook on Android
If you have an Android smartphone and want to leave the Facebook group, then follow the guide stepwise and Leave Group on Facebook on your Android Phone.
1→ Launch the "Facebook" app on your iPhone.
2→ Log in to your Facebook account; (ignore is already logged in)
3→ Choose More option, indicated by three horizontal lines appearing on the right-upper side corner on the screen.
4→ There, you will find Groups in the list.
5→ Click on Your Groups Tab
6→ Scroll the screen; find and tap on a Group you want to leave.
7→ So your phone screen will let you Group's Profile page.
8→ Now click on Joined button
9→ Lastly, Select Leave Group
10→ Confirm, Leave Group.
How to Leave Group on Facebook on Desktop
However, if you are using a Desktop to run Facebook, then follow these steps and leave Facebook Group on the desktop.
#1: Visit Facebook on any of your desktop browsers.
#2: Enter your Email ID and Password to log in.
#3: After that, on the left pane, you will see multiple options, which also include "Groups" under the Explore section.
#4: Again on the left panel, the group of the list will appear in which you are a participant.
#5: Click See More".
#6: Click on the Group that you want to leave.
#7: Below the Group Picture, you will find a small tab, "Joined."
#8: Click on "Joined."
#9: Select "Leave Group."
#10: Lastly, you will be asked to confirm, so click on Leave Group.
How To Rejoin A Facebook Group After Leaving (Mobile & Desktop)
Accidentally leave the group on Facebook? Or want to rejoin it after intentionally leaving. Here is how you can do so. But remember that not all groups will allow you to join the group once you leave.
Re-join Facebook Group On Mobile
Head to a Facebook app on your Mobile. Select Three-Lines(Menu) in the bottom right corner of the display.
Select Groups.
Search and select the group you are willing to rejoin. For more convenience, you can search it by entering the name in the Search Bar.
From the results, click on the group.
Within the group profile, click on the Join Group Button.
Re-join Facebook Group On Desktop
Go to Facebook Website. Log in using the Facebook credentials.
Hover the mouse and select Groups from the left sidebar.
Search for the group in the search bar and select it.
Click on Join Group on the right-hand sidebar.
However, in some cases, after selecting Join Group Button, you will receive Pending. To join the group, your request needs to be accepted by the Group Administrator. So wait until the administrator agrees with the request.
FAQ:
How Do I Remove Myself From A Facebook Group on iPhone?
Want to get rid of annoying FaceBook groups on iPhone; navigate to FaceBook App. From there, select the Menu that Appears in the Lower Right Corner. Next, hit on Groups, and next, tap on Your Groups. Now, search and select the Group you want to leave, and then select Joined Dropdown. Lastly, tap Leave Group.
How Do I Remove Myself From A Group On Facebook Mobile?
Have you joined the wrong Group on FaceBook Mobile and now decided to leave it? If yes, open the FaceBook App and select More Option on the upper right. And then, choose Groups > Your Groups tab. Next, search and select the Group you want to exit. Then, from the Group Profile Page, select Joined button. At last, hit Leave Group. For further confirmation, choose Leave Group.
Why Can't Leave A Group On Facebook?
Most users encounter such a situation due to the wrong method to leave the FaceBook Group. To verify that your steps are correct, go through our article.
How Do I Unfollow A Group On Facebook 2023?
The procedure to unfollow the Group is relatively easy to compile. Suppose you aren't yet familiar with how to unfollow a FaceBook group. Fret not; Head to Facebook and select More Option. And then Choose Groups > Your Groups. Next, select the one you want to leave. From the Group Profile, select Joined Button. Lastly, hit Unfollow Group.
Is Unfollowing A Group The Same As Leaving In Facebook?
No, unfollowing and leaving the Group is different. By unfollowing, you will be unable to receive the New Feed. And by leaving the Group, you won't be allowed to rejoin the Group once again.