🗓️
September 24, 2021
By ✍️
Jaysukh patel
I'm always eager to serve something latest to my readers. Today, in this post, you can teach, how to send money via iMessage (Send money through text) in iOS 11 and above and Receive instantly in Apple Pay Cash on Other iOS Devices. Apple is a strong emphasis on its #1 contactless payment service Apple Pay. In iOS 11, Apple pay is going to be expanding with one new feature called Apple Pay Cash. This new feature user can access through iMessage App. Therefore, for now, Apple's US users have a new integrated option to send and receive money via iMessage on iPhone running iOS 11 and later. The Company claims that the peer-to-peer (P2P) money transfer to someone (friends and family) is standard, time-saving, and secure authentication with Touch ID.
In iOS 10, I used none-Apple Circle Pay to send and receive dollars through iMessage to my childhood friend. However, luckily iOS 11 has a built-in and native feature to transfer funds. Send and receive money is very comfortable with Apple Pay cash. Nevertheless, the chief problem is that group payment is not available.
Before going to read send and receive Apple Pay Cash, you should know the fees per iMessage transaction. Apple Pay cash and The bank Debit card transaction is free of cost, and Credit card transaction takes 3% to send money via iMessage. So are you exploring a clear concept to send and receive person to person payment via iMessage? Get below all possible ways. Apple Pay cash card balance should be a minimum of $10 and Max $3000. Transfer money to Bank account Min $1 and max $3000.
How to Send Money via iMessage on iPhone and Apple Watch
To send money through iMessage, you must be set up Apple Pay on your iPhone. All valid credit cards and debit cards added into the Wallet app that you could access in iMessage App. You can send money in two ways using Siri and via iMessage. You should also have a Touch ID supported device.
iMessage Apple pay Cash Supported Devices
iPhone SE, iPhone 6, 6 Plus, iPhone 6S/6S Plus, iPhone 7/ 7 Plus, iPhone 8/8 Plus, iPhone X, iPhone XS Max, iPhone XS, iPhone XR, iPhone 11(Pro Max) or Newer Models, iPad Pro, iPad 5th generation, iPad Air 2, iPad Mini 3 and later and Apple Watch.
On iPhone 5S- iOS 11 Apple Pay iMessage not supported. So apparently iPhone 5S users are feeling Apple Pay Cash Missing in iMessage App drawer.
Setup card on file for sending money with Apple Pay iMessage
Enable "Apple pay Cash": You need to set up an Apple pay card that's a verification process, Identity (you are 18 years old and in the US), SSN. Fist add a credit card or Debit card on iPhone,
Go to the Settings app on iPhone > Wallet & Apple pay > Enable Apple Pay Cash toggle. And Add a new Card on iPhone.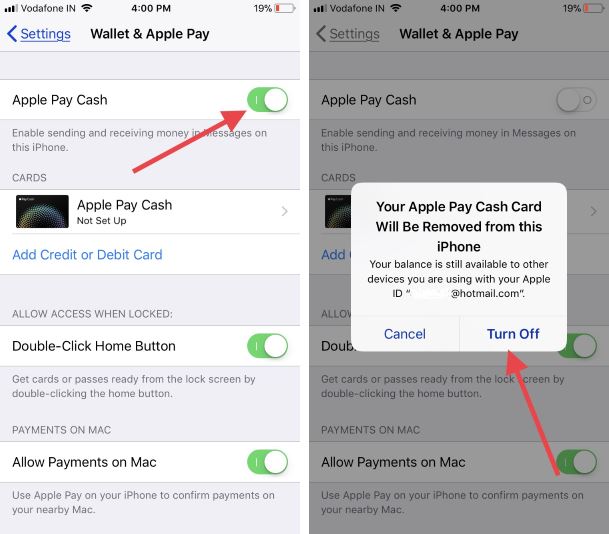 Otherwise, you need to enter the card while you send the Apple Pay case using iMessage from the iMessage app drawer.
Also, you can access card and Wallet on lock screen on iPhone (Double tap on side button on iPhone has no home button or Double tap on the home button on iPhone 8/8 Plus and other supported iDevices)
Start Money send via iMessage to Friends from Apple pay Cash
Step #1. Launch Message App from your iPhone home screen.
Step #2. Open a contact conversation (blue color bubble/ not green) that you want to pay.
Step #3. Next, open up Apple Pay app from the bottom on-screen Apps drawer of the iMessage App.
Step #4. Now enter the amounts by tapping on "+" to send your girlfriend, boyfriend or any Apple pay users friend to Pay.
Step #5. Now you can be appearing a link to make the payment in your iMessage windows. You will have to select a card and then hit the send button and use Touch ID to approve the transaction.
All transactions made by Apple Pay cash are to be encrypted.
Do you want to get money from your iOS-toting friend? Then you will have to request them to send money from his/her side. This method will help you to get money whenever you are so far away from your hometown or to purchase any items in an emergency.
Send and Receive Money on Apple Watch Via iMessage
Open Messages app on Apple Watch, Tap on conversation and Scroll Down "Apple Pay", Enter Amount and Change it using Digital Crown. Now Tap on "Pay" and Validate using Double Tap on Side button of Apple Watch, See the image below,
It's Done. Apple Pay Cash using Apple Watch.
Send-Receive Apple Pay Case Via iMessage in iOS 11 at a Glance, Video Tutorial.
Send money to contacts with Apple Pay using Siri and through iMessage App or Contact App
Use Apple Pay to Send Money to friends using integrated with brand's virtual assistance Siri's new machine learning technology. You can send money just double press home button to wake up Siri and ask to send money to your friend. It offers suggested some dollars send based on the chatting conversion has within the message.
Send Money Via iMessage Using Siri Command:
"Apple Pay 25 dollars to Jane for Gif.t"
"Send 25 dollars to And.y"
Send Money From Contacts!
Open Contact app on iPhone, Search and Find Contact on that you want send money.
Tap on "$" icon near to the Mail icon.
You're done!
Apply pay problems and issues on Send & Receive money
Check the internet or Cellular connectivity
Cannot receive payments send with apple pay at this time. Both Devices updated with iOS 11.1 beta 1 or iOS 11.1 later (Apple pay version – Apple didn't add apple pay on new iOS 11 release)
Close Message app or Force Close [Stuck iPhone Screen]
Apple's digital Debit card called Apple Pay Cash, using card people to take the money from their friends/ family members via the new money transfer service. The people can make the purchase in-app, Web shopping/ services or at the physical store that accepts tap-and-pay transactions or it can be to the users like to the bank account.
Apple's virtual card Apple Pay Cash is made up of prepaid payment company Green Dot. The Company hopefully claim its money Apple Pay Cash sending-receiving feature will become a real competitor against exist third-party digital money transfer services PayPal, PayPal owned Vinmo, square cash, and other traditional bank services. Even though, this impressive and easy to use the feature just limited to the iPhone, iPad, and Apple Watch users.
It will be good for the roommate, the group of friends to sharing costs like from Splitting Bill to sharing rent.
The company's brand new Apple Pay Cash Card will become a great service booster of Apple's business product ''Apple Pay''. The reason for the many of the younger customers who don't have own debit or credit cards.
Try this solution to fight over the send money iMessage not working problems
Unfortunately, still person-to-person fund transfer digital payment service through iMessage app is only available in the United States. We hope the company will be offer currency exchange functions in the developed countries too, like the UK, Australia, after the well-performed in America.
Sometimes service may delay or you unable to send or request money using Apple Pay cash via iMessage. Because of probably Apple's Apple Pay service could be down. So that time, you should wait for a while and try again. if any other issue related iMessage then read this source iMessage not working iOS
iMessage Apple Pay Not Working
Apple Pay in iMessage ( ''iPhone Send money through text'' feature is currently unavailable. It will coming in Fall 2017. Stay tuned with us to get more update on it.) in the USA, But other countries it may be available soon – Canada, EU and Other…. Apple pay cash and iCloud Message Sync Won't Arrive after iOS Update. And will be available for the next update.
If you have any problems sending and Receive Money Using Apple Pay cash through iMessage? Please leave your feedback in the comments.