🗓️
August 24, 2023
By ✍️
Jaysukh patel
with iOS 7 apple added new features for easy to share files between two apple Devices. So here you can get the whole idea about how to share file iPhone to iPhone, iPhone to iPad and iPhone to Mac and alternatively. in instant way your can transfer/ Copy file between two iDevice only through AirDrop features works on apple ID. Before enabled this features you have to know about some basic prerequisite conditions.
Compatible Devices: Your iDevice (iPhone 4S, iPhone 5S, iPhone 6 or 6S, iPad and iPod Touch) running on iOS 7 minimum OS version.
AirDrop Conditions:
To enabled AirDrop on device, Your Device automatically turned on Bluetooth or Wi-Fi (Both device Under the same networks).
Note: You can't share or move not Apple Music songs on Airdrop. but share all types of Pictures from camera albums.
How to share file iPhone to iPhone or iPhone to iPad: iOS 9, iOS 8
Turn on AirDrop on iPhone, iPad or iPod Touch
Go to the control center by swipe up on iPhone home screen or Lock screen (If enabled Setting > Control Center > Enabled).
Useful: You can't able to use AirDrop on iOS device.
on control center you will found round cut icon with named AirDrop. Tap on it. here you have three option,
in your don't know about remote device added in contacts app then choose everyone.
Also Turn on Airdrop on remote (Other) device.
Note: for Turn On AirDrop on Mac, Open finder and from the side pane choose AirDrop. Next, Turn on WiFi and Bluetooth.
Now Share Media file on AirDrop: iPhone to iPhone or iPhone to iPad
want share photo? Go to Photos, Open and Tap on below share icon.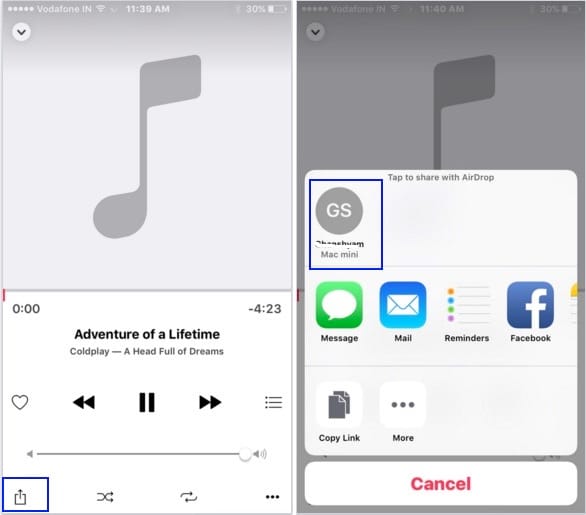 Now At top sharing options, You can see remote device's AirDrop name. Tap on it, and receive at another end by accept it.
You are done.
Also check another alternate ways of share file iPhone to iPhone or android using sharing apps.
any query and suggestions on share file iPhone to iPhone or iPad to iPhone, Share with us on below comment box.