Not too difficult for how to type degree symbol in text, Mail, Chat or on Note app compare to apple logo/ icon. For that you doesn't need to type degree in text. Keep degree symbol is a good fashion for writing on professional job. Due to lake of space and easy to find other character iOS virtual keyboard designer mind about importance on degree symbol. Not like physical keyboard we are using on Mac or PC.
If you are using Microsoft products, Microsoft office word, Power point, Excel then you can type degree symbol from insert menu. But what about on another application, look below steps you will find on your any iOS version. Because this fashion still same from iOS 6, iOS 7, iOS 8 and new updated iOS 9, Will be the same for iOS 10 also.
we are happy to help you, submit this Form, if your solution is not covered in this article.
Steps on how to type degree symbol from iPhone, iPad, iPod virtual keyboard
Launch app, at there you want to add degree (°) symbol behind numbers on inline text.
From the virtual keyboard on iOS device go with numeric number. By tap on 123 number key.
Then, first row you can see number 1 to 9, 0. Tap and Hold 0 key. Key would be automatically enlarged with 0 or Side degree symbol like in below image. Slide your finger without lift up from screen to the degree symbol and after release once you marked with blue button [Shown like below].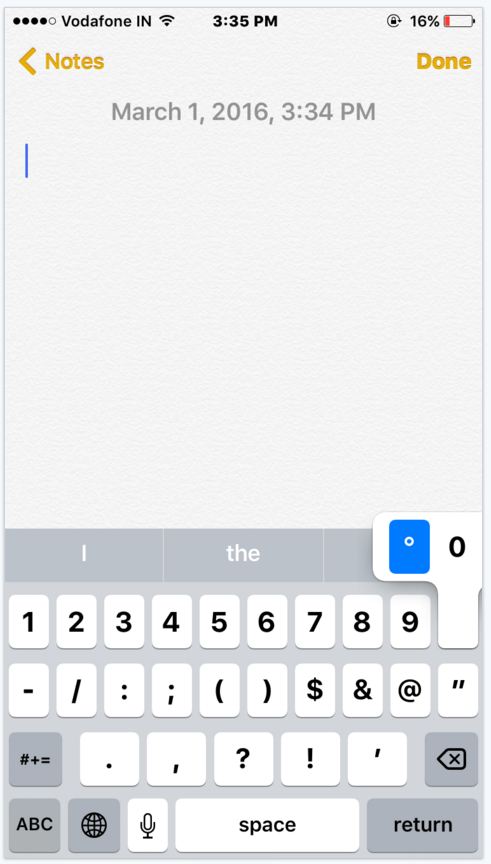 Noticed: Third party keyboard language (Chinese, French, English UK, USA) and different keyboard layout also support degree symbol.
Note: use apple symbol like degree icon on iPhone, iPhone or iPad. Here is the guide on add any icon to keyboard manually by creating shortcut ID.
Still are you not happy with above helping tutorial on How to type degree symbol from iPhone, iPad and iPod Touch keyboard updated with iOS 8 or iOS 9.
Jaysukh Patel is the founder of howtoisolve. Also self Professional Developer, Techno lover mainly for iPhone, iPad, iPod Touch and iOS, Jaysukh is one of responsible person in his family.
Contact On: [email protected] [OR] [email protected]
Premium Support is Free Now
We are happy to help you! Follow the next Step if Your Solution is not in this article, Submit this form without Sign Up, We will revert back to you via Personal Mail. In Form, Please Use the Description field to Mention our reference Webpage URL which you visited and Describe your problem in detail if possible. We covered your iPhone 11 Pro, iPhone 11 Pro Max, iPhone 11, iPhone 8(Plus), iPhone 7(Plus), iPhone 6S(Plus), iPhone 6(Plus), iPhone SE, iPhone 5S, iPhone 5, iPad All Generation, iPad Pro All Models, MacOS Catalina or Earlier MacOS for iMac, Mac Mini, MacBook Pro, WatchOS 6 & Earlier on Apple Watch 5/4/3/2/1, Apple TV. You can also mention iOS/iPadOS/MacOS. To be Continued...