Use Different Geographical Shapes and Mathematical symbol in Pages, Numbers, Mail or Message on Mac is an annoying task. Last time I faced problem in a type square inline text while preparing page document.
we are happy to help you, submit this Form, if your solution is not covered in this article.
Most of the students and professionals are facing issues with type some most frequently used symbols in Pages, Mail app. Follow the guide below for use Square Symbol or Square root symbol on MacOS High Sierra, Mavericks, EI Capitan, Yosemite.
Steps for Use Square Symbol on Mac for Pages, Number and Mail app
Step 1: Open Pages type number end with "2". For Example, we want square on 7.
Type: 72, Select "2″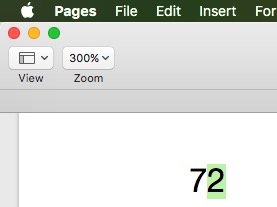 Step 2:
Go to the Format > Font > Baseline > Superscript.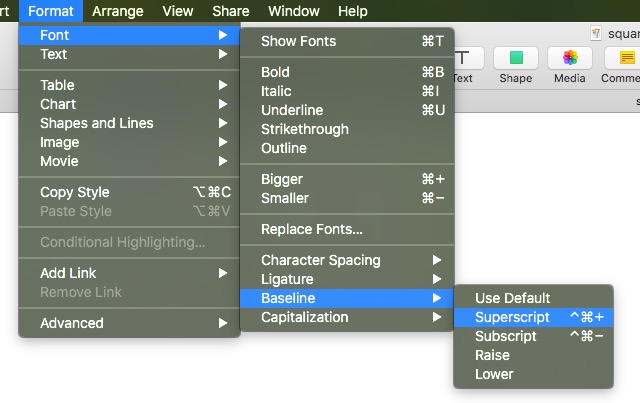 Now next series will continue to go in Superscript, Disable it or uncheck from Superscript.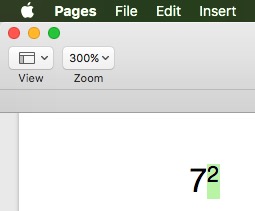 Use In Mail app:
Type mail in pages and copy the text into mail body. Right now in new MacOS update, Square root no longer available.
Shortcut for Type: Square Symbol on Pages
There is not Square root symbol available on a keyboard, Apple users can use keys
Type full amount string in a page and select the last digit that you want to convert into superscript and subscript.
Superscript: Control + Command + '+' Sign
Subscript: Control + Command + '-' Sign
Enjoy, Connect and Touch with us on social for more updates and troubleshooting tips for MacOS.
Jaysukh Patel is the founder of howtoisolve. Also self Professional Developer, Techno lover mainly for iPhone, iPad, iPod Touch and iOS, Jaysukh is one of responsible person in his family.
Contact On: [email protected] [OR] [email protected]