Last Updated on Jan 8, 2023
Apple iOS developers are build-up every App icon along with memorable and beautiful design. Therefore, the iPhone retina display is looking more attractive with some Apps on the home screen. These app's icons, graphics, and text can enlarge the icons quickly on iOS running 4.7'' to up iPhone models. By the way, for those guys, who have eye trouble viewing, then this post makes icons bigger on iPhone 14 (Pro, Max), 13 pro Max, 12, 11, 11 Pro, 11 Pro Max, XS Max, XR, 8 Plus, 7 Plus/ iPhone 6s plus and iPad, and Other Supported models.
in iPadOS 15, Apple brought a new feature called App icon Size, you can get a video at the end of this post.
Models that support Display Zoom
iPhone 14 (Pro Max) Mini
iPhone 13 (Pro Max) Mini
iPhone 12 (Pro Max) Mini
iPhone 11
iPhone 11 Pro Max
iPhone XR
iPhone XS Max
iPhone 8
iPhone 8 Plus
iPhone 7
iPhone 7 Plus
iPhone 6s
iPhone 6s Plus
iPad
Important notes for iPhone X and XS users: Apple Dropped this feature in Edge to Edge Display iPhone (iPhone X, iPhone XS). They can use the Change Text size feature – Which increases the App name on the home screen that helps you to find the App and more visible than Earlier.
Make icons bigger on Your Apple iPhone, iPad: Increase Text Size and Apps icons
Step 1. Open up Settings App (look like a Gear icon) on your iPhone Home screen.
Step 2. Select Display & brightness, you can see between General and Wallpaper settings.
Step 3. Now scroll down the screen and tap on View under the Display Zoom label.
Now, you want to enlarge App icons on iPhone, right? But here, by default, Standard will be selected. To check out preview, swipe screen back and forward to see the variance between both, then tap on the Zoomed tab and go with a Set button to save.
Wait for Few seconds, your iPhone will reboot or Black screen to apply the changes.
So you'll get an action sheet to ask you, ''changing Display Zoom will restart iPhone.''
So tap on Use Zoomed. Wait for few seconds until you get to wake up the iPhone automatically. Now move to home to see Apps icons bigger on the iPhone.
Finally, enjoy Zoom images on the big-size retina display of the iPhone. Now you might be feeling easy to navigate the app and quite handy to touch and open an app. also, you get large size text in all apps, for instance, a big font in iMessage, Mail, Whatsapp, FB messenger, and remain apps.
Also Know & Useful: Change the text size on the iPhone.
→ Drawbacks of Display Zoom: One-Handed Keyboard Doesn't work on my Test.
Turn off Display zoom/ Unzoom Apps icon in iOS
Follow-up the same steps given above and then tap on Standard.
Now select on Set, right-top side.
That's it.
In the end, you will get the factory default Apps icon, text size, and visual graphics on your Apple iPhone.
How to Make App Icon Bigger on iPad (Home screen layout)
Just like iPhones, Apple allows you to change the app icon size on your iPad real quick so that on the big screen you can have huge app icons. Here's how to increase the App icon size on the iPad.
iOS 15 & Later
iOS 15 & later users can enlarge app icons on the iPad home screen with saperate options are available to manage the app's icons. Follow the below steps,
Open the settings app on iPad > Find Home Screen & Dock Option.
Next, Enable "Use Large App iCons" toggle and Make it large.
That's it.
iPadOS 14 & Earlier
Note: Since you want Bigger App Icons on iPad, the iPad will automatically turn off (greyed out) the Today View on Home Screen. This Today View on Home Screen only works on the select "More" option, next to Bigger.
Go to the "Settings" app.
Scroll to "Home Screen & Dock", On the Right Side see the Option for Change the App icon size. "More Show up 30 icons on each page with the option to keep the today view on the home screen", Bigger shows up to 20 app icons". Earlier iPadOS Users will check the next steps.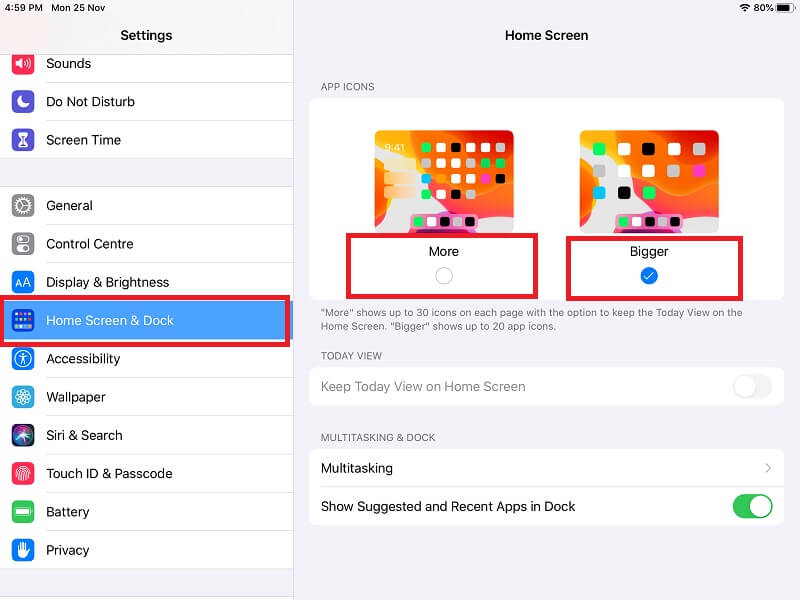 iOS 12.2.1 and Earlier
Settings app > Tap "Display & Brightness".
Tap on "Bigger", under Home Screen Layout.
Watch video on how to make the App icon bigger on iPadOS 15
To make your App icon size bigger than you are using right now, then click on here to watch a full video guide on our youtube channel.
iPhone 13 Pro Max/ Mini: How to Change App icons in iOS 15 in 2021 Home screen layout Ideas
iPhone 13 Pro Max/ 12 Mini: How to Customize & Setup Home screen ideas | Aesthetic Widget & App icon
Did you like this article? Reply in the comments below. Please get daily updates for Apple device tips and tricks to subscribe to us on Facebook and follow us on Twitter.