Last Updated on Jun 13, 2022
A new feature in Mac OS X Sierra and later MacOS is the night shift mode that helps users to have a good experience in low light or work at night. Explain it full guide in my last tutorial on how to use night shift mode on Mac. I also discuss the compatible device list, and prerequisite conditions for enabling or essential Settings for the used night shift mode itself. That's preventing steps on repair Mac while Night Shift not working on MacOS Mojave or later OS.
The low blue light screen is a good sign of health means you can do continuous work at midnight without tired your eyes and other physical problems.
Troubleshooting: Night shift not working on Mac or Stuck or not Showing Up and not turning on
I am sure about is it not compulsory for all Mac devices to install Mac OS Sierra and be able to turn on night shift mode because  Mac OS Sierra runs on old generation Mac devices Released after 2009. But only the new iMac, Mac Mini MacBook Pro, and MacBook Air models are compatible with a low light mode.
The lowest version Mac OS Sierra 10.12.4 or later is required for use in night shift mode. Also check new updates available for you in an app store, that might be necessary to fix your bug related.
Hint: in case of Night Shift not showing up on your Mac, then you should confirm that your Mac is compatible with the Night Shift feature.
To know Your MAC version: Go to the Apple menu > about this Mac. Compare the released year with the below list of compatible Mac
MacBook (Early 2015 or newer)

MacBook Air (Mid 2012 or newer)

MacBook Pro (Mid 2012 or newer)

Mac mini (Late 2012 or newer)

iMac (Late 2012 or newer)

Mac Pro (Late 2013 or newer)

Apple LED Cinema Display

Apple Thunderbolt Display

LG UltraFine 5K Display

LG UltraFine 4K Display
Get Here – macOS Mojave Compatibles Macs
Enable location services on your Mac
if your Mac Mac night Shift sunset to sunrise not working then you must sure that the bottom given settings are enabled on your Mac. Night shift mode Detect your location and your system will automatically enable this feature from Sunrise to sunset.
On MacOS Ventura
Go to the Apple Logo > System Settings.
Now, Click on Privacy & Security > Location Services.
Scroll to the list, Click on Details Next to "System Services".
Enable the option that allows using your Location on Mac [Time Zone & System Customisation, Significant Locations, Networking & Wireless].
Tap on Done to apply the changes.
On MacOS Monterey & Earlier
Go to the Apple Logo on Mac Menu.
Next, click on the System Preferences option.
Now, Click on the Display option. And the last Tab is Night Shift.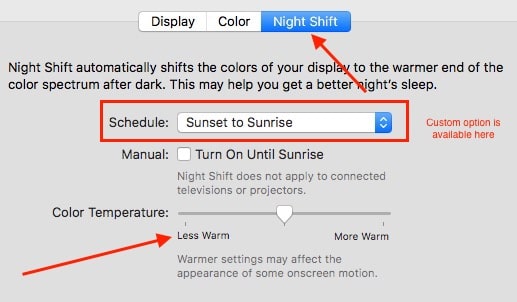 Apple Logo on Mac Menu > System Preferences > Security & Privacy > Privacy Tab.
Check for you have set on manual or auto: If you want it should be automatically activated then disable or uncheck the Menu option, Turn on until sunrise.
Activate for the specific time
You should check Schedule set on Custom in a schedule. For this, you should also check AM or PM intervals.
On MacOS Ventura
Go to the Apple logo from the top menu > System Settings.
Click on Display > Night Shift.
Select "Schedule: Custom". and Time Interval from and to.
Click on Done to save the settings.
On MacOS Monterey & Earlier
Go to the Apple Logo on Mac Menu.
Next, click on System Preferences option.
Now, Click on Display option. And the last Tab is Night Shift.
Night Shift mode is enabled and not showing an Effect on the screen
The color temperature we can customize under the display settings,  Night Shift screen Shows the clear difference between your normal screen and the night shift enable Screen. So first you should check whether night shift mode is enabled or not?
MacOS Ventura
MacOS Monterey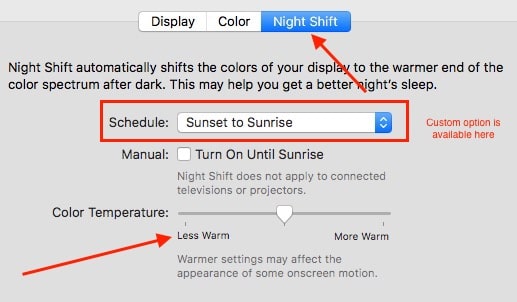 Whenever it's enabled, you will get an option for disabling this mode under the notification center. Means it's enabled. Now check the level of warm screen ratio. Very low level gives no effect on activation. Want a warmer screen, slide the point from left to right.
Turn on/Off Night Shift Mode on Mac
Now, Mac users can manage Night Shift mode from the Control center that's easy and fast. Click on the control center icon from the top Mac menu > Click on Display and Click on the Night Shift option.
That's it.
Don't MIss out – Tip to activate Dark Mode on Mac and also you should read to set up the dynamic desktop on Mac.
Share the very useful tutorial on Night Shift not working on Ventura, Mojave, Sierra, and Catalina with your friends and write to us for more other kinds of help.