🗓️
October 28, 2023
By ✍️
Jaysukh patel
Fix iOS 17 iPhone Keeps Asking For My Apple ID Password. Yesterday when I was playing the game on iPhone 15 Pro Max, all of a sudden a pop-up arise and asking for Apple ID verification, that was strange because I had already signed in with a password. But then apple id verification keeps popping up 2023, even after entering a passcode. Even when my iPhone was locked the same Apple ID verification password pop-ups were arising.
The pop-up is like "Apple ID Verification-Enter the password for (your Apple ID) in Settings", and another is like "Apple ID Password- the password for (your Apple ID) needs to be updated. For once you have already signed in from the settings.
Why & When Apple ID Verification Password Pop-ups appear on the screen?
Apple Send this popup alert when you change the password on another device or Web, Unlock the device after a long period of time or unused. After Hard Reboot iPhone Showing Apple ID password Popup or New iOS Update installed and Not Verified or Skip during setup.
Deal with how to stop Apple ID verification pop up on iPhone or iPad
You need a correct password for Apple ID used for your iPhone. If you have any doubt and confusion on Apple ID or password is correct or not? Then you can try on icloud.com because the wrong attempt can be disabled iPhone screen or Apple ID from apple if it's like cracking or unlocking activity performing on your iPhone.
Also, your Smartphone required a strong internet connection via Cellular or mobile Data or Wifi.
See, How do I stop my iPhone from asking for my Apple ID?
Apple gives security for different services like iCloud Storage, Authentication, and more. Find out all the notifications on the settings app, that is showing (Apple id sign-in request keeps popping up) on my iPhone screen.
---
Part 1: Enter the Apple ID Password
When you see the Apple id sign in requested message keeps popping up then select Settings. Now when you get to the settings enter the password of Apple ID and get rid of this Apple ID password verification on your iPhone.
If you are lucky, then the message will not prompt again, or else the problem has been temporarily fixed.
After a long wait, Popup doesn't appear on your iPhone screen. You should manually sign out and sign in to your Apple ID account on the iOS device settings app.
Go to the Settings app > Apple ID Suggestions > Update Apple ID Settings > Enter Correct Apple ID Password.
---
Part 2: Check for Software Updates
Another solution is to Update the System Software of your iPhone 15 Pro Max. But before updating the iPhone, you must take a backup of the iPhone to prevent data loss. Besides all the apps needs to be updated, so for that visit the App Store and from the Update section update all the pending apps.
Step #1: Go to "Settings".
Step #2: Tap "General" and select "Software Update". Wait till the screen fully loading, if your screen is loading in the boot loop, make sure your device is connected to a strong wi-fi network. Sometimes Weak wi-fi strength disconnects your phone's wireless connection. in such case try to connect with another wifi network or make your other phone hotspot to get a connection on your iPhone.
The latest Software version is iOS 17.1 or later.
Suppose your Phone is up to date, please follow the next solution!


---
Part 3: Reboot Your iPhone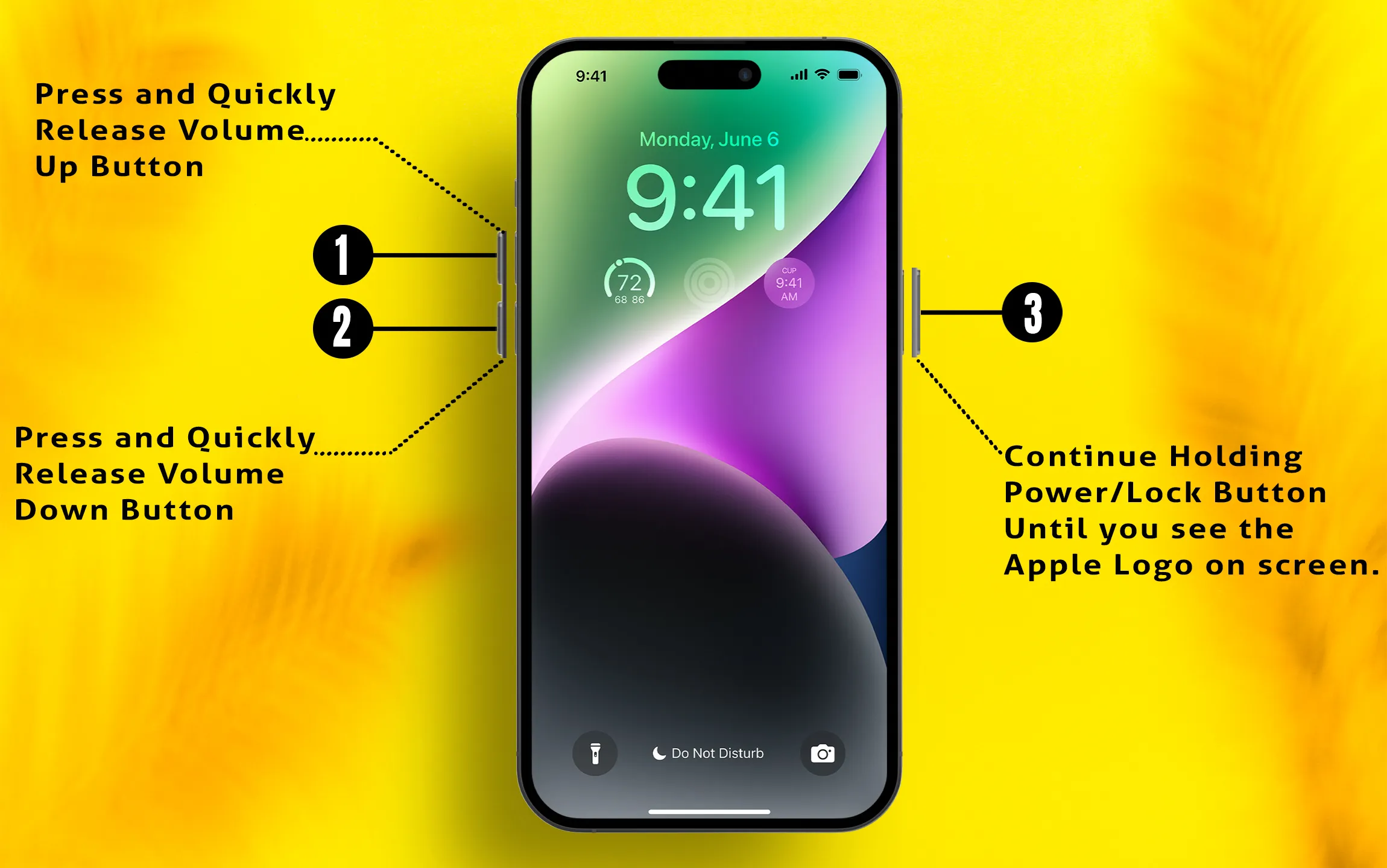 If your iPhone is already updated and still Apple id verification constantly popping up, then reboot the iPhone. After restarting follow the next part of the tutorial.
Step #1: Press and release the Volume Up button.
Step #2: Press and release the Volume Down button.
Step #3: Hold down the Side button until you see the Apple logo on the screen.
Turn on using the side button on the iPhone.
---
Part 3: Sign Out and Sign In with Apple ID
After your iPhone 13 Pro Max boots up, you have to sign in again with your Apple ID password.
Step #1: Launch the "Settings" app.
Step #2: Tap on your Apple ID profile name's banner.
Step #3: Scroll the screen tap Sign Out
Step #4: If you are asked to enter the Apple ID password then enter it. (if you forgot Apple ID password, please follow this guide to reset Apple ID Password)
Step #5. Click on Turn Off appear on the top-right side corner.
Step #6. Now your Phone will be asked you to Keep a Copy of your data on this iPhone? Data removed from this iPhone will still be
available in iCloud. All items will be removed from Wallet. Car keys are also permanently removed and you will need to manually add
them again. Likewise, KEEP A COPY OF: Calendars, Contacts, Health, Keychain, Safari. Any documents and data stored in iCloud Drive will be
removed from this iPhone. – if you want to take copy, then do toggle enable/green next to the on-screen given option, after this tap on Sign Out.
Step #7: A Pop-up will ask you Are you Sure? it may take a minute to remove your iCloud data from this iPhone. Choose Sign Out.
wait till the Copying iCloud Data… screen gone
That's it.
Step #8. Now, wait for a while, and again sign in to the Apple ID.
Restart the iPhone, and hopefully, you will not see the constant ios apple id password verification pop-up alert.
---
Part 4: Change the Apple ID Password
Alternatively, you can change the password of your Apple ID, it is also suggested a solution to fix the Apple ID password pop-up again and again.
Or Recover using forgot Apple ID password. iforgot.apple.com
follow the on-screen instruction to recover or find a new Apple ID password and use it on Apple ID Verification Password Pop-ups.
Like it and Share this tutorial that helps you to fix the annoying Apple ID password Verification popup on the Home screen, App Screen, or after unlocking the device.
---
Part 5: Contact Apple Support
Hey guys, if none of the solutions worked for you? Let's click here to contact Apple Support to fix this though issue by Apple technical executive.