Here you can be getting cheapest in price and attractive best 12.9 inch iPad Pro sleeve cases. There are many sleeves for the new iPad Pro model, But luckily you get here totally unique set. Low in price, high in quality, long life and durable in use as well as lightweight so easy to carry and move anywhere.
Before this, we published the best iPad Pro carrying cases with handle with good reviews these also cool for long time use. Okay, let's go ahead and pick a good sleeve out of given best 12.9 inch iPad Pro Sleeve cases.
Best 12.9 inch iPad Pro Sleeve cases: Good Reviews
1. Sparin: Cool iPad Pro leather wallet sleeve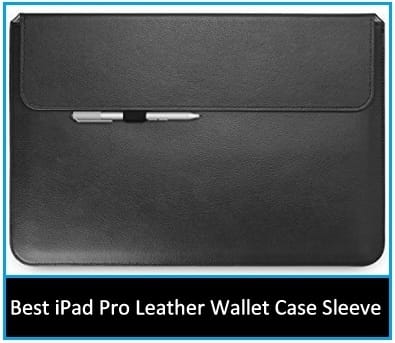 Sparin case, it's a magnetic closer leather sleeve. To keep safe your iPad Pro screen and back- front part from scratches, you should buy this sleeve. It's constructed from Microfiber with a sleek design. With the iPad, you can also hold your Apple Pencil or another stylus in an attached holder. It's a professional style leather sleeve, set notch for easily remove, easy to slide in and out, slim fit and lightweight.
Order Now: Amazon
2. Inateck offer iPad Pro Sleeve case
Perfect fit sleeve for new iPad Pro. Wear your iPad Pro and feel nice touchy. It's a sleek sleeve and yeah it's not a just case but you can use this as a stand too. Large space to place items like a mouse, keys, cards, etc. you can close this sleeve through Velcro closure so it's a nice thing to open and close the case.
Add to cart: Amazon
3. Omoton: latest PU leather sleeve for iPad pro
It's a simple design case but you can lock it via magnetic closure that allows secure lock and easy access. Slim blueprint so you can carry everywhere with you. It's available on Amazon with tow bonny colors like Black and brown.
Buy Now: Amazon
4. Mosiso Gray Denim Fabric sleeve iPad Pro
Included features like padding layer, fluffy lining for bump and shock absorption. Exact suitable for Apple 12.9-inch iPad Pro. Best design case for all professional as well as medical employees, college students, and Businessmen.