Last Updated on Sep 14, 2023
Complete List of the Mac Studio Accessories. The Mac Studio is not designed to cater to everyone's needs but is Apple's most powerful machine. Two distinct configurations are known as the M1 Max and the brand-new M1 Ultra chipsets. As a result, Mac Studio will be able to effortlessly deal with everything and everything you throw at it, regardless of the operating system you choose.
We have tried to compile a selection of the most useful accessories you may use in conjunction with the new machine. Because the only thing you receive in the box besides the computer and the power cord is the computer, you'll need to complete your workstation configuration separately. Look at the top best budget Mac Studio accessories on the market without further ado.
Top Mac Studio must have Accessories that are in your budget
Here's Best Accessories for Apple Studio Display
#1. Apple's 32-inch Pro Display XDR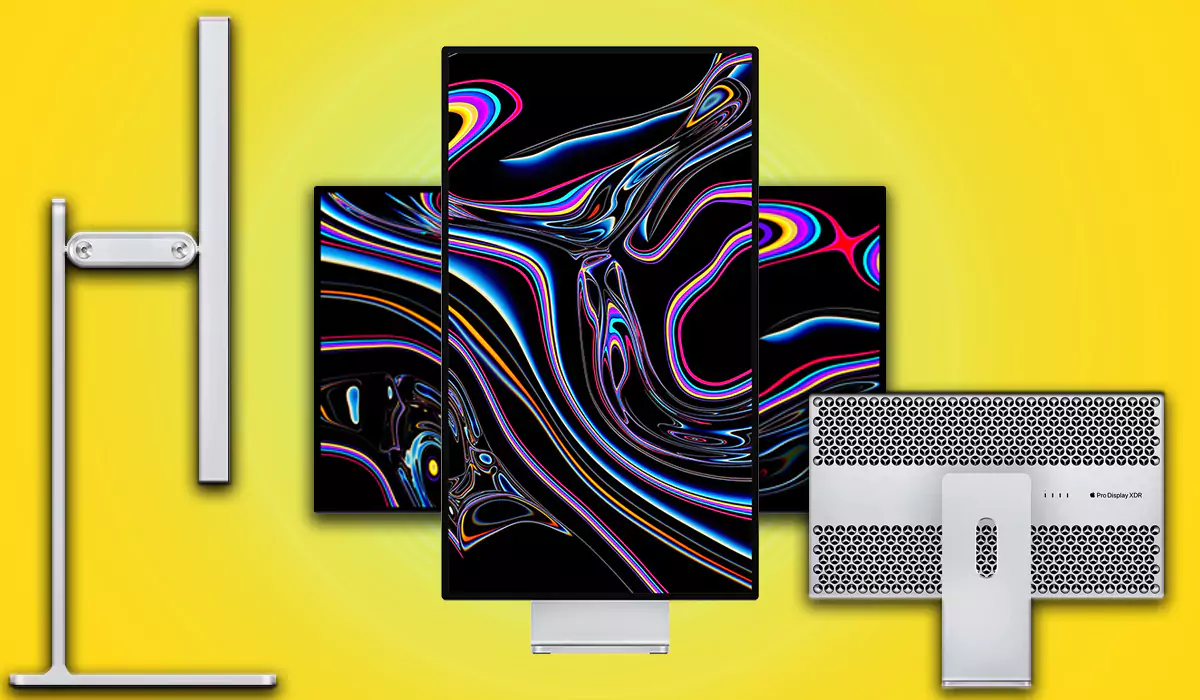 The Pro Display XDR is a 32-inch LCD with a resolution of 6K that is capable of reaching 1,600 nits of peak brightness and 1,000 nits of constant brightness. A most required Mac Studio Accessories. This is made possible by a full-array local dimming backlight of 576 unique blue LEDs. According to Apple, it can reach a contrast ratio of one million to one when employing specific industry-standard test patterns. It also supports genuine 10-bit color and the complete DCI-P3 color gamut.
These specifications are incredibly amazing; they are so excellent that Apple is certain that the Pro Display XDR is the "best professional display in the world." It is also so stunning that the business spent a significant amount of time at the launch event comparing it to a Sony reference OLED that costs $43,000 and is often utilized for high-end color grading work in film and television production.
Don't Miss:- Mac Studio Accessories for Music production
#2. The Magic Mouse from Apple
The Mouse is a great choice for a mouse if you're in the market for one. It has a flat, slim, and lightweight design, giving it a luxury appearance. It also unobtrusively connects to your Mac Studio.
The Apple Magic Mouse is an excellent attachment for Mac Studio since it has built-in support for macOS gestures and, more impressively, the whole surface of the mouse can be used as a tactile touch-sensitive area.
The Lightning connector on the Apple Magic Mouse is located on the bottom, which means that the mouse cannot be used while it is charging because the port is on the bottom.
This is the single drawback of the Apple Magic Mouse. This may prevent many users from signing up for the service.
#3. Apple's Magic Keyboard
There is no need to search farther than the Apple Magic Keyboard if you are trying to find the most suitable keyboard for your Mac Studio. This is an excellent attachment for the Mac Studio for Apple users who have been using the Apple keyboard in the past and don't even want to alter their setup.
A wonderful and accurate typing experience can be had with the Apple Magic keyboard, which is designed to have seamless integration with the aesthetics of your Mac Studio. It comes with a rechargeable battery with a one-month battery life between charges.
#4. Apple AirPods Max Wireless
AirPods Max is a wonderful M1 Ultra Mac Studio accessory for you to have if you are a music enthusiast who favors wearing headphones that cover the entire ear, as they do. These first-party wireless headphones give exceptional sound quality without sacrificing comfort, and they do it without sacrificing portability.
You'll be able to hear clear and unadulterated music thanks to AirPods Max's cutting-edge Active Noise Cancellation technology, which cleverly blocks out ambient noise to give you a more immersive listening experience. In addition, the integrated spatial audio combined with the dynamic head tracking technology produces a sound experience comparable to that of a theatre. The AirPods Pro is an excellent addition to Mac Studio for people who enjoy watching movies in addition to musicians.
The excellent sound quality does not in any way come at the expense of the comfort or the functioning of the headphones. These wireless headphones for Mac Studio come equipped with memory foam ear cushions, making them exceptionally pleasant to wear even for extended periods when listening to audio. With Active Noise Cancellation (ANC) and Spatial Audio turned on, this Mac Studio attachment's battery life may last up to 20 hours of continuous listening.
For users of Mac Studio, a revolutionary new listening experience is generated due to the smooth switching between devices, the hassle-free installation process, and the Apple H1 chip.
Taking everything into consideration, if you are someone who enjoys listening to music, you might consider purchasing these authentic wireless headphones for Mac Studio.
Also Buy:- Best Budget Mac studio accessories for gaming
#5. Magic Trackpad by Apple
If you'd rather use a trackpad to control your mouse instead of a traditional mouse button, the Magic Trackpad from Apple provides one of the most satisfying experiences you'll find anywhere. It allows for multiple touches and movements using the Force Touch technology, and its wide surface area makes it more pleasant to use.
Your fingertips will have access to more functionality, and you'll be able to form a more meaningful relationship with the information you're interacting with due to the trackpad's built-in pressure sensors, which are located beneath its surface.
Because it has a wide glass surface area that extends to the edges, navigating your preferred content by scrolling and swiping is more efficient and pleasant than ever.
The Magic Trackpad will instantly link with your Mac, allowing you to immediately begin working with it. It comes with a USB-C to Lightning Cable that lets you couple devices and charge them by connecting to a USB-C port on your Mac. The exceptionally long-lasting internal battery will run for around a month or more between charges.
#6. AirPods Pro from Apple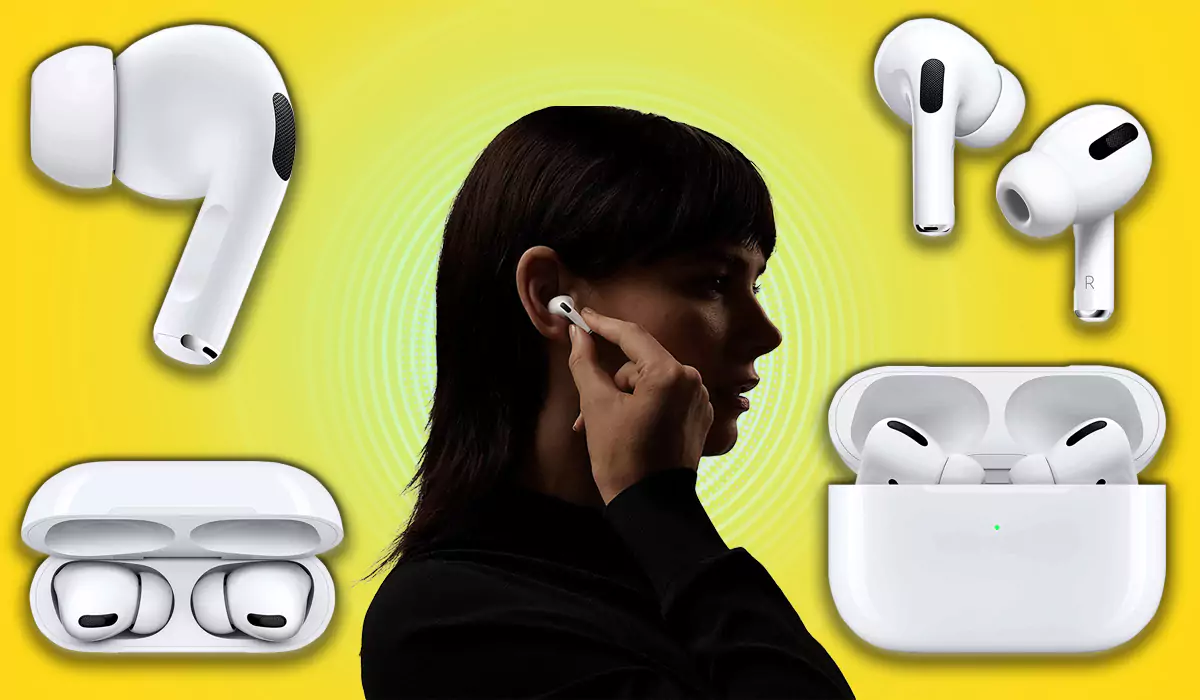 If you possess a Mac Studio and are seeking the best noise-canceling wireless earphones, you should, without a doubt, purchase some Apple AirPods Pro for yourself. These earbuds come equipped with active noise cancellation technology, which blocks out ambient noise and creates a more immersive listening experience for the user. They have a smooth connection with your Mac Studio and any other Apple devices you may have. In addition to the ANC mode, there is also a mode called Transparency that enables simple communication with the outside world.
Remember that this music attachment for Mac Studio comes with three different silicone tips, allowing you to select the one that provides the most comfortable fit for you.
It's interesting to note that the AirPods Pro is resistant to water and perspiration. As a result, you can effortlessly combine them with your iPhones and completely dominate your workouts and other training sessions.
#7. Logitech Brio 4K Webcam
The Logitech Brio is the most effective and cutting-edge corporate webcam available. Brio elevates the standard for perfection in ultra 4K HD video collaboration because of its extensive collection of cutting-edge technology.
It will automatically adapt itself to make you presentable in any lighting setting, whether it be low light, direct sunshine, or conditions with a great contrast between light and dark. In addition, brio is business-ready and supports Windows Hello thanks to its built-in optical and infrared sensors. It also has been awarded Microsoft's certification.
It has a resolution of Ultra 4K HD. So you may look your best and have a professional video experience wherever you are with 5x HD zoom; the resolution of a conventional HD camera has been increased by a factor of four.
Automatic light adjustment Logitech RightLight 3 uses high dynamic range (HDR) technology to show you the best possible light, even in low-light or backlit environments.
You will be heard thanks to noise-canceling technology, which consists of dual Omni-directional microphones that reduce background noise. Create high-quality video recordings or broadcast them in any lighting with a frame rate of up to ninety frames per second. The webcam is included as Mac Studio accessories for business users who work on video call apps like zoom meeting, MS Team, Google Meet, etc.
#8. USB SuperDrive from Apple
It is one of the USB SuperDrives, which are slim and tiny. With the Apple USB SuperDrive, you may play and burn CDs and DVDs regardless of where you are—at home, at the office, or on the road, for example. It works wonderfully for various purposes, including playing DVD movies, installing software, creating backup CDs, etc.
When you're not using it, the Apple USB SuperDrive takes up very little room on your desk or tray table because it's just slightly larger than a CD case. This makes it perfect for when you're traveling and need to pack as little as possible.
If you have an Apple USB SuperDrive, you'll never have to stress about misplacing cords again.
It does so through a single USB Type-A cable in the SuperDrive and communicates with your Mac. No additional power adapter is required, and you may use it with your Mac regardless of whether it is plugged in or operating on battery power.
The Apple USB SuperDrive is compatible with Macintosh computers manufactured in 2008 and later that do not have an optical drive already integrated into the computer.
#9. Apple Mac Studio M1 Protective Hard Case by RLSOCO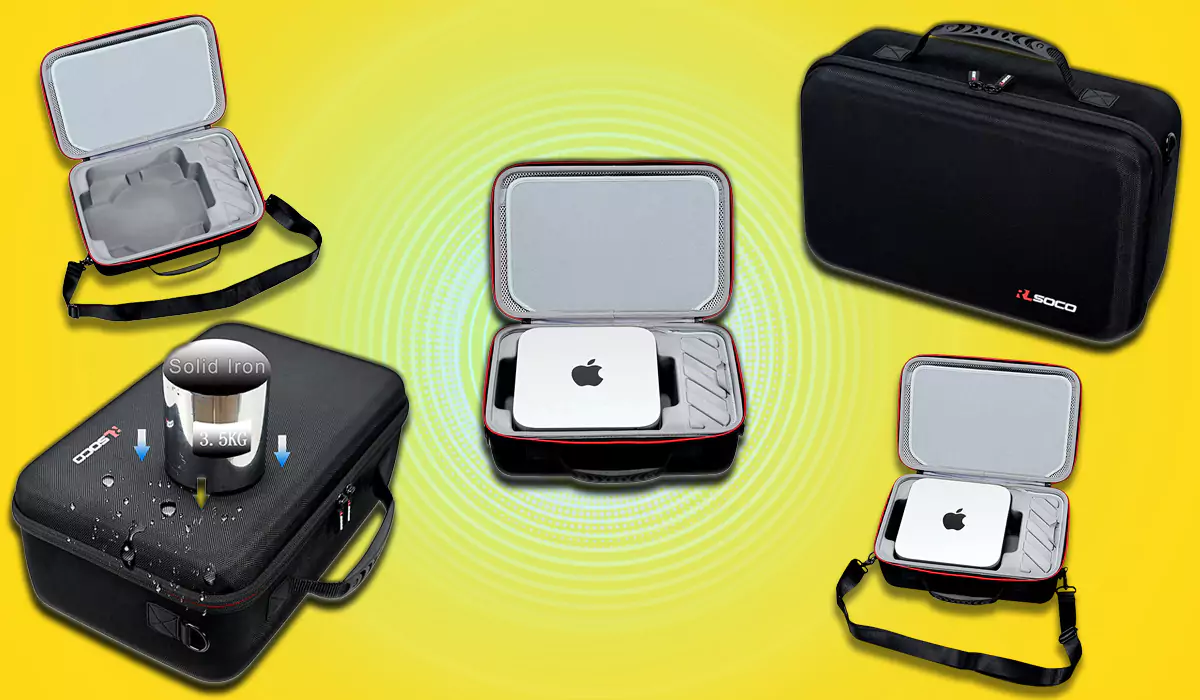 This cover was specifically designed and manufactured for use with Apple Mac Studio M1/M1 Max and Previous Model computers.
The case can provide good protection for the items it contains since it is constructed out of high-density EVA and superior 1680D materials. Thanks to the attached strap, the Mac Studio can be secured and kept from moving.
This carrying bag features a side cover that may be used to secure the various attachments. Using this method, you will not risk dropping the mouse or other small things.
Double zipper, better open and shut, and you may use the other zipper if the first one breaks. Carrying the case may be uncomfortable at first. However, the silicone handle might help with that.
#10. KEF LS50 Wireless II-v computer desktop speakers for near-field listening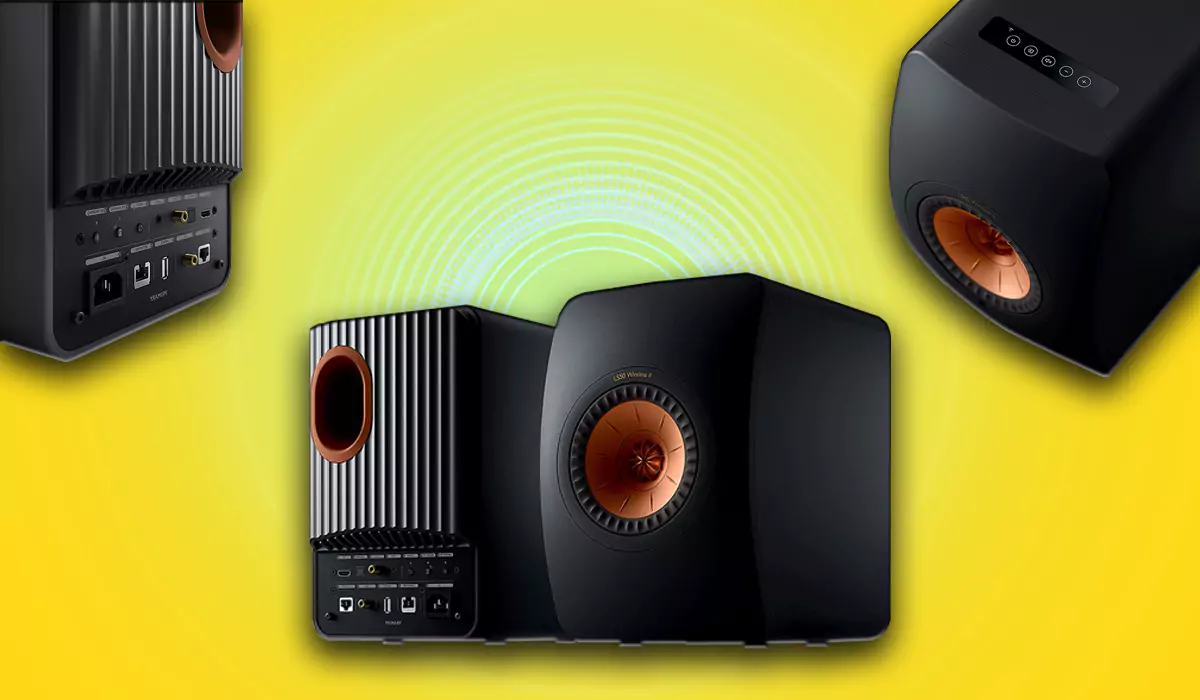 The LS50 Wireless II is a powerful loudspeaker. It is also the ideal all-in-one speaker system. Thanks to its wireless compatibility with AirPlay 2, Chromecast, and other technologies, it can stream from any source. Additionally, it has wired connections for your television, games console, and turntable.
It supports the leading music streaming providers and plays all the major audio formats. Wireless in both directions, from the source to the speakers and between the speakers
The LS50 Wireless II caters to audiophiles by supporting the streaming of music files with a bit rate of up to 24bit/384kHz. Even the most hardcore fans will love the capabilities of this remarkable loudspeaker.
It has built-in wireless connectivity with AirPlay 2, Google Chromecast, and other streaming services.
It also connects with your television, turntable, CD player, and gaming console.
The LS50 Wireless II is prepared to work with any source that you could have.
#11. The LG 40WP95C-W I 40-inch UltraWide Curved WUHD Television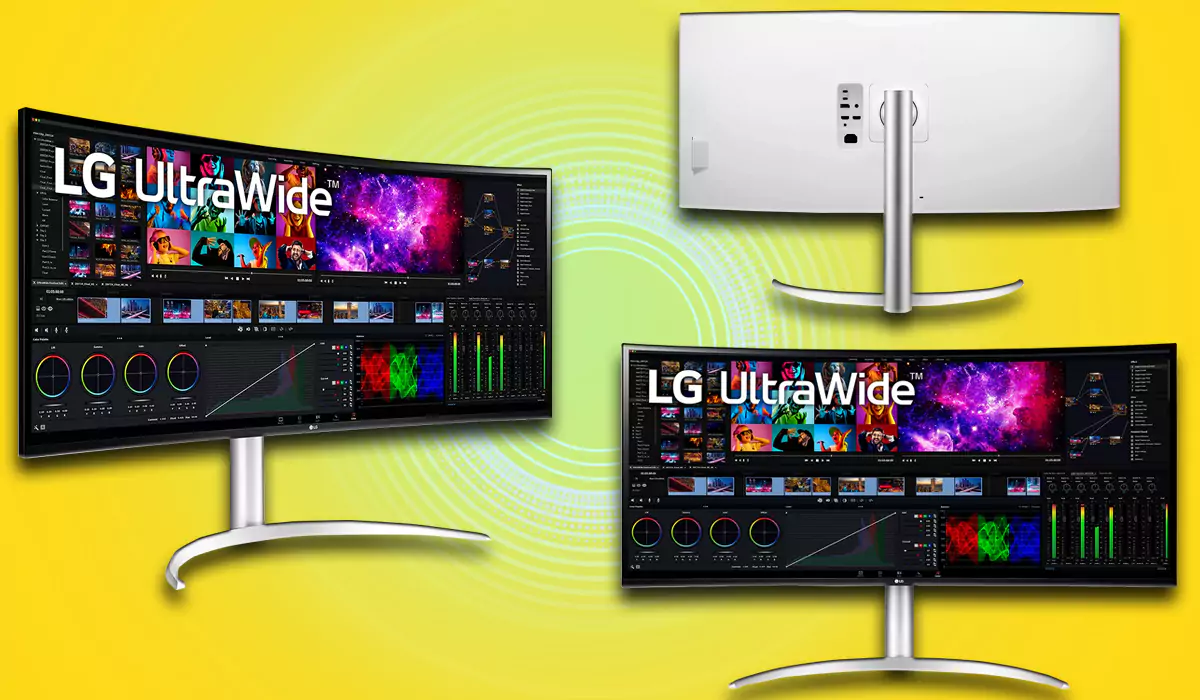 Thunderbolt 4 Connectivity comes with the 40-inch Curved UltraWide 5K2K Nano IPS TV. The display maintains realism in its color, contrast, and clarity, even from broad angles.
The DCI-P3 color gamut coverage of 98 percent combined with HDR 10 brings the worlds of work and virtual reality to life.
In addition, the display technology improves the textures, components, motions, and natural light and shadow.
This UltraWide tv has a borderless display on all three sides, and it also includes a stand that can be tilted and adjusted in height. The tv offers a panoramic vision and high-performance capabilities.
It pushes productivity to new heights regardless of the work at hand. It is equipped with Thunderbolt 4, which provides 96W of power supply.
Other features include two built-in speakers with a total output of 10 watts each and a stand that can tilt, adjust its height, and rotate.
#12. NuPhy Air75 Keyboard
Air75 is a unique mechanical keyboard, currently the smallest available on the market. It utilizes a 75 percent layout (84 keys), and its thinnest point is only 16 millimeters owing to its ultra-thin aluminum frame and sophisticated aluminum alloy stamping technique.
No need for a wrist rest, and extended usage will not damage the user's wrists, much like the membrane keyboard.
The Air75 offers several ways to connect, such as the 2.4G wireless mode, Bluetooth 5.0, and USB C cable. it can connect to up to four devices at once and switch between them so simply. It is an excellent choice for use in the workplace, at home, in the great outdoors, and even for playing casual games.
There are 21 different backlight options and four different side light modes. The forward-thinking left LED light displays the mode for connecting the caps lock, and the right LED light shows the mode for the battery power and the system mode.
You can use dynamic or static lighting depending on what works best for you. The Air75 is consistent with both Windows and Mac operating systems. And it has multimedia button configurations and shortcut keys specifically for Mac users.
#13. OWC ThunderBay 8 RAID 5 Edition
This newest model in the immensely successful ThunderBay family debuted in 2014. it features eight drive bays that can accommodate either 2.5-inch or 3.5-inch hard disc drives (HDDs) or solid-state drives (SSDs) in any combination. The maximum capacity is 144 terabytes (TB).
The ThunderBay 8 may be seen as a high-performance personal data center that provides a variety of configuration choices to meet the ever-increasing need for data storage.
RAW, 4K, large format, and VR workflows have a voracious thirst for drive space, and photo, film, and video editors may take advantage of the greatest desktop RAID storage solution we have ever offered. This solution was designed just for them.
ThunderBay 8 has the engine power necessary to take on high-bandwidth requirements thanks to its ability to RAID together eight solid-state drives (SSDs) or hard disc drives (HDDs) and its maximum real-world tested performance 2,586 MB/s.
Its design is made of aluminum that has been tested in the studio and out in the field.
#14. Sonnet SF3 Series – RED Mini-Mag Card Reader
The reader can ingest video from RED MINI-MAG cards at the highest rates offered by both Mac and Windows PCs.
Ingest times are cut in half thanks to dual card slots, which simultaneously import film from two cards, resulting in increased productivity.
A rugged container made of aluminum to ensure dependable functioning. The stackable architecture of the SF3 Series card readers enables many readers to share the same footprint.
It features twin Thunderbolt 3 ports. The second port allows daisy chaining up to five other Thunderbolt peripheral devices.
The first port supports daisy chaining of up to ten Thunderbolt peripheral devices.
#15. Universal Audio Apollo Twin X DUO
Occasionally, your computer lacks the power and speed necessary to successfully operate all the plug-ins required for your recording session. This is where UA's strong DUO Core CPU with two cores comes into play.
Using this processor, you can track in real-time using Neve, Manley, or API channel strips and operate many UAD plug-ins while mixing in your DAW.
AD/DA conversion of the highest caliber delivers the sound of the purest possible quality.
The Apollos have always had a fantastic sound, but the AD/DA conversion found on the Apollo Twin X DUO takes it to an all-new level.
The result is a signal route that is extremely pure and has a dynamic range of 127 dB.
#16. Synology 8 Bay DiskStation DS1821+ (Diskless), 8-bay; 4GB ddr4
The 8-bay Synology DS1821+ is designed for IT enthusiasts and small and medium-sized business customers. It is ideal for people who are looking for a storage solution that is both powerful and scalable. Its business-grade backup solutions keep users safe and protected from the possibility of data loss.
Synology's iSCSI storage entirely supports most virtualization solutions. Which also features an easy-to-use administration interface. The combination of VMware vSphere 6 with VAAI assists in offloading storage tasks and enhances the effectiveness of computing.
Use Synology Drive Client to ensure the safety of your machine. Real-time data backups and file recovery at any point in time may be performed with little to no effort.
Conclusion
That is everything we have to say from our end regarding the top accessories for Mac Studio that you can pair easily.
We hope that you found this roundup enjoyable and that it assisted you in selecting the most appropriate and helpful accessories for your Mac Studio.