Last Updated on Apr 5, 2023
When the matter comes to establishing text-based communications, emojis and emoticons have now turned out to be a second language. They help you to express various emotions quite easily and spontaneously. Occasionally, it may be difficult for iPhone and iPad users to find the desired emoji and emoticon on their standard keyboards. Fortunately, there is a solution to this issue, i.e., to use the Emoji keyboard app for iPhone. These apps contain all the trendy and outstanding emojis and emoticons that help you to express your message easily.
The present article supports you in choosing the best emoji apps for iPhone and thus expedites your buying decision.
11 Best Emoji Apps for iPhone and iPad
1. Emoji Me Sticker Maker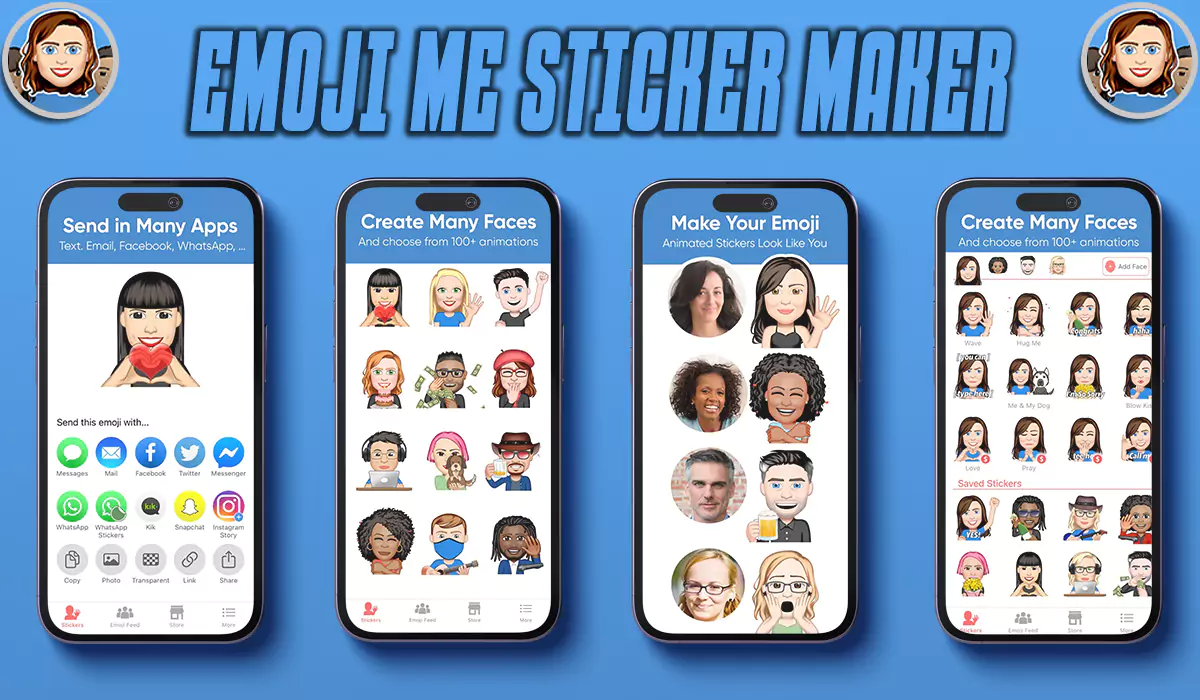 Features:
Plenty of emoji combinations
Beautifully animated emojis
Compatible with various messaging platforms
This animated iPhone emoji keyboard is carefully designed to resemble the actual keyboard. You can now send trend, animated emojis that look just like you, your favorite celebrities, and friends. You can easily choose from expressions like facepalm, happy, sad, thumbs up, etc.
One of the unique aspects of this app is that you can add your text to the emojis. Hence, you can effortlessly customize your text and make them appear dynamic. You can send free emojis for iPhone across iMessage, text (MMS), and other famous messaging apps.
2. Bitmoji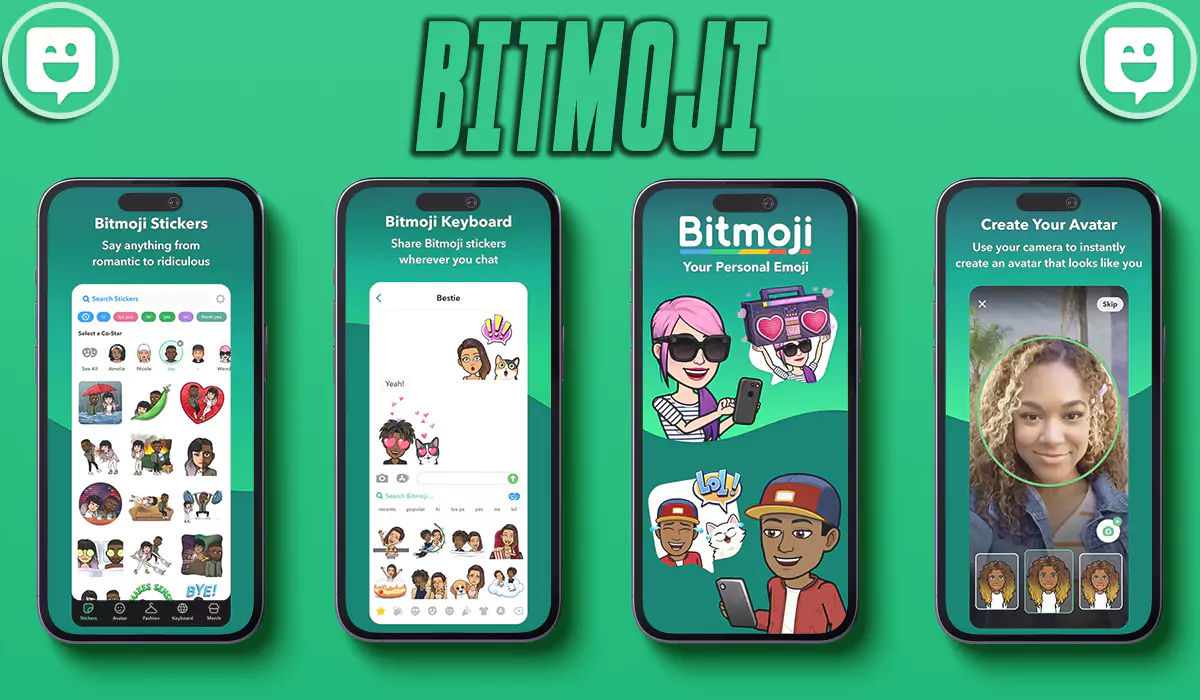 Features:
Supports bug fixes and improvements
Compatible with various languages
Allows sending trendy emojis
Bitmoji works as your emoji to design an animated cartoon avatar. This iPhone bitmoji is well-known for containing a massive library of stickers. You can choose the best, stylish, and fun emoji stickers on your iPhone as they offer various choices and options. Besides, you can use the animated bitmoji iPhone on Snapchat and other messaging platforms. While using it on Snapchat, you can unlock two friends Friendmoji, i.e., boasting you and your friends.
Bitmoji is compatible with iPhones and iPod Touch, running on iOS 12.0 or later. Moreover, with bitmoji on iPhone, you can easily locate the desired emoji to save time.
3. Mirror: Emoji & Avatar Maker
Features:
Allows editing emoji avatar
Hundreds of personal emojis
Supports 1500+ personal stickers
The Mirror app of apple emojis for iPhone assists you in designing cool personal emojis and more than 1500 stickers customized for iPads and iPhones. You can use it to send personal emojis to all apps or messengers. Capture a selfie or upload your photo from your phone. Moreover, you can prepare your or your friend's avatar.
You can easily share personal emojis on any messenger app or social network platform. For example, you can send emojis to Facebook, WhatsApp, Messenger, Instagram, Telegram, Snapchat, Twitter, and more.
4. Adult Emoji for Lovers
Features:
Easy-to-use and advanced features
Colorful and sharp emojis
Provides ad-free interface
This free emoji app for iPhone provides over 800 emojis regarded as superlative in the business. It supports romantic, flirty, drunk, provocative, and many other emojis. With this app, you will get rid of boring texts. This is because you can customize your text with stylish emojis and send them.
All the emojis are sharp and vibrant without compromising on quality. With this app, you can send emojis to WhatsApp, Facebook Messenger, iMessage, and all other leading apps.
5. Emoji Elite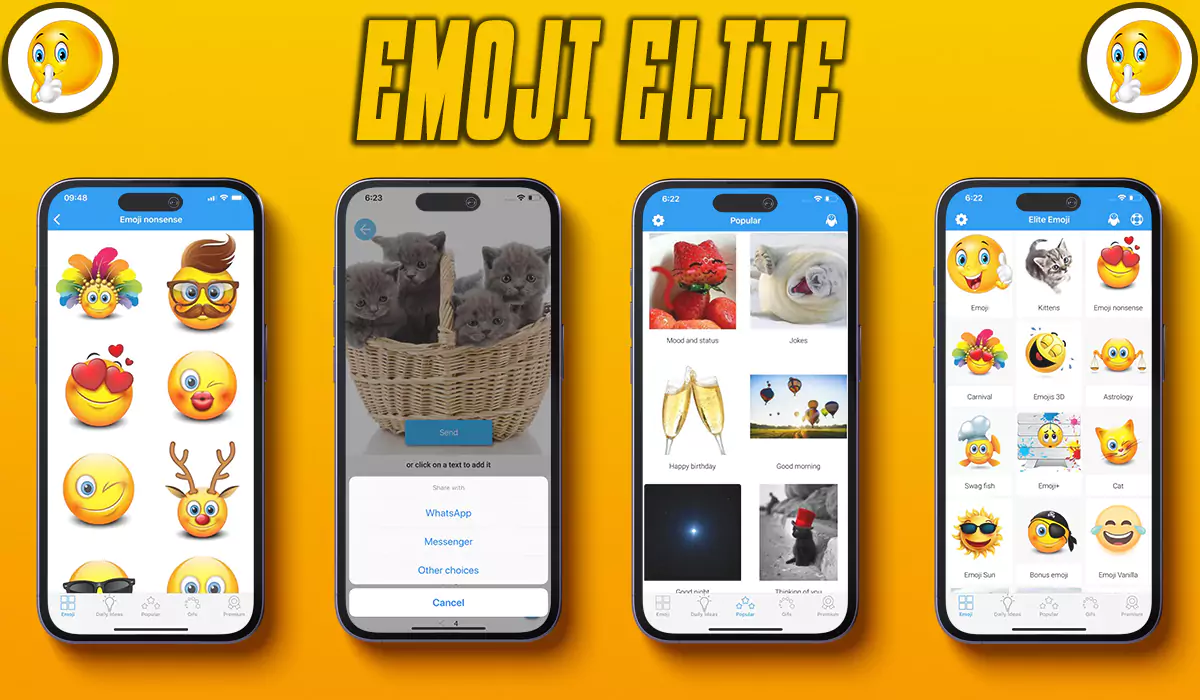 Features:
Broad compatibility with messaging apps
Quick sending with a single tap
Wide range of trendy emojis
Emoji Elite is suitable for sending emojis for personal and special occasions. This birthday emoji iPhone app includes several ideas for your original messages. It contains 2,000 large emojis for WhatsApp, Instagram, Messenger, iMessage, and other messaging apps. Furthermore, you can add humor and poetry to your boring messages.
It boasts a careful selection of 5,000 humorous messages to match the emoji that you share. You can easily send them through a single tap in your messaging app. Besides, you can combine them with GIFs and stickers.
6. Avatoon: Avatar Creator, Emoji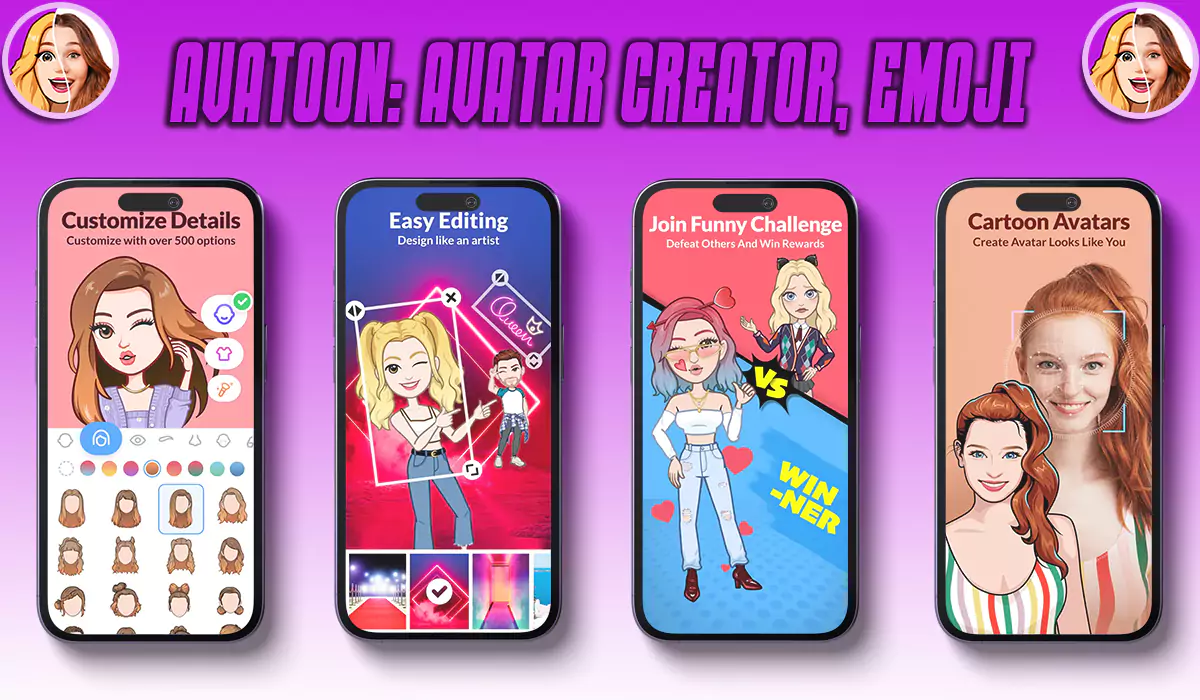 Features:
Efficient facial recognition
Various personalized stickers included
Plenty of customization options
Avatoon helps you prepare an instant small emoji face to convey your message more effectively. As the name implies, it represents a cartoon avatar that appears trendy and amusing. Using this app's efficient cartoon photo editing tools, you can develop a customized avatar resembling your original appearance.
Even while chatting with friends, you can upgrade your image through a colorful avatar. The inclusion of the cartoon avatar feature makes this app stand out from the crowd. Besides, you can add custom stickers according to your preferences.
Emoji Keyboard Apps:
7. Facemoji Keyboard: Fonts & Emoji
Features:
Cool fonts for captions and bios
Emojis shareable on all social media
Various DIY themes included
You can try Facemoji Keyboard if you want one of the all-in-one keyboard Emoji Apps. It is a fully-customized, free app with more than 3,000 emojis. You can also access hidden emoji combos, Tiktok emojis, special emojis, adorable GIFs, DIY themes, and more. Hence, you can make your chat on Whatsapp, Facebook, Instagram, Tiktok, Messenger, SMS, Snapchat, etc., more interesting.
Its auto-paste feature is quick and helps you send emojis to a maximum number of friends. Moreover, you can select your preferred comment art from the Art collection.
8. Fontkey – Fonts Keyboard Emoji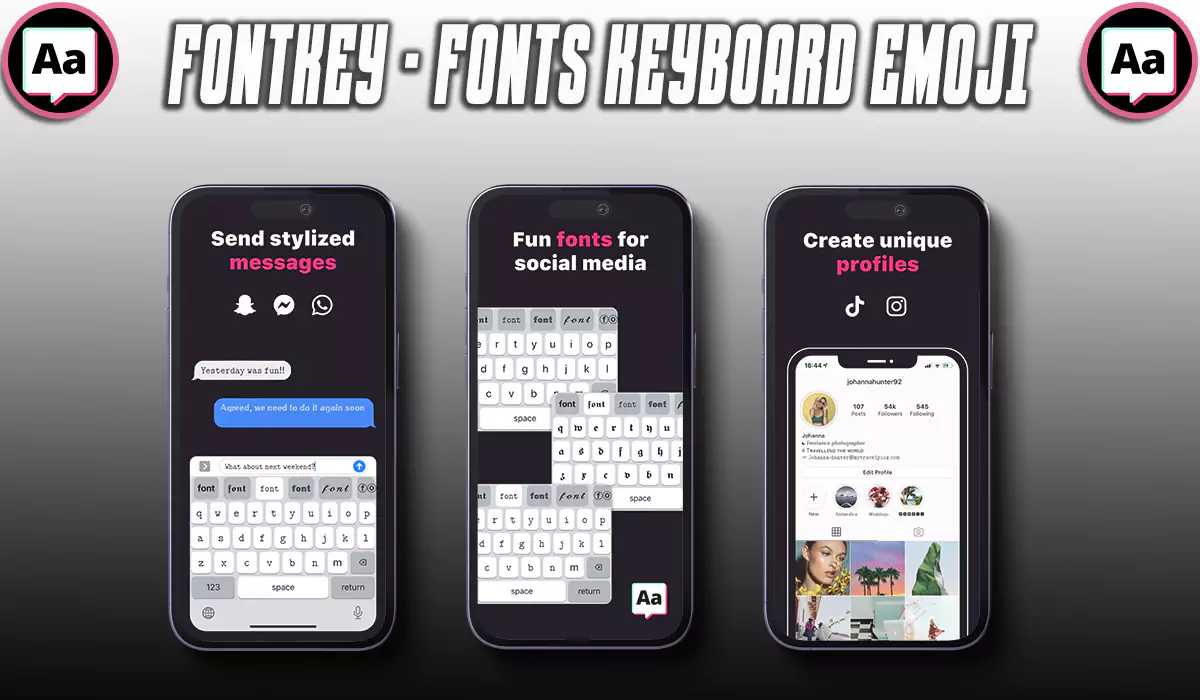 Features:
Cool and stylish fonts
Efficient bug fixes
Quick and easy-to-share emojis
This Keyboard + App allows you to use unique fonts to personalize your chats on social media platforms. You can now add trendy emojis in your text and send it over Instagram, Tiktok, Snapchat, Twitter, Roblox, Tumblr, iMessage, and more. The special keyboard helps you to easily type fonts for text messages, stories, post descriptions, and social media bios.
The app boasts a huge assortment of stylish symbols and fonts. You can quickly install the keyboard to access messages directly. To gain additional features, you can upgrade the app to FontKey+.
9. Emoji>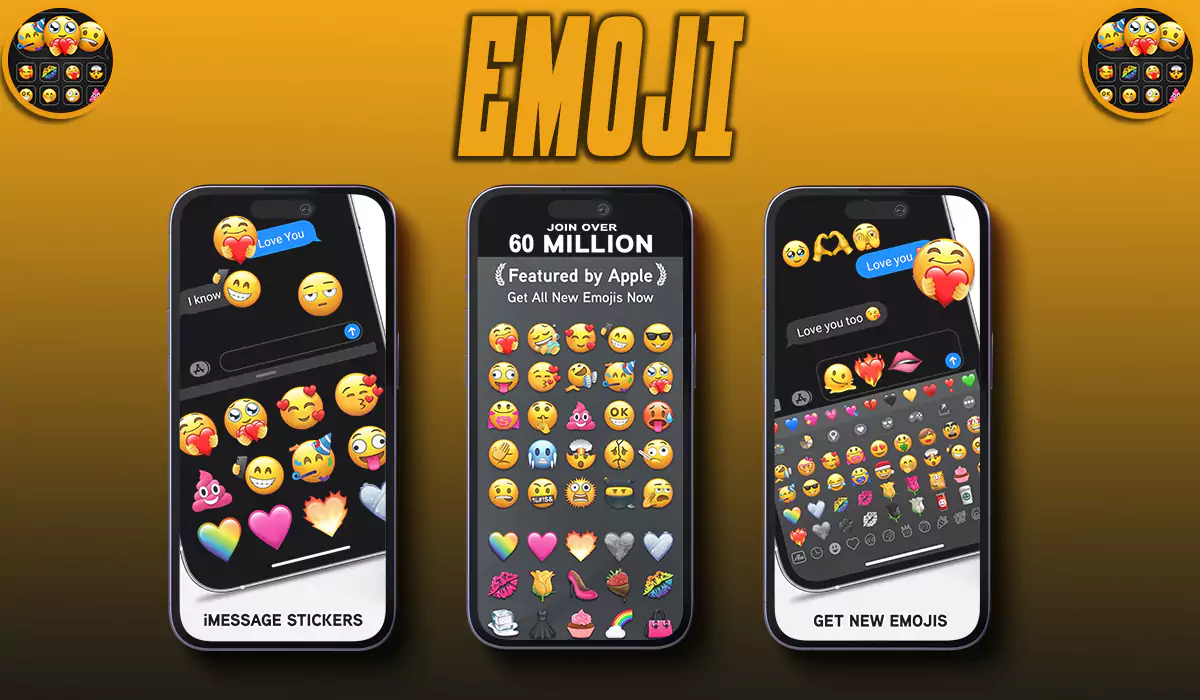 Features:
Implemented with the latest iOS
Easy and quick to install
Allows subscription for unlimited access
One of the greatest aspects of the Emoji> app is it supports the latest iOS 16.4 emojis and fonts. You will save time while searching for fonts and emojis. The fun and unique fonts make your text appear more fascinating. Moreover, the colorful themes make your keyboard appear more vibrant.
You can make the most of the emoji puzzle games. It makes the app more fascinating and keeps you engaged using the app. The keyboard setup process is instant and simple. Moreover, you can use this app with popular messaging platforms.
10. Kika Keyboard for iPhone
Features:
Latest custom emojis
Plenty of stylish keyboard themes
Quick and easy to download
Now you can explore more emojis for iPhone using the Kika keyboard for iPhone. Specifically, you can access more than 9,000 stylish keyboard themes. Moreover, you can access more than 1,000 Kaomojis, Symbols, Textarts, Stickers, and Fonts.
You can use this app to make your social media posts more interesting. Hence, you can make your Snapchat photos, Instagram stories, TikTok videos, etc., rank higher on search engines. Once you have the iPhone emoji download, you can share funny kaomojis and stickers with friends through iMessage. You can select your preferred fonts from the fonts collection.
11. Emoji Keyboard – Gif Stickers
Features:
Fastest emojis keyboard
Easy classification of emojis
Various beautiful themes supported
Effectively organize your messages to send to your friends and other people using this emoji app for iPhone. One of its exceptional aspects is the fast sharing of emojis. You can save your desired emojis and rapidly choose them. You can access over 3000 emojis, including animated emoticons, smiley, emoji art, Unicode, and text art.
It boasts a clean, easy-to-use interface that contributes to an intuitive user interface. Simply launch the app to use any Unicode symbol or emoticons from this app. Moreover, the app supports iPhones, iPads, and iTouch devices with iOS8.
Whether you want to send an iMessage, email, or other chatting platforms on your iPad or iPhone, you can use any of these apps to share your expressions effectively. These apps have cutting-edge features to enhance your communication experience and make the most of it. Using a suitable emoji on your iPad or iPhone through any of these apps streamlines your personal and professional relations. Moreover, finding desired emojis on these apps is quick and easy. It is recommended to read the article above to pick the most pertinent and best emoji app for iPhone.