🗓️
September 14, 2023
By ✍️
Jaysukh patel
in this article, I have covered Which iMac is best for video editing? The best iMac for video Editing 2023 for photographers and video editors, choosing a laptop or computer has never been easier. As an occupational, you are a photography video editor then the laptop is not a convenient tool. So what are you thinking to buy a perfect desktop for it? Then, here we recommend sophisticated stuffing Apple iMac that allows you to edit 4K video, a 5K display for photography with high resolution.
Don't look at the price tag of the Apple iMac. Because a particular video editor and documentary workstation made for those users, who are interested show up his/her art. You have to pay at least one time, but you will get incredible performance for a lifetime. Below listed the ideal iMac for video editing that is all-around useful either at home or at work. To edit video and to create a superb movie – there is a number of factors you should know in iMac like Processing Power, Memory, hard drive space, and Graphics card. Let's a look at below are a few solid choices of 4K Video editors.
Get more – Best Alternative to Apple iMac
Which is the best iMac for video editing?: Get a Complete Answer
Studio Display & Display XDR
Apple's highly dappled Display XDR is the best piece ever engineered. The phenomenal display is carved with 32 inches (6K) and offers more work space than other displays. In addition, it delivers a peak of brightness of 1600 nits, but all of this with a hefty price tag.
However, Studio Display is still an expensive but cost-effective substitute for Display XDR. The buyer will enjoy its 27-Inches 5K Retina Display delivering 600 Nits of brightness. And the best part is both have Four USB Ports, out of which one is a thunderbolt. Both of them needs to be connect with Mac Studio and it's Best Mac Studio Accessories, as they are only Display.
You can go with Display XDR if you are a video production professional. But if you still want a consumer monitor with almost the same specification, the Apple Studio Display is for you.
Apple iMac (24-inch, Apple M1 chip)- Best budget iMac for video editing
Here's Apple's Latest New iMac Configuration with an 8-core CPU and 8-core GPU, 8GB RAM, 512GB) for faster Video Editing and Exporting with Ease. Apple Fans are likely to buy Multimedia, Personal, Business purposes. That's worth iMac desktop from apple for heavy software.
Based on the User's review M1 Processor mac is low cost in price and the Best Performace ever compare to the intel chip processor iMac. Still today, we can say that this is the best budget iMac for video editing. I suggest you should buy this M1 iMac that will let you run your iPad Apps on your iMac, too. You can download and install the iOS app on your Mac via Mac App Store.
Stuffing Configuration:
6 Colors
Brilliant 4.5K Retina display
Six-speaker sound system
work with massive 100-megapixel images.
Configurable to 512GB or 1TB and 2 TB SSD
Configurable to 16GB unified memory
Wide colour (P3)
True Tone technology
iMac 5K Display – 27 Inch [Core i5]
Apple iMac and Mac Pro both are standard in video and movie production in the world. Look here for the best value iMac configuration for 4k Video Editing.
According to many users' reviews, the 21.4-inch 4k iMac model is not an ideal tool for high-resolution and 4K video editing. It comes with 4096 x 2348 it is not a ''4K standard'' in video terms. No doubt, it is better than Dell's Ultra HD 5K monitor.
Whatever there is no time for comparison with other brands, but the fact is Apple iMac 5K has 67% more pixels, and when it comes to editing photos and videos, that extra storage space is a welcome luxury. Therefore, it's the ideal and the best iMac for video editing and best for buy. Final Cut Pro X, Avid Media Composer, or Adobe Premiere Pro are all excellent video editing software options to use with a Mac.
Stuffing Configuration:
27-inch w/ 5k Retina Display
5GHz Quad-Core Intel Core i5 Processor (Turbo Boost up to 3.9GHz)
8GB (two 4GB) of 1600MHz DDR3 RAM; four user-accessible SO-DIMM slots
1 TB Fusion Drive
AMD Radeon R9 M290X graphics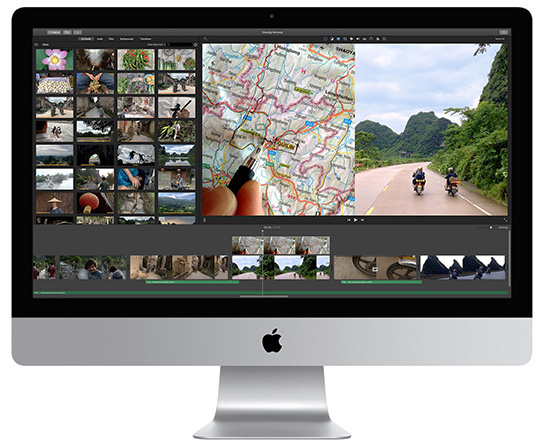 iMac 5K Retina oldest version: Check Price on Amazon
Best iMac 5K with Retina new Version: Check Price on Amazon
If you want to attach a number of displays in your photo lab, then Apple Mac Pro (2019)is an alternative Video Editing tool for you.
Please share your thought on this topic of the best iMac for Video editing. We would love to hear your feedback.
Apple's newly launched iMac Pro (Dec 2017) is also a reach and high profile business machine compared to regular iMac and Mac Pro. – Here's an article on where to buy iMac Pro and iMac Pro VS Mac Pro
Best MacBook Pro for Video Editing for All Programs
The two most powerful, MacBook Pro M2 and MacBook Air M2 are identical for video editing except for the display size. Both of them are equipped with M2 making it the fastest. However, the Retina display in MacBook Pro M2 has always been appreciated by Videographers; but Liquid Retina in MacBook Pro wins the race, as it offers a clearer view.
Besides, it features a mini-display of up to 500 nits of brightness and PD3 wide color. This Apple laptop includes 2-Thunderbolt Ports. Additionally, there is MagSafe Charging Port and Headphone port. Be wary of its limited number of ports, however.
This laptop includes an extraordinary HD Camera Studio Quality Mic along Three Mics Array, which looks sharp when capturing audio for Video production or attaining calls on FaceTime.
Best of all, if you are a person who wants a latest technology laptop, both MacBook Pro M2 and MacBook Air M2 are undoubtedly the best choices to win.
MacBook Pro [M1 Pro & M1 Max] 16 Inch – M1 (2021 Model)
This MacBook computer supports Up to 6K resolution at 60Hz. These models come with a Liquid Retina XDR display, MagSafe 3 port, Three Thunderbolt 4 (USB-C) ports, 3.5mm headphone jack, one HDMI port, and an SDXC card slot. Read more about detailed specifications and Buying guide for MacBook Pro M1 Pro and MacBook Pro M1 Max.
MacBook Pro With Touch Bar
If you are looking for a portable machine that you can carry with you wherever you want. Then we recommended Apple's new 13inch MacBook Pro with a Touch bar is a good one. It has the world's faster processor, Retina display, Intel Iris graphic 550, latest macOS Catalina operating system and Turbo boost up to 3.3Ghz.
RAM 8 GB LPDDR3 – it sufficient for photo editing and Video editing
Screen resolution – 2560 x 1600 and Max Screen resolution – 2560×1600 pixels
Hard drive – 512GB.
It has Powerful technical speciation, therefore all popular video editing software (Apple Final Cut Pro, Apple iMovie, Adobe Primer Pro CC, Corel VideoStudio Ultimate X10, etc.) are compatibles with flow less performance. So let's make this MacBook Pro with touch bar your new platform to working as a professional, to making a movie, creating a Hollywood trailer, and much more.
New 16inch MacBook Pro for video editing with touch bar
Best Video Editing Software 2021 for macOS Big Sur, Catalina, Mojave, High Sierra, Sierra, EI Capitan, and Earlier macOS
Don't Miss: Best Video Converter for Mac, MacBook, iMac
Final Cut Pro X: Apple Official [iMac video editing software]
Video Editor: Movavi