🗓️ September 14, 2023 By ✍️ Jaysukh patelAs a new iPad Pro owner, you may be worried about protecting 12.9-inch, New 10.5 inch & 9.7-inch Retina display screen Apple tablet. Then you should buy a good iPad Pro glass screen protectors (Anti-glare, Dust Free) that give long-lasting protection against Scratches and external damage. So, as per the good rating reviews, we noticed several budgets friendly, excellent visuals best iPad Pro tempered glass screen protectors. These protectors come with installation guides, long-time replacement warranty, compatible with Apple pencil, not affect the accuracy of the Pencil and able to provide HD clarity plus oleophobic coating screen. Here's Apple's new 4th Generation iPad Pro 12.9″ [2020 Edition] Screen Protectors.
Also, Oleophobic glass, so it keeps your iPad Pro screen protector fingerprint and Oil spot off on a glass panel. Go ahead to pick a 4-layer tempered glass protector out of given the top best iPad Pro tempered glass screen protectors.
Apple serially released three different size iPad models in the last two years, First iPad Pro 12.9 inch, iPad Pro 9.7 inch and New iPad Pro 10.5 inch.
So for the user's easy to search and find the best iPad Pro screen protectors for all of the three models covered in this article.
A smart list of best iPad Pro tempered glass screen protectors: 7th generation iPad
1. JETech Tempered glass protector for Apple iPad Pro
It's a uniquely designed shield because it comes with front camera cutout that's why you get an effective resolution of FaceTime camera. It has prominent features likely resistance fingerprints, 9H hardness screen it harder than a knife, good looking rounded edge cutting tempered glass protector with superior quality 0.33mm thick, install bubble-free and keep dust-free display.
Review: Apple pencil nicely works on this glass protector
JETech 12.9 inch, 10.5 inches, 9.7 inches: Amazon
2. Skinomi offer iPad Pro Glass protector
It's an ultra-thin tempered glass screen protector. It can deliver you 99.9% high-quality transparency, anti-scratch & shatter, maybe work with jot pro, maximum transparency and touch sensitivity, magnetic Absorption, installation guide, 9H hardness, Stick protector balloon-free, spot-free, unwanted particles such as dirt, dust or grime to be easily wiped off.
Skinomi 12.9 inch, 10.5 inch, 9.7 inch: Price: $16.95
3. iCarez Apple iPad Pro Tempered Glass Protector
To increase your iPad Pro screen durability, you should put this glass protector on it. It'll give you a trusted bubble-free, smooth touch experience, and feeling nothing attached on screen. You can use drawing apps with Apple pencil even with this Glass Screen protector.
iCarez 12.9 inch, 10.5 inches, 9.7 inches, Amazon
---
Get More: Best iPad Pro 10.5-inch Protective Screen Shields
---
4. Sparin Tempered Glass Screen Protector for iPad Pro
It's a very thin screen protector, and it's anteceded with a non-sticky adhesive that's why while you pull the shield your screen of the iPad is not damaged. Easily fit and no interference with the rugged or heavy-duty case. At all, it's a sturdy and long-time attractive iPad pro glass screen protector.
Review: allows multi-touch, ultra-thin, easy to stick, and explosion-proof hardness.
Sparin 12.9 inch, 10.5 inches, 9.7 inches,
5. 
AmFilm

: 3D Touch compatible iPad Pro Tempered glass protector
Prevent your iPad pro-big screen against screeches, knock, and dust because that will help to get worth to resell value. Whole transparency, delicate touch, oleophobic coating, and surface hardness features in a single glass protector. Furthermore, it provides a 4-layer defense for the 12.9-inch iPad Pro Retina display.
AmFilm 12.9 inch, 10.5 inches, 9.7 inches: Amazon
6. Perfect Sight: Apple Pencil compatible Glass protector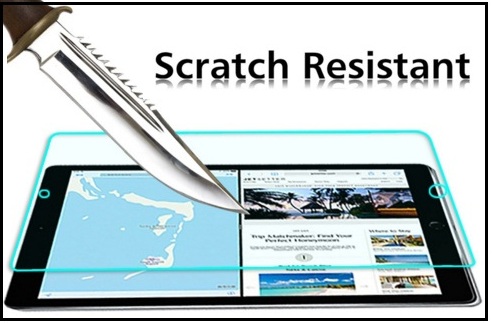 Are you exploring a highly responsive screen protector for the new iPad Pro? You can be buying this one also. It will give you high definition clarity and super sensitive touch experience. Stick protector on iPad Pro and live to feel free if having a bad habit of dropping your iPad on your stone floor. Get a Lifetime warranty from the purchase date.
Check the iPad Screen Protectors: 12.9 inch, 10.5 inches, 9.7 inches
7. Tech Armor Glass Screen Protector
Tech Armor screen protector made from Ballistic Glass material. Ready for install all size iPad Pro (12.9 inches, 10.5 inches, and 9.7 inches). fits with all models, Retina screen compatible, tested on all types of drop and Scratches, One of the trusted touchscreen protector. Lifetime replacement covers automatically with this purchase.
Tech Armor 12.9 inch, 10.5 inches, 9.7 inches,
Do you have any best iPad Pro tempered glass screen protectors? Please share with us as the 7th number of iPad Pro Glass protectors.