Last Updated on Oct 13, 2021
Here's the variety of Best iPhone 13 Pro Max Screen Protectors, that transform your Phone screen with the best shelf – Matt Finish, Tempered glass, Privacy Screen, and Camera lens screen protector. As an iPhone 13 Pro Max owner, you must not compromise at all in safeguarding your phone.
we are happy to help you, submit this Form, if your solution is not covered in this article.
The most delicate areas of your phone are the cameras and the screen, which should be prioritized and protected from the very beginning for longer quality performance. Hence, we believe that you must get the best products that contain the best quality. So, to ease your search for this same, we have a number of recommendations that you can look at and order without further delay.
These iPhone 13 Pro Max screen and camera protectors do their work perfectly well and will leave you with zero complaints, read more to look at what we have to recommend to you.
Pick up Best Screen Protectors for iPhone 13 Pro Max, As of your needs!
1. Spigen – iPhone 13 Pro Max Screen Protector with Alighnment kit
Tempered Glass will assure you the complete screen protection, With the Installation kit.
When it comes to your iPhone 13 Pro Max, you must not risk any damage. Thus, we recommend you get all possible protectors for your iPhone. This screen protector from Spigen does its work perfectly. The tempered glass durability rate stands at 9H in terms of hardness, and the easy installation will make the job very simple for you.
With this cover, you also get an oleophobic coating that will help to resist the fingerprint marks on your iPhone's screen. So, make sure to protect your iPhone at all costs by ordering this Amazon product today!
---
2. ESR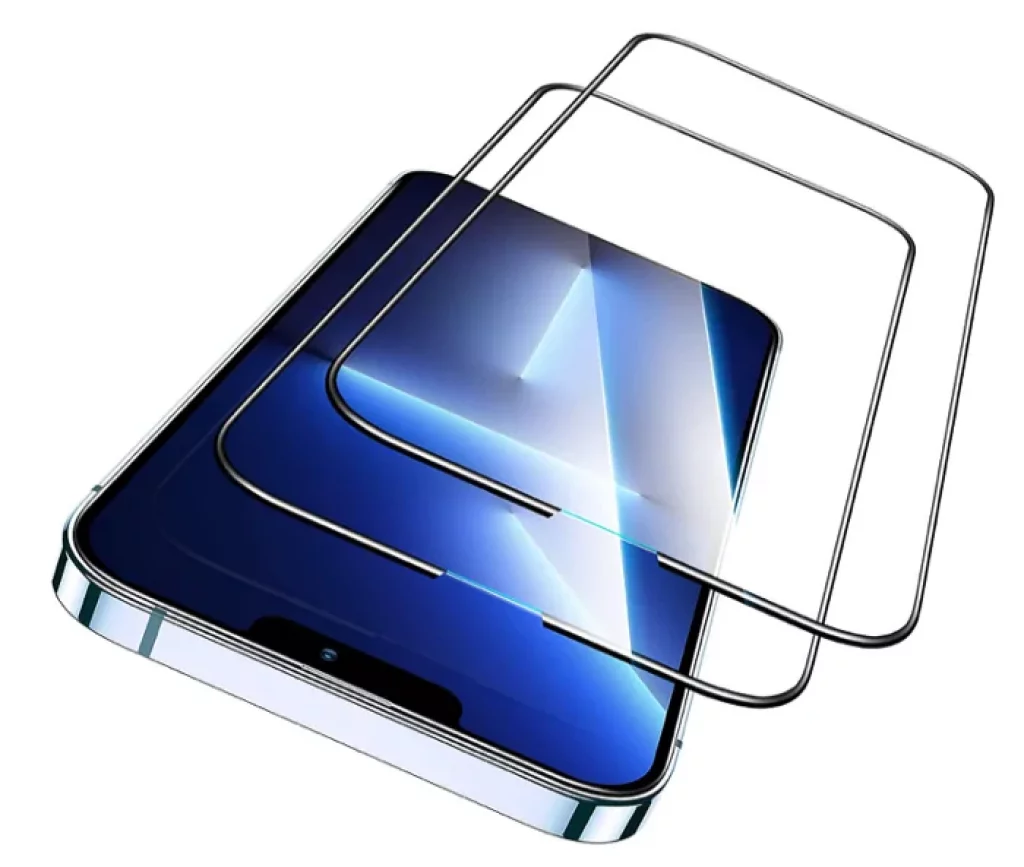 ESR Armorite Screen Protector with Easy Installation Kit
Just as the name says, this armorite screen protector compatible with iPhone 13 Pro Max will save your screen from breaking. This screen protector comes with an ultimate toughness rate and can protect your phone from 100 lb of force. The protector has also been made with materials that help keep the phone's screen smooth and clean, without any fingerprint marks emerging. Also, you can have uninterrupted viewing as this glass protector has ultra-clear glass technology that works perfectly with Face ID detection.
With this screen protector, you will also get an easy installation frame and a cleaning kit to help in a bubble-free application. So, we recommend you get this screen protector that can save your iPhone 13 Pro Max to a greater extent.
---
3. MKEKE – Camera's lens & iPhone 13 Pro Max's Screen at all costs
Make Screen and Camera Protector Compatible with iPhone 13 Pro Max
A Make product is here to surprise you with a 2-in-1 feature. Designed especially for iPhone 13 Pro Max, this high-definition screen protector and camera lens protector combo will give your phone the complete exterior protection that it deserves. The screen protector is made of glass, ultra-thin, easily applicable, and provides a bubble-free attachment to your phone's screen. You can also enjoy your phone's original touch as this screen protector gives the exact protection and does not interrupt your usage. Do not worry about scratches and damage on your iPhone 13 Pro Max anymore because this screen protector does its job at its very best.
The camera lens protector is back-case friendly and will not interrupt the camera usage as this lens is mainly built and is a glass film with an open-edge design. The product comes with an installation kit guide that gives you stepwise instructions on how to use the protectors. Hence, without any delay, get this unique product today.
---
4. HIWILL – iPhone 13 Pro Max Glass Screen Protector from WILL
WILL iPhone 13 Pro Max Screen Protector
Compatible only with iPhone 13 Pro Max, the screen protector comes with an open-edge design that can cover the entire screen and protect your iPhone from maximum scratches, scrapes, and bumps. The ultra-thin screen protector also has a fingerprint sensor, so there can be no interruptions while using your iPhone. The screen protector is also fully compatible with proper screen touch, and you can observe fast screen responsiveness with this screen protector.
The glass screen protector comes with a hydrophobic and oleophobic coating that helps resist sweat and oil marks on the phone's screen. The easy installation guide with this screen protector will make it easier for you to apply it without any interference. The precise laser-cut tempered glass will fit on your iPhone's screen most appropriately. Hence, please do not wait any longer and get this amazing product at your doorstep by ordering it from Amazon.
---
5. Ferilinso – Tempered Glass Protector
Give maximum protectionby Ferilinso for iPhone 13 Pro Max
Protect your iPhone 13 Pro Max screen with every possible damage by securing it with a Ferilinso glass protector. Along with protecting your phone's screen, you also get a camera lens protector, which does not interrupt your camera's functioning. Instead, it saves it from any possible damage. The camera lens protector is a perfect fit for night shooting mode as it has upgraded its night flash circle and does not affect the flash in a dark environment. With this camera protector, you can achieve maximum light transmittance and get the original picture quality.
The double protection of the tempered glass will fit your iPhone 13 Pro Max perfectly, and the precise laser cutting will leave you with no complaints whatsoever. You can also observe a clear touchscreen surface of your iPhone 13 Pro Max. You can attain effective protection on your camera lens from drops, scratches, and other accidents. So, make sure to protect your iPhone 13 Pro Max with the best features that can be availed through a Ferilinso tempered glass protector.
---
6. Supershieldz Anti-Glare Matt Screen Protector
Made from the high-quality Japanese PET film and Easy to Remove.
As you have seen about the number of options available above, do not wait anymore to protect your iPhone 13 Pro Max and use it with the utmost comfort and care. Still Matt glass protectors can work wonders in saving your iPhone at its best level and resist your phone's screen from breaking and use in a lightning environment. The hardness and toughness of the glass protection can ensure the best possible care for your phone. As a bonus, you even get the camera lens protectors, which are essential in the current times. Do not worry about the picture quality with a camera lens because the protectors do not interfere with the clicked picture quality.
The list above consists of the best recommendations and we can assure you that they offer the desired service at very affordable prices. The installation kit mentions everything about a bubble-free and intact addition of the protector. Hence, you can look up to the guide and insert the screen protector on your iPhone accordingly. So, do not delay in protecting your iPhone 13 Pro Max, and make sure to order your favored products right away.
Also, Find Helpful sources:-