🗓️ September 14, 2023 By ✍️ Jaysukh patelDo you want to buy a Smartphone in 2021? Let's see here which phone you should buy? Usually, people say that iPhones are faster than Android Phones. But no guys it's not right at least. Because here given all picked up Superfast best iPhone 7 and iPhone 7 Plus alternatives as fast as good as the iPhone. Two big things that are not available on Apple iPhone 7 Plus and iPhone 7 and that is a headphone jack and no external storage. You know in the market there many iOS compatibles Apple Watch Alternatives smartwatch available.
#1. Samsung Galaxy S8 – it's closely iPhone 7 Plus Alternatives
#2. Huawei mate 9: A cool mirror Smartphone
#3. Sony Xperia XZ: Special Smartphone for Photography
#4. Pixel XL – iPhone 7 Plus Alternatives
#5. LG G6 Android Smartphone
Exclusive Top best iPhone 7 and iPhone 7 Plus Alternatives
#1. Samsung Galaxy S8 – it's closely iPhone 7 Plus Alternatives
The Android V 7.0 operating Samsung Galaxy S8 comes with a 5.8-inch big AMOLED display. The cool thing is the bezel on top and bottom of the phone and curved edge display with embedded Qualcomm or Snapdragon 835 processor. If you don't like iOS, then Android-running Galaxy S8 and S8+ is an excellent phone for every use. Pattern lock alternatives fingerprint lock appears right next to the camera on the back. Also, has a built-in iris scanner to unlock the home screen that is pretty secure.
There are 4 GB RAM and 64-gigabytes onboard memory into Galaxy S8 along with 4D LTE bands. Back and front designed from glass materials because of their supports wireless charging. IP68 certified waterproof Galaxy S8 and S8 plus both a little bit faster in browsing and third-party applications while iPhone is super faster to play the game.
Get More Here about Samsung Galaxy S8
#2. Huawei mate 9: A cool mirror Smartphone
First, we talk about the hardware of the 5.9-inch Huawei mate 9 (Durable glass display). Its body constructed from Aluminum materials. Rear side Leica dual-lens Camera technology is nice that lets you shoot up to the 12MP RGB sensor, and 20MP monochrome sensor renders in an image. A fingerprint sensor to lock, Front 8MP Selfie Camera lens and second-generation dual-camera covered by glass materials that prevent over scratches.
On the bottom side, there is a USB-C type charging port (Faster charging technology) and both side speakers grill. On the top side, there is an earphone jack to listening to music directly on the headphone. SIM and Micro SD card external memory tray left a top hand on the phone. Shipping with Bonus features back protector – if needed. Superfast Kirin 960 processor and large 4000mAh battery pack. Among all of a flagship thing is an Ultra battery Mode helpful to save battery for a long time.
Android platform – brilliant color look and very simple to customize display color temperature and at all give eye comfort and extremely wonderful user experience. Huawei's phone has Alexa Voice works as intelligent assistance. So merely say a phone for heavy users. Also, there is a Huawei tool, which has many apps, tested Faster browsing experience than Apple iPhone.
The camera system is so faster but playing the game on the iPhone is a little bit faster. Buy good RAM management. The Huawei Mate 9, one of the hot favorite Smartphones for Photographers case has a colossal feature camera App. Also, the facility to capture a photo in low light.
You can book here 64GB unlocked Huawei mate 9: Price -$585.00
#3. Sony Xperia XZ: Special Smartphone for Photography
More personal Smartphone Xperia XZ comes with a QUALCOMM Snapdragon 820 processor. Yes, guys phone has a mind-blowing 23MP primary camera and the 13Mp front camera that gives excellent camera performance, original feature including phase detection and laser autofocus. The dual SIM 64GB Xperia XZ (supports external microSD card up to 256GB) available in tow color variants Silver and Forest blue.
More information on Sony Xperia XZ: price – $492.00
#4. Pixel XL – iPhone 7 Plus Alternatives
Aluminum unibody 5.5inch Google Pixel XL is made by the Search engine Google. Designed the ''G'' logo on the back indicates the Google logo. Google Pixel has an embedded Snapdragon 821 processor, and 4GB of RAM serves incredible memory management. Killer 12MP Rear Camera, the company claims that the phone has a DSLR camera result.
Amazing for 4K video, right aperture, ad superb picture clarity. All applications run smoothly and at all less lag and freeze compared to other unfamiliar brands smartphones.
Round App icons, and a bunch of new features one of them is Google Assistance, it does work as like SIRI employ on iPhone. Cool animated lock screen and fancy home button. Let's order today and take out of the box.
Order Google Pixel XL USA Version: Available on Amazon
#5. LG G6 Android Smartphone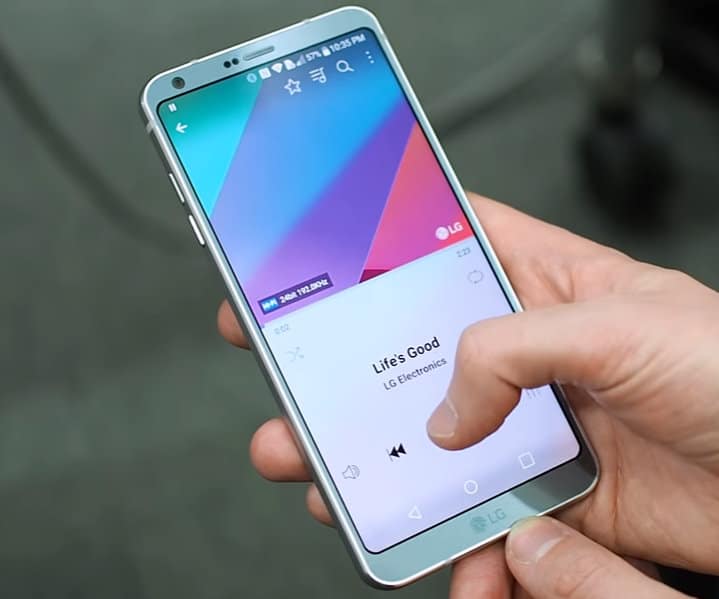 Metal and glass crafted LG's impressive G6 model comes with an Android Nougat 7.0 operating system. G6 is fully flat ergonomic curves and unconventional look phone. Processor Snapdragon 821, 4GB RAM and 32GB onboard storage memory.
It has an IP68 rating for water and dust resistance; hence, you don't need to worry, to take your LG G6 in the rain or giving it a quick dunk in the sink. LG G6 is available in color – Silver, black and white.
LG G6 Factory Unlocked Phone: Price – $665.00
Did you find any best Alternatives to the iPhone? Let us know in below comment box. You also contact us on Facebook, Twitter.