Looking for the best iPhone XS Max Alternative in 2021? Cool! I am an iPhone user since the beginning, and some of you are too using the iPhone for a very long time. We are entirely familiar with all the features of iOS. But now I'm exhausted with iPhone and iOS so now Android comes next on the list. And in the Android operating system, the leading smartphones are provided by Google, Samsung, LG, and more.
The advantage of buying this Android phone is to save money instead of going for iPhone XS Max. Only a few compromises you have to make, and in return, your pocket will not get empty by the expenses of the iPhone XS Max. Head over to the alternatives of the iPhone XS Max.
#1. Samsung Galaxy Note 9
#2. LG G7 ThinQ
#3. Google Pixel 2
#4. BlackBerry KEY 2
#5. Apple iPhone X
You can get here earth's wonderful Phone that looks like iPhone XS Max, Let's look iPhone XS Max Alternatives Phones
| Phone Names | Click to Buy | Ratings |
| --- | --- | --- |
| #1. Samsung Galaxy Note 9 | #Amazon | 4.5 out of 5 |
| #2. LG G7 ThinQ | #Amazon | 3.5 out of 5 |
| #3. Google Pixel 2 | #Amazon | 4.0 out of 5 |
| #4. BlackBerry KEY 2 | #Amazon | 4.5 out of 5 |
| #5. Huawei Mate 10 Pro | #Amazon | 4.5 out of 5 |
| #6. Huawei P20 Pro 128GB Dual-SIM | #Amazon | 4.5 out of 5 |
Five Best iPhone XS Max Alternatives Smartphones in 2021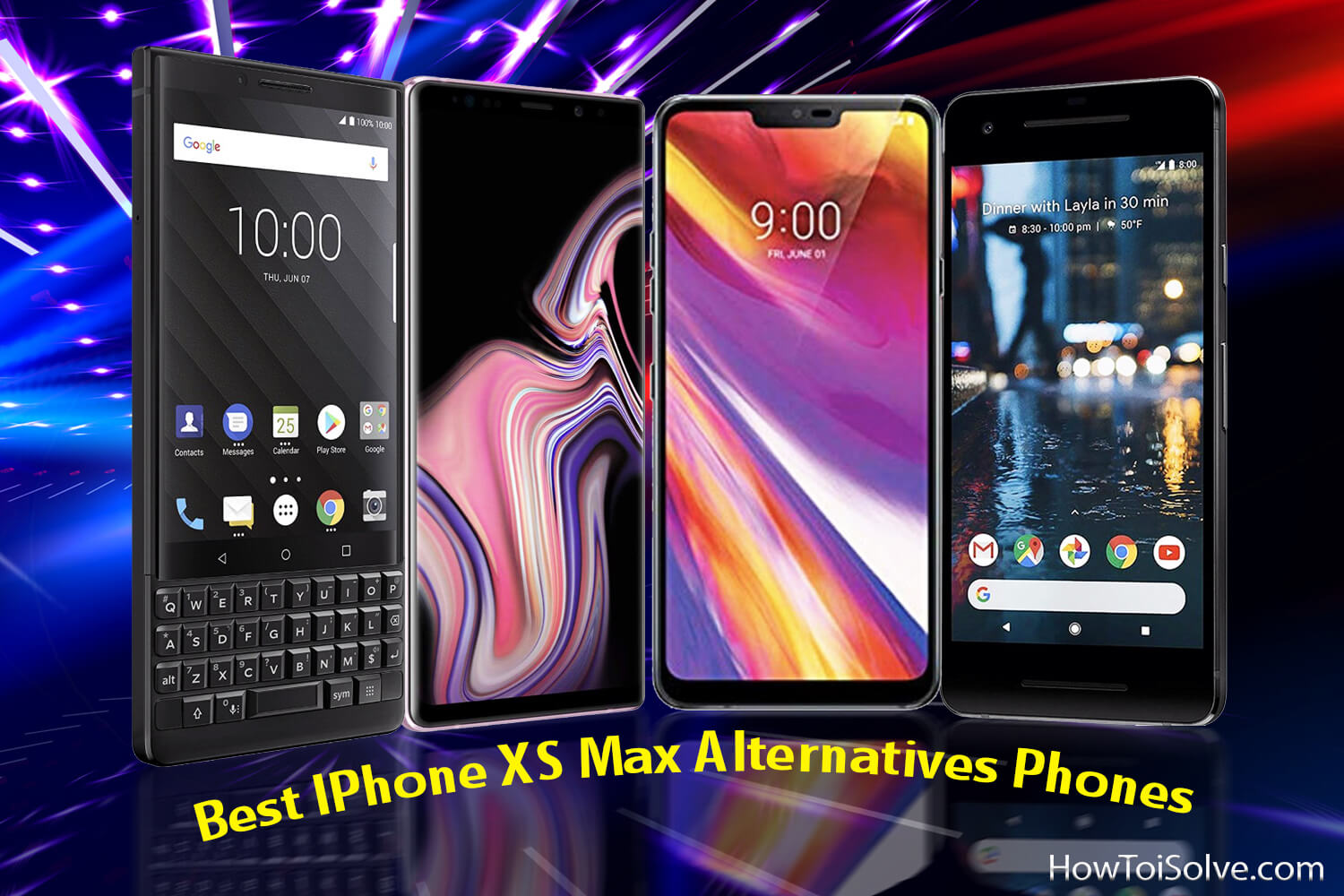 #1. Samsung Galaxy Note 9: Best iPhone XS Max Alternative
The best alternative to #iPhoneXSMax is Samsung Galaxy Note 9 with amazing abilities and features. It operates on the latest Android operating system along with the TouchWiz software of Samsung. You will get a more powerful battery life compared to iPhone XS Max in Note 9.
Its advanced S pen is enriched with multiple functions like capturing shots, play music, and much more. It has become more string off the screen. There are two variants available which are 128GB and 512GB with a perfect AMOLED infinity display of 6.4".
Buy Online Amazon: Samsung Galaxy Note9
#2. LG G7 ThinQ
After a long time, #LG has come back with more expensive and capable devices in the Android market. The display of LG G7 ThinQ is 6.1" and has a notch which is quite similar to iPhone XS Max. Capture the perfect moment with its smart dual 16MP camera which can also recognize about 19 subject options.
Get excellent sound effects with its bump bass and room-filling rich sound. However, the battery life of G7 ThinQ is 3000mAh which is a bit low compared to other Android smartphones. Overall this device is excellent and worth buying if you prefer LG smartphones.
Buy from: LG Electronics G7 ThinQ
#3. Google Pixel 2
A Google Pixel 2 is quite a smartphone with all the advancements included in Google itself. So whenever Google releases an Android update, Google Pixel 2 will be the first to receive new updates. Besides this, it charges with high speed, and Google makes a long-lasting battery, water-resistant capability, great camera, and many more improvements in Google Pixel 2.
The 5" AMOLED display is compact and far better than the smartphone with huge screens. Three color options available are Black, White and Blue along with two size variants of 64GB and 128GB.
Buy from: Google Pixel 2 Unlocked
#4. BlackBerry KEY 2: Best iPhone XS Max Alternative
BlackBerry KEY 2 is probably the best, and the #Android device with the keypad is present in the market. BlackBerry is redesigned with an excellent keyboard, fingerprint sensor, faster predictive text, and customizable shortcuts. A durable 4.5" aluminum alloy frame makes this phone stunning with an impact-resisting side body frame and textured diamond non-slippery back.
The 12MP+12MP dual camera is impressive which supports portrait mode, 4K video recording, 1080p video recording, and an 8MP front camera with front flash. It is alike to iPhone XS Max except for some notable changes.
Buy from: BlackBerry KEY 2
#5. Apple iPhone X: Best iPhone XS Max Alternative
Another option available for you if you don't want to buy the iPhone XS Max that is the iPhone X. Most of us don't like the Android operating system and want to stay with iOS, so for them, the iPhone X is the best alternative for iPhone XS Max. It consists of a 5.8" super retina screen along with an OLED Multi-touch display which enhances the experience of playing games and watching movies.
The long-lasting and fast charging is due to the newest Wireless Qi Charging technology. The notable change that Apple made in iPhone XS Max is a dual sim. So don't spend more money on iPhone XS Max if you are satisfied with a single Sim.
Buy from: Apple iPhone X