Last Updated on Sep 26, 2021
iPhone XR overheating or iPhone XR gets hot is a common issue that people face and fix in the earlier years, and still heating issues in iPhone XR continue. Generally, after a major iOS 15 update, iPhone gets hotter, and sometimes it leads to battery drain on the iPhone. Besides, few more factors can affect the overheating of the iPhone XR. So, follow my precautions that help control heating or Battery Draining Using the Simple steps.
So today, in this article, we will see the best solutions to fix iPhone XR gets hot and why iPhone XR is getting hot? You have an [iPhone XS Max/ iPhone XS] also; try the below guide.
Troubleshooting steps for iPhone XR Getting Hot and Cool Down
Why is my iPhone XR overheating? Real Facts!
iPhone XR gets warm while charging or constant use of apps is normal. But if iPhone XR is getting hot, and while holding, you feel like a hand is burning, then the scenario is different. In such a situation, you have to find a proper solution to this issue. Overheating of the device can because by two major reasons one is defective hardware, and the other is software malfunctioning. We can only fix if the iPhone is getting hot if it is software bugs, hardware issue is not in our hands.
Remove Full Body protective Cover from iPhone XR, That Passes the cold air to the Metal body and helps to maintain Temperature all the time. Otherwise, during long FaceTime, Skype, Messenger, WhatsApp Video call makes your iPhone XR Too hot.
iPhone XR hot while charging: Use Official Charging Cable and Adapter. Apple Modify Power o/p on Adapter model wise. If you are using the iPad's Charging kit to charge your iPhone, That's a problem, and I personally feel My iPhone getting hot in this case.
What should you do when your iPhone XR is getting hot?
---
Tip 1: Close all the apps when iPhone XR gets Warm
Primarily lighten the burden from the iPhone's processor. To do so, you have to close all the applications running in the background. Get all Running apps on the multitasking screen.
Swipe up a finger from bottom edge to center of the screen until you find all apps render on screen.
To close the specific app, Swipe up finger on app preview.
That's it.
Disable Background App Refresh
Go to the Settings app on the iPhone.
Next, Tap on General.
Now, Tap on Background App Refresh. See the list of app that we can disable from running in Background or Turn off all at once.
Turn Off App Notifications
Disable all push notifications for Apps like Mail, Social app, Facebook, Instagram, Tumblr, and many others. That app is pushing new updates frequently on the lock screen or the Home screen notification center.
Go to the Settings app on the iPhone.
Next, Tap on Notifications.
Scroll Down to find all Apps in the list. Go with this and Turn off Notifications for the app.
---
Tip 2: Remove battery consuming apps
To get detailed information about the battery usage of applications, you have to follow the steps,
Go to "Settings" and tap "Battery".
Tap "Battery Usage".
You can get complete details of culprits who are absorbing much of the battery, so iPhone XS Max is getting hot while using.
Now, after analyzing, you must delete those apps and, if needed then reinstall them. First, go to the home screen and then press and hold on to that app to remove and tap on the Red icon to uninstall the app.
Complete guide: what's an app using Battery on iPhone.
---
Tip 3: Hard Reboot Your iPhone XS max
iPhone getting hot while charging? Then try this trick to fix it. Restarting the iPhone will fix minor bugs and the misbehaving apps.
Press and release the Volume Up button.
Press and release the Volume Down button.
Next, Press and hold the Power button until the Apple logo appears on the screen. Turn it on using the Side button only.
---
Tip 4: Update The Apps And iOS
iPhone hot near camera or Photo click, Some Buggy iOS creating issues like this. There are few cases when the application is not compatible with iOS and vice versa, and it results in several faulty responses. Therefore we always tell you to keep your iPhone up to date as well as the apps.
To update apps, you have to visit the App Store, tap on the Update section, and update the applications.
How to update iPhone XR
Open "Settings" and tap "General".
Select "Software Update".
---
Tip 5: Reset All Settings in iPhone XR
A reset to all settings can be useful if iPhone is causing unusual activity, and so we will reset all settings to fix iPhone XR gets hot and battery drains. Once you reset all settings, all the changes you have made to iPhone settings will be reset to default. this fixes your common issue iPhone XR getting Hot when playing games, watching YouTube.
Steps to Reset All Settings in iOS 15 and later version
Go to the "Settings" app > Tap "General" > Find and open tap "Transfer or Reset iPhone" > Tap "Reset" > Lastly tap on "Reset All Settings" > For security reasons, you will be asked to enter the iPhone Passcode.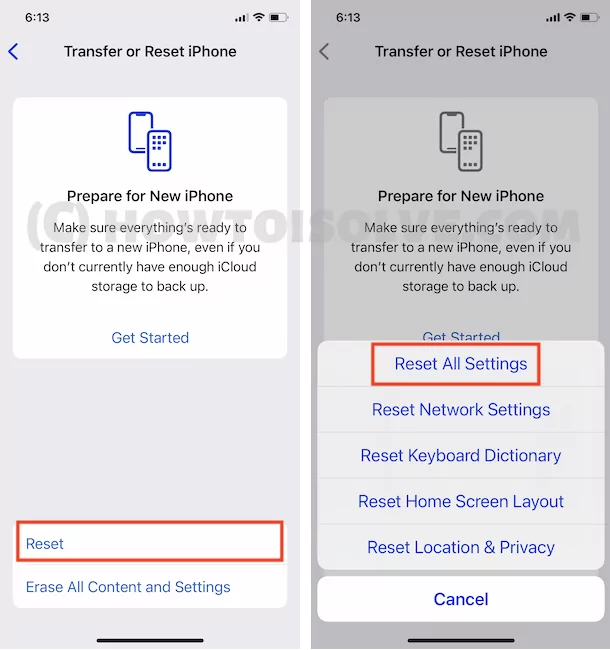 >Tap Confirm Reset All Settings. > After that iPhone will reboot.
Steps to Reset All Settings in iOS 14 and earlier version
Go to the "Settings" App.
Tap "General" and open "Reset".
Select the "Reset All Settings".
---
Tip 6: Restore iPhone XR through iTunes
None of the above tricks fixes overheating of iPhone XR then it's time to remove every piece of data from the iPhone. Restoring iPhone will remove every single file which is malfunctioning and free up the processor. If you like to prefer, DFU mode restores on iPhone XR then does it. Watch the Video to put your iPhone into DFU mode.[Backup your iPhone first]
Connect the iPhone to the Computer.
Launch "iTunes".
Select your iPhone.
Now, click on the "Restore iPhone" followed by "Summary" panel.
---
Tip 7: Contact Apple Support
Still, iPhone XR is overheating, and then immediately you have to contact Apple technical team before any parts get damaged due to overheating.