Last Updated on Nov 10, 2020
The Best Apple Watch link Bracelet in 2020 That Fit with Series 5, Series 4, Series 3, Series 2, and Series 1 price is $549 for 38mm face while Silver link bracelet price is $449 on the Apple online store. If you want to upgrade your Apple Watch Sports look without spending a ton of money. Then you can turn your low price Apple Watch into the good value iWatch via putting the third-party best link bracelet Apple Watch bands. Luckily you can get here modern and elegant designed collection for Apple Watch Series 2, Apple Watch Series 1, Edition, and Sports.
All listed link bracelets indeed give a sleek look on both wrists of the women and the men. We recommend this unique Apple watch accessory article because still, you have a great chance to save big. Even you want the measurement for wrist strap then you also get a chart as Apple watch link bracelet sizing guide 38mm Case, 42mm Case.
Top Best Link Bracelet Apple Watch Bands 3rd Party Replacement 
#1. PUGO TOP- Best Link Bracelet Apple Watch 3rd Party
This PUGO TOP link bracelet iWatch band is compatible with Apple Watch Series 2, Apple Watch Series 1, Apple Watch Nike+, Hermes. It is a butterfly closer third-party link bracelet Apple Watchband. It is made up of Apple, but it gives the feeling like wearing Apple Watch official band.
It's crafted from durable Stainless Steel alloy with custom look butterfly closer. The band is a precise CNC from 100 components. Through a tiny pin, you can be assembling a link bracelet with your Apple Watch. Also, it's the apple watch link bracelet 9 hours mean it takes nearly nine hours to cut the links for are a single band. Easy to add and remove links with a tiny pin. It is an alternative replacement band of the original Apple watch link bracelet.
Check PUGO TOP Bracelet Price on Amazon
#2. U191U link bracelet Replacement Band for Apple watch
U191U offers the best link bracelet Apple Watchband with a double button folding clasp. The band has combined features including style, functionality, iWatch lugs both ends that make interface securely and precisely. Furthermore, it's perfect to feet and has policed surface so comfortable for the smooth feeling. Ultimately, it will nicely hold up on your wrist. If you have Apple watch sport, then give it a stainless steel alloy look. Easy to remove and install links.
Check Gold Metal Watch Band Price on Amazon
#3. Metal Apple Watch Bracelet Strap for 42mm/38mm
Stainless Cowboy style design apple watch band is suitable for Men and Women. Removable band links comfortably to wear for apple watch fans. The adjustable band fits with a bigger wrist. This Band is available in different colors (Rose Gold, Black, Silver) and style. Check out solid still apple watch band. Its a fancy chained Apple Watchband specially made for women and girls.
Check Metal Strap Band Price on Amazon
#4. Fullmosa– Best Link Bracelet Apple Watch Band
The Fullmosa brings stainless steel link bracelet with a butterfly closer lock. The Apple watch silver stainless steel link bracelet constructed with superior craftsmanship. Buy this unique butterfly closure, firmly closed, prevent loosening, safe, and make your Apple watch more beautiful. The Top quality stainless steel material in silver color makes it awesome with the original buckle.
Check Fullmosa Wrist Strap Link bracelet band Price on Amazon
#5. iiteelogy Apple Watch Band Replacement
It is a perfect fit and cheap in price aftermarket metal link bracelet with Mesh Loop band for Apple watch.  Easy to install and remove the third-party band from Apple watch sports. Available in many antique colors so I hope you will easily get your iWatch perfect match color. Get it from the below link with the lifetime warranty. The pack of two Watchband contains two different colors, choose the pack that you love the most.
Check iiteeology Apple Watch band link bracelet Price on Amazon
#6. MoKo link Bracelet 42mm Apple Watch With Buckle Strap
This is another one very inexpensive under 30 dollars link bracelet 3rd party band for 42mm Apple watch. It is high quality and easy to install band replacement wrist strap. It has premium stainless steel metal features including luxury, elegance, durability, and nobility. The custom butterfly coating texture looks amazingly on the wrist. You may want to buy this deal.
#7. Best link bracelet band for Apple Watch Series 2, Series 1, Nike +, Sports and Editions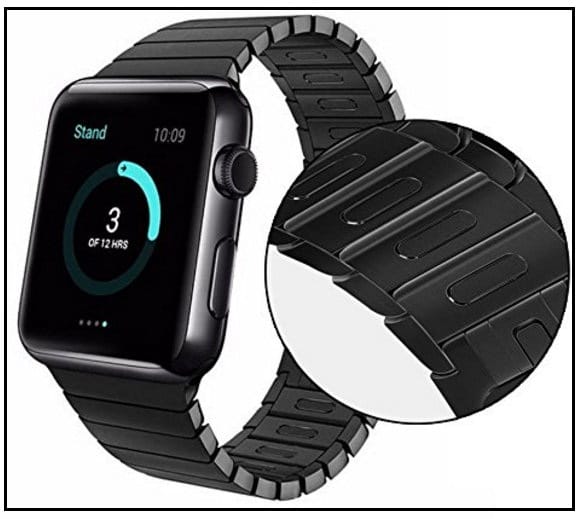 Apple's official metal stainless steel best link bracelet band for Apple Watch Series 2, Apple Watch Series 1, Apple Watch Nike Plus, and as well easily customize with Apple Watch sports and Edition models. It is build up from the 316L stainless steel alloy with beautiful looking custom butterfly closure. The link band is available in two classic colors black and silver. It has Removable links easily therefore to fit various wrist sizes. Moreover, you can easily dismantle without any kind of special tool.
Check Link Bracelet band by the Apple Price on Amazon
You may also like: Wonder Apple watch Metal Band 42mm/ 38mm Case; you may never See these third-party Milanese Loop Apple Watch Bands.
Do you find other stylists' best link Bracelet Apple Watch straps third party? Pleases share in the comment box. 
A bottom line for manufacturers- you can send us your Apple Watchbands for review and will expand the above list. Like our Facebook Page, and follow us on Twitter.