🗓️
October 30, 2023
By ✍️
Jaysukh patel
Charging your MacBook is one of the critical tasks that's because the battery is one of the primary sources of power. However, there are chances where MacBook users forget to bring the Apple MagSafe charger alongside. And the worst part is we cannot simply charge the Mac using a third-party charger. When it comes to designing, it's a device. Apple is extremely picky.
As a result, you're entirely unable to charge your Mac with any charger. In order to fuel up your Mac, you need to use the same Apple MacBook Charger. In this guide, we'll show you different methods to charge a MacBook without a MagSafe Charger.
No MagSafe Charger? No Problem: How To Charge Your MacBook Pro
Before proceeding to the procedure, you need to understand that the solution mentioned in the article is a permanent way to juice up the MacBook. You can only use them at the time of trouble, and there is a need for an immediate power source. If you have damaged your MagSafe Charger, you proceed to the replacement.
Way #1. Using the Type-C Adapter (iPhone USB-C to USB-C Cable)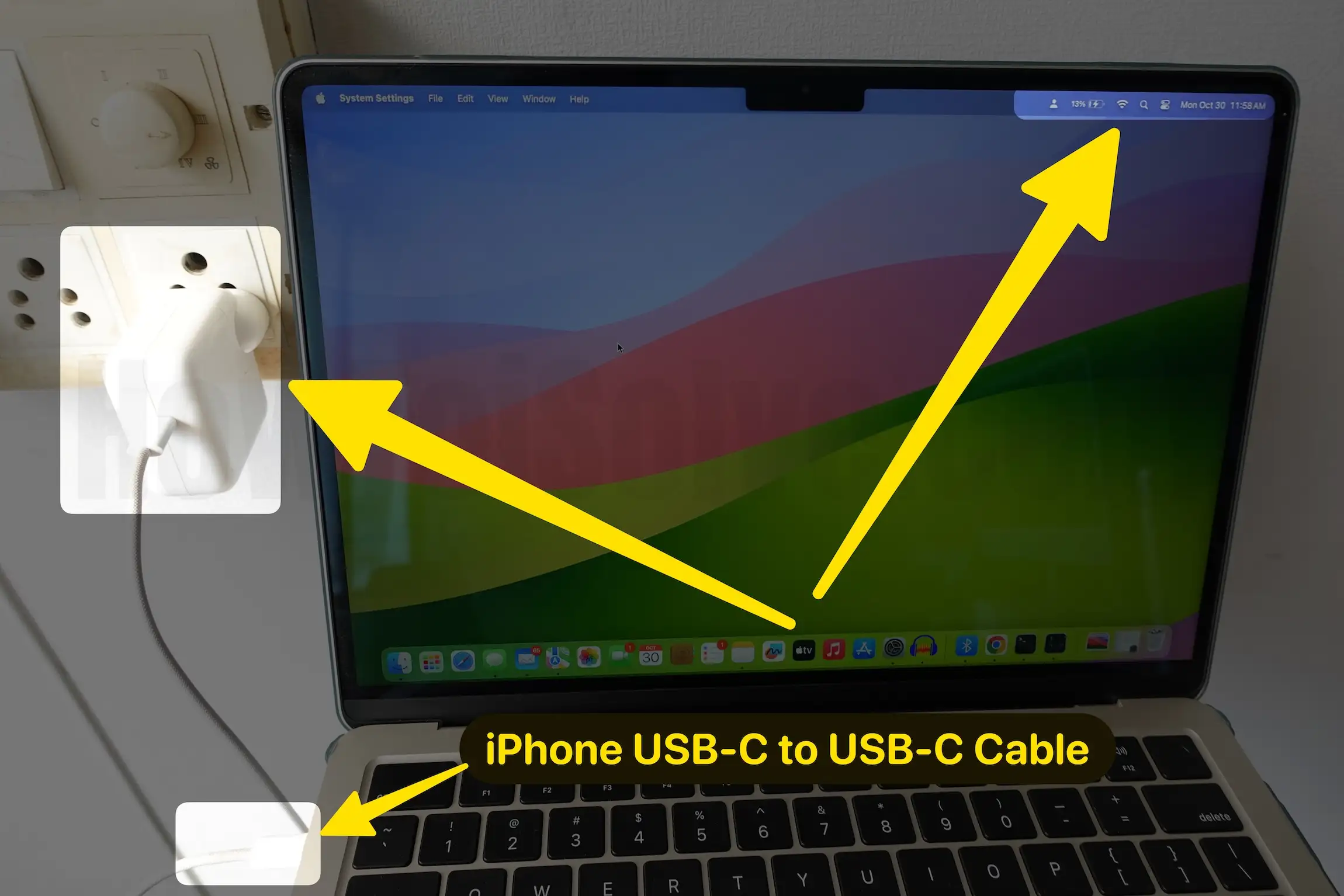 You can always use the Type-C adapter of the Android flagship. All you need to do is simply connect a USB cable to the MacBook and power it up from a power outlet.
But note it down: this charging method is comparatively slower than the traditional one as it will unable to deliver the necessary power output. And also, note that this method should be only used once as it can probably damage your MacBook Battery and cause the fan to overheat.
Way #2. Charge via Mac Mini or iMac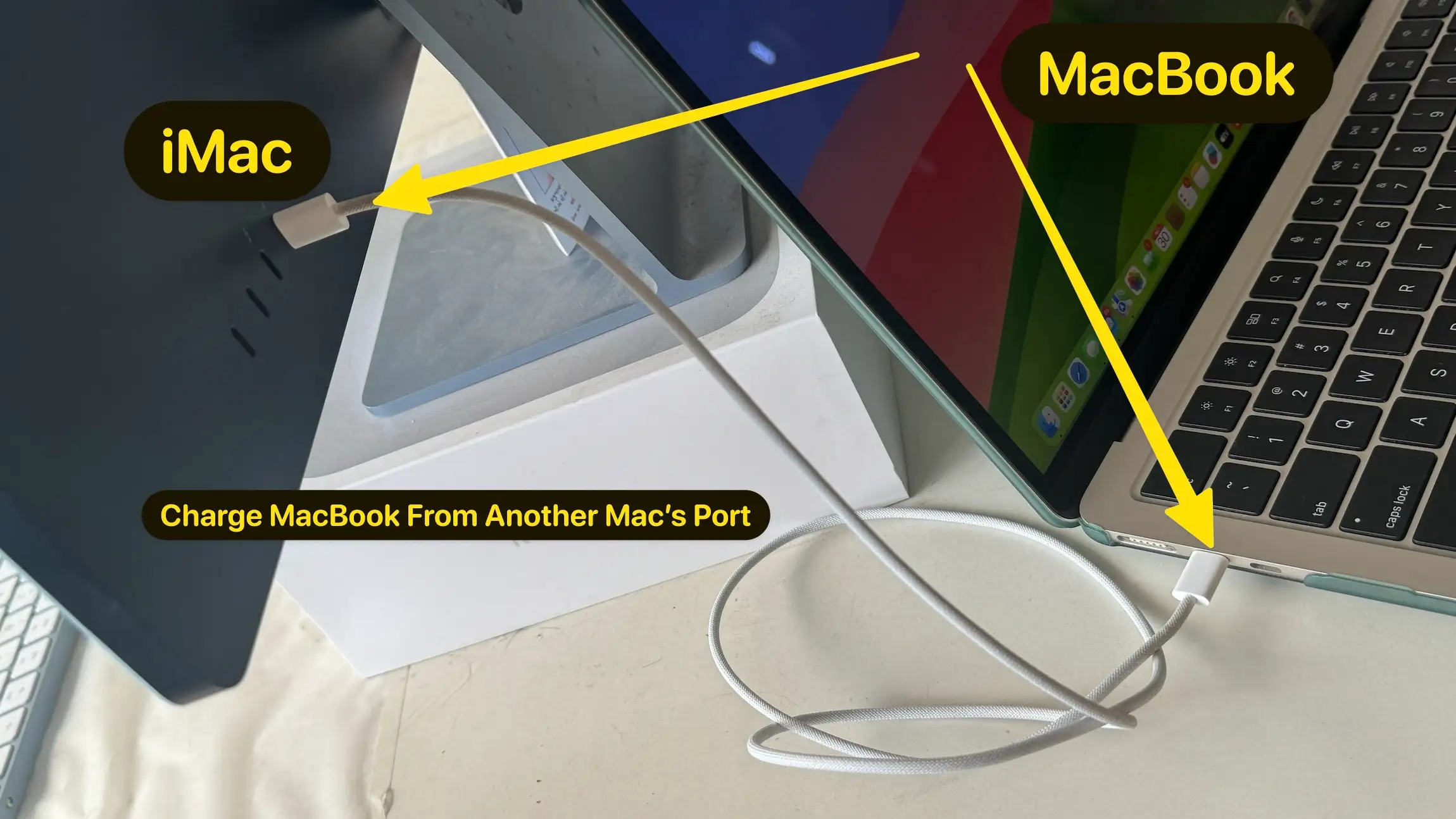 Charging your MacBook using a Mac Mini or iMac is one of the most convenient ways when you don't have a MagSafe Charger with you. However, do remember charging from another Mac can be comparatively slower. For this, all you need is a USB-C port MacBook and Mac Mini or iMac. And to charge, all you need is a USB-C to USB-C cable (It comes with all Apple Accessories). See the result,
That's it.
Way #3. Charge your MacBook using a Power Bank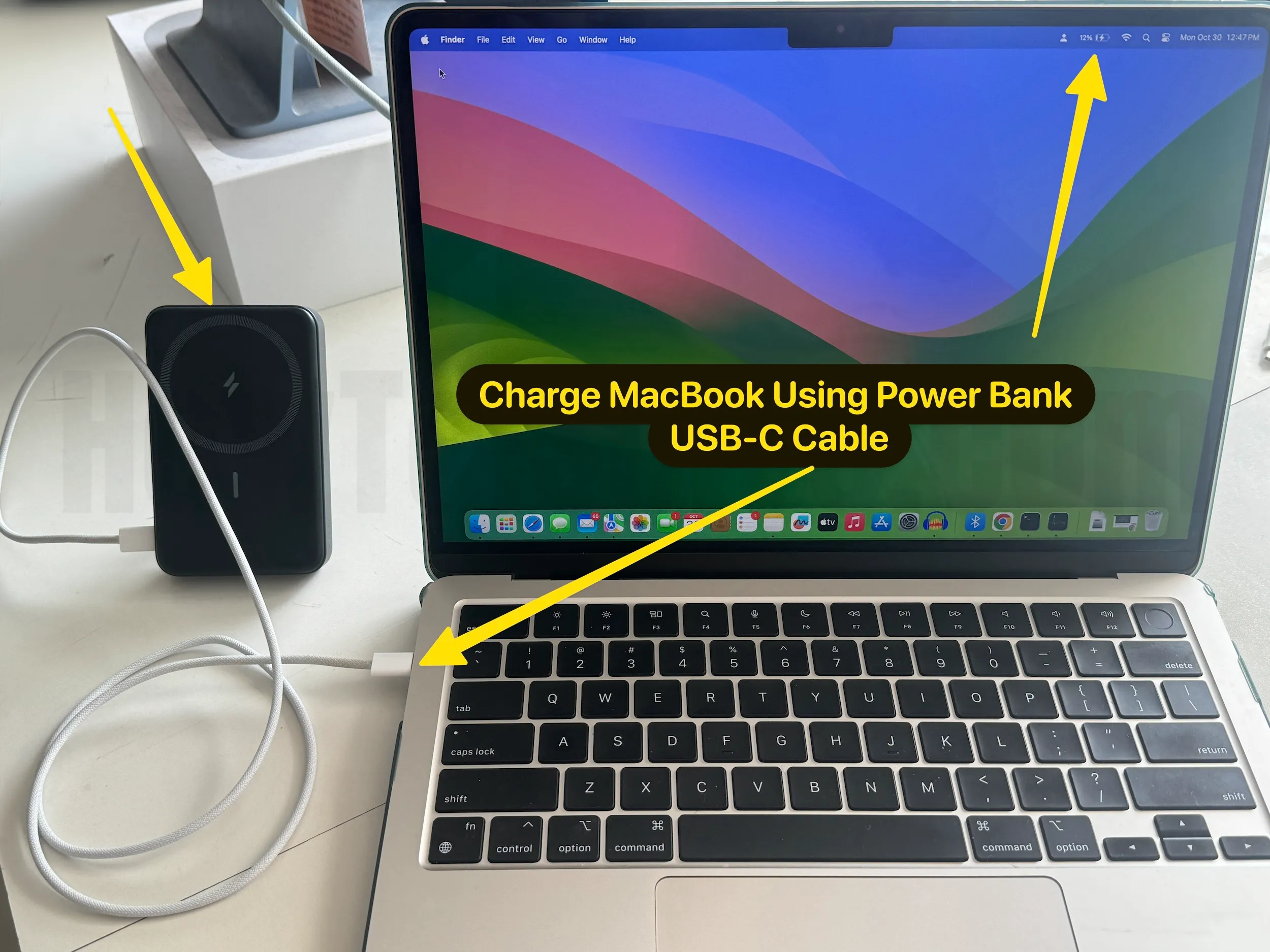 In case you don't have the charger with you, you can efficiently charge your MacBook using Power Bank. However, make sure you have a USB-C cable with you. You can use the power bank to charge your MacBook in the same way that you set your iPhone. But ensure that the power bank only supports 5V power, whereas the MacBook Battery needs 8V to 12V. In simple words, you'll require a power bank capable of charging your Mac. If you have a MagSafe cable, it also works with the power bank. See below for my result.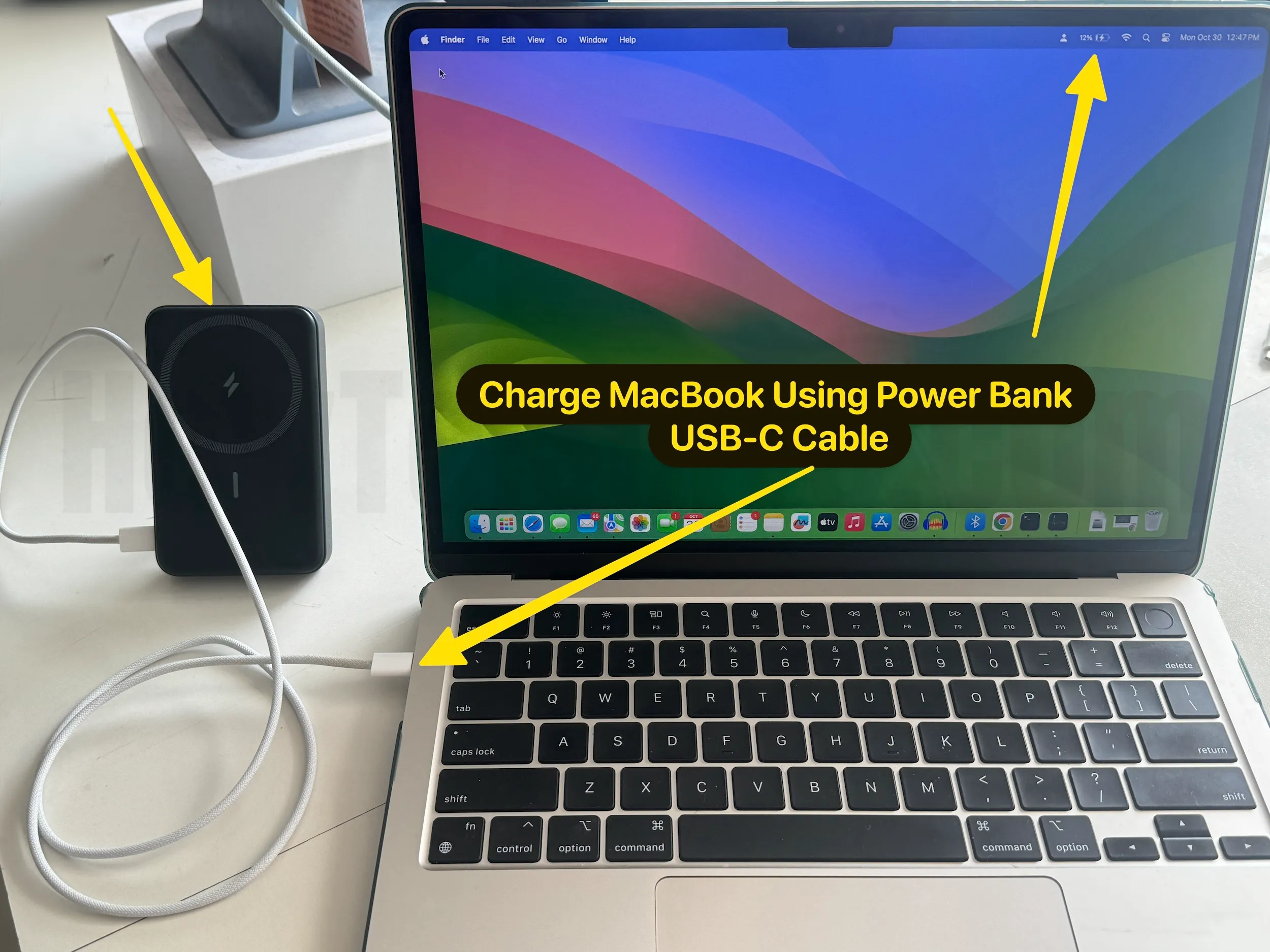 That's it.
Way #4. Charging the MacBook Using the Universal Adapter
Having a universal power adapter is the device that allows you to connect your smartphone or laptop to a power outlet in just a few seconds. This solution is useful whenever you travel to different countries with different power outlets and power supplies. Thus, to let your device function properly, you'll need a universal adapter.
The best part of a universal converter is that it makes sure the plugs are compatible, but it also helps convert different types of current to suitable ones for your laptop.
Remember, adapters are manufactured to compensate for difference in cycle and voltage of electric current to juice up your device without any damage. However, to be safer, ensure to maintain the required voltage coming to your MacBook.
Way #5. Charge your MacBook using a USB Converter
If you noticed that the MacBook battery is draining but you don't have the original set of charger. Consider your problem is resolved if you have a PC nearby.
Another efficient way to charge the MacBook Pro is by connecting it to the Magsafe using the USB converter cable. All you need is a MagSafe Adapter with a USB-C connector, and then plug the USB end of the cable into a Mac and the Magsafe end of the cable into a MacBook's Magsafe charger, and the charge will start from your PC to your laptop. The only drawback of this method is the accessibility of a PC in case of a damaged MagSafe port. Accept this; it works at its best.
Final Verdict!
That's how you can charge your MacBook with a Magsafe charger. However, this isn't the way you always follow to charge your MacBook. It's recommended in case of emergency.
Can you charge MacBook Air with a Phone Charger?
Yes, you can juice up your Mac computer with a phone charger, which comes with a USB-C cable. However, do note that this won't work for MacBook that was released prior to 2016.
Can I charge my MacBook Air Wirelessly?
In time, there is no way to juice your MacBook Air wirelessly. Although Apple includes a wireless charger in its sights for the future, the Cupertino-based tech giant has yet to release a MacBook that can juice up without a cable.