You need to know about iOS Photos app, no matter you have new iPhone 7/ 7 Plus, iPhone 6S, 6S + models or have an old handset. Until iOS 11, the brand brought various cool features for Photos and Camera app such as pinch Live Photos,  Video Zoom, Unhide hidden photos. In more, you'll get your Selfie Photos in a separate folder and find the name as ''Selfies Album''. in iOS 10, Photos App got memories tab that works together great pictures, and the user can watch that video as like regular movie trailer clip.
In routine life, So many folks are shooting up some good photos and video recording. And within that sometimes they also shoot some nasty pictures and Videos. These all pictures and record are stored in their Photos app and camera roll. After that, they want to delete unlike Photos or Videos (Slow-motion, Time-Lapse) from Photos app. But some of them have didn't know how to delete Photos permanently in iOS? And this a good thing to know this topic, because the Apple gives a feature if you clear Photos or videos from Photos app. it's done, but deleted items will place in Album as an Album name Recently Deleted. And it'll show there up to 30 days. After those items will be permanently deleted automatically.
Even if you're one of them and wish to delete Photos permanently in iOS, then we recommend a way to remove photos and videos permanently before 30-days from your iPhone, iPad or iPod. Before deleting your sexy pictures you can use my hint to hide your picture if you need in future.
Hint – Best Apps to Hide Pictures and Videos on your iOS device
Steps to Delete Photos Permanently in iOS 10/ iOS 11- iPhone 7, 7 Plus, iPhone 6S, 6S Plus, 6,6+,5,5S,5C
Step 1. Launch Photos app on your iPhone, iPad home Screen
Step 2. Tap on photo or video which you want to delete
Step 3. Tap on Trash icon (you can appear right-lower side on screen)
Step 4. Now tap on Delete Photo (Show you This Photo will be deleted from the iCloud Photo library on your devices.)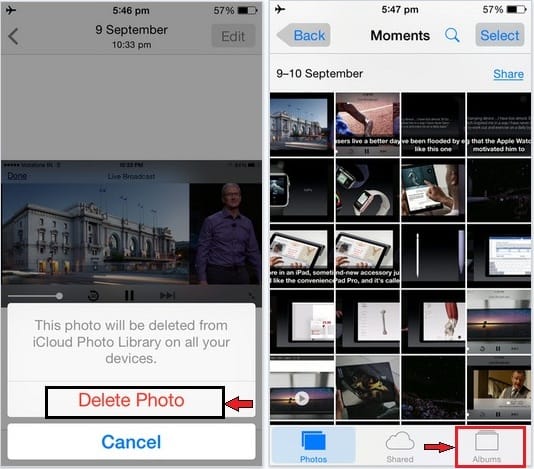 Beware, this photo and videos anybody can be recovered from the recently deleted album of your iPhone, iPad. So if you don't want to keep until 30 or 40 days, then follow below Steps.
Step 5. Tap on Albums.
Step 6. Scroll down the Screen and tap on Recently Deleted Album. So do empty deleted photos on iPhone and free up space for iOS 11 running slow iPhone.
Step 7. Select your recently deleted photo or videos
Step 8. Tap on Trash icon (you can appear left-lower side on screen)
Step 9. Now in last, Tap on Delete (Show you this photos will be deleted. This action cannot be undone.)
That's it!
Let now give us, your reply and tell how seems above workaround on to delete Photos permanently in iOS 11/ iOS 10/ iOS 9: iPhone 7/ 7 Plus/ iPhone 6S, 6S plus.