🗓️
November 24, 2023
By ✍️
Jaysukh patel
In this blog post, get all possible solutions for why can't i Turn on cellular data for Some Apps iOS 16? Perhaps you seem messed up in the cellular data setting after the iOS update on iPhone. As usual, many iDevice users are reporting their problems in the latest edition. They can't turn cellular data on for iPhone and iPad apps. So why are you suffering from such kind of problem? Then don't take any prompt action on it and do not hapless any feature enable or disable. Because due to that behavior, you'll get some other unexpected errors.
You're not alone in the problem, even though many folks are having the problem after updating iOS; likely battery percentage not showing, could not activate cellular data network as well big problem can't turn mobile data on for individual apps on iPhone, iPad.
It happens because your iPhone or iPad might be in Airplane Mode then, you can't access Mobile/Cellular data to start the internet apart from Wi-Fi. However, we recommend you follow the best workaround as an alternate way to Fix Cellular Data For Apps that Keeps Turning Off On iPhones, or iPad in the latest iOS.
Alternate Ways mobile data automatically turns off for some apps
To use Online Applications without a Wi-Fi network, the Apple iPhone has Celluar data options that are offered by a carrier company, and so that is an alternate way of Wi-Fi to go online.
Start to Fix Can't Turn Cellular Data on For individual Apps on iPhone
---
Data is not free, it comes as a Package with different tariffs. Either you should purchase Postpaid (billing cycle) Data or you will have to buy Prepaid data. [Best Data Plan for your Phone]
Note Apple iPhone XS, and later all models have two Sim Card: one is a physical sim and the second is an e-Sim card. So choose the correct card when you would like to use cellular data.
---
Solution #1: Kindly Make Sure That You Have Enabled Cellular Data/ Mobile Data For Your Apple iPhone
If you cannot turn on Cellular Data, you will turn cellular data off or on for any apps. First, Turn on Mobile Data on iPhone, and Use it When WiFi is off. Then Disable Mobile Data for the Selected app only.
Step #1: Open the Settings App on your iPhone or Cellular iPad.
Step #2: Tap Cellular or Mobile
Step #3: Make sure Cellular Data or Mobile Data is on/Green.
Step #4: Now Scroll to Down and Turn off Mobile Data/Cellular Data for Particular app. here I gonna disable Mobile Data for Facebook App [Becuase Facebook Video consume more data, After that whenever open Facebook on Mobile Data, You will see a popup like in below screen].
That's it.
If the toggle is ON; however, data doesn't work, then check your Phone has not consumed all of the cellular data. if all data is consumed then renew the data plan. Or Buy a recharge coupon from a nearby Carrier Store.
You can go with the next solution if you are unable to turn cellular data On for a specific app (sometimes the Cellular data setting is greyed out due to enabled restrictions by you knowingly, or maybe as a parent, your father or mother does not allow You some app with cellular data) because it can convert into a big data bill in the next cycle.
Prevent Any App Use of Mobile Data for Individual Apps on Android Mobile
Can you prevent Apps from Using Data Completely on Android Mobile Like iOS? The answer is Yes.
We can restrict mobile data usage for Android users for the Backgroud app. Follow the Below steps to Disable Mobile Data for a Particular app that you don't want to use in Background Data.
Settings > Network & Internet> Data Usage [This Screen will see the Data Usage in the past by Installing apps on Android mobile].
To manage Mobile Data for an individual app, Select Data Warning & limit.
Here you can add the Number of GBs that you acquire. For example, if you have 5GB of Data, set here 5GB. So After 5GB of data is used, Mobile Data will automatically disable.
---

Settings > Network & internet > Data Usage > App Data Usage [This screen will see the list of app and used Data by individual app].

Tap on a particular app from the list.
Here you see the two options, First is Backgroud Data [Turn off Toggle to stop using Data in Backgroud], and the Second option is Unrestricted data usage [Turn off this toggle that prevents Data usage when data server is on].
That's it.

---

Settings > Network & internet > Data Usage > Data Server [This option prevent from Sending and Receving Data in backgroud].
Android Mobile: Use Third-Party App To Completely Turn Off Mobile Data Use
To Completely Turn off Mobile Data Usage on Android Mobile, Use a Third-Party app that manages all the apps installed on your Android mobile. NetGuard – Free app for android mobile to Restrict internet access from WiFi or Mobile Data. Just install this app on Mobile, Find all the apps alphabetically and Manage Mobile data and WiFi access for the individual apps using the option given in front of the app name. WiFi restriction helps in if you are using Metered/Personal hotspot connection on your Android device.
Alternatively, also GlassWire app for android mobile is also helpful to track the data usage and Prevent from using Mobile Data. Real-time Graph show which app using WiFi or Mobile Data. Enable Firewall for Particular app and Stop Using your Data quickly and Easily.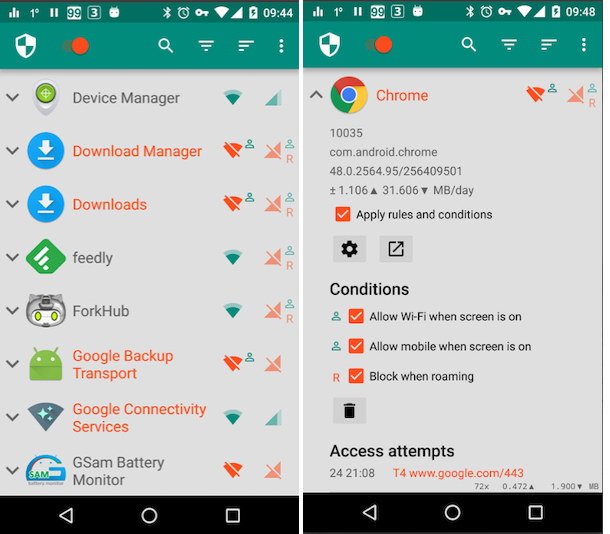 Solution 2: Make Sure Cellular Data/Mobile Data Apps Change Allow is Not under Restrictions on iPhone
You can verify this using the below-given steps below:
Step 1. Go to the Settings app
Step 2: Tap on Screen Time. [First Check Screen Time is On or Off if Screen Time is off then turn on first and correct the changes using the steps below.]
Step 3: Scroll and Tap on Content & Privacy Restrictions. Next Turn toggle Content & Privacy Restrictions toggle is ON.
Step 4: Scroll down to Cellular Data Changes – Tap and Select it Allow.
Allow Cellular Data Changes Restriction on iPhone
---
Solution 3: Force Restart iPhone or iPad to Turn Cellular Data on for some Apps on iPhone or iPad
Tip for force Reboot iPhone 11 (Pro Max),iPhone XS Max, XS, XR, X, and iPhone 8 Plus
Press and Quickly Release Volume Up button
Press and Quickly Release Volume Down Button
Press and Hold Side Button until you see the Apple logo on Screen.
To Start the iPhone, Again press the Side button until the startup apple logo on the screen.
To Force Reset, Press and hold the Power (Wake/Sleep) and Home button simultaneously until you appear the Apple logo. Turn the device on the back and Go to Mobile/ Cellular Data settings, then try to turn on/ turn off for Some apps.
Tip For iPhone 7 and iPhone 7 Plus users – Get Force Reboot guide. If you get the same problem, then go for the following workaround.
I hope you got a success!! If you have any solution which not mentioned above?
Solution #4: Restore your iPhone or iPad
Take a Fresh backup copy and restore the old backup to fix hard issues on your iOS or iPadOS device. In most cases, Clean restore is an ideal solution.
Please let us know in the comments. You also find us on Facebook and follow us on Twitter.