Last Updated on Sep 20, 2021
FaceTime and iMessage are great free Video call and Text messaging services by Apple. By Enabling FaceTime on Apple Device, we can make free Video/ Audio call under apple's environment. Setup for using FaceTime on iPhone/ iPad is straightforward, but some server/ Device errors or Wrong settings you may not enable on iOS device or Mac. Here I give troubleshooting tips on Repair or Fix FaceTime Not Working on iPhone and iPad.
Mac users can fix FaceTime Problems on Mac in this way, but iOS users can resolve with the below troubleshooting actions. And Start to enjoy free video/ audio calling equipment across all Apple Devices.
Steps: FaceTime Not Working on iPhone
These are the messages you will receive on the (iPhone/ iPad) screen when not activate iMessage successfully.
Could not sign in please check your network connection
An error occurred during the activation
FaceTime Call Failed on iPhone/iPad
Waiting for activation
Activation unsuccessful
Fix 1. Disable/Enable FaceTime
Go to the Settings
Scroll Down screen, Find FaceTime. Disable & Re-Enable FaceTime toggle.
Also, check and make sure you have set FaceTime with your Apple ID or Contact number. Switch to another Apple ID or Use FaceTime activated apple ID then Tap on "Use Your Apple ID for FaceTime."
Fix 2: FaceTime Call Not Receive on Cellular or Mobile Data
We know that FaceTime is required a Valid internet connection. For the Good Experience and talk, we need a 3G, 4G, or LTE connection on your iPhone. If you checked and found everything is fine then check the FaceTime restriction under the Celluar Data settings. Might be FaceTime is Disabled on Mobile Data. So, you will make a call or Recvice FaceTime call only on the WiFi network.
Go to the Settings app on the iPhone.
Tap on Cellular Data or Mobile Data.
Next, Enable Cellular Data and Scroll to the Apps list. that we have set enable to use While Cellular Data is on.
Check and Verify FaceTime toggle must be green means on for Cellular Data. That's it.
Fix 3: Use Apple ID for FaceTime, Not a Number
We can use FaceTime using a Phone number or Apple ID. having issues with your local number. But Apple ID uses Apple's service for FaceTime calls.
If not added apple ID inside FaceTime setting just tap on Add Email, See the Above Screen.
Go to the Settings > FaceTime > Use Email As a FaceTime.
Fix 4: FaceTime Call Failed Error on iPhone: Dial *#31#
There are too many reasons behind your FaceTime Call Failed on iPhone anytime. One of the most helpful solutions for this problem is to reset the incoming and outgoing call connection. We can do it quickly from your iPhone after dial *#31# from your dial pad.
Open the phone app on your iPhone, Tap on the Dial pad and enter the *#31# number through the dial pad and call on this number. At the same time, you will get the confirmation message on the iPhone screen just like below. Also, Enable Caller ID from iPhone settings, Go to the Settings app > Phone > Call ID > Show My Caller ID and Enable the toggle to green. I hope you fixed the problem, Still not then follow the next solutions.
Fix 5: Check Blocked List – Remove Contact from Black List
Added contacts in Blocked List, You will not receiving FaceTime Audio/ Video call from his/ her. Go to the Settings app on your iPhone/iPad > FaceTime > Scroll to Blocked Contacts > Remove From list to Receive or Make FaceTime Call.
Fix 6: Maximum Activation Time Duration & Process
Wait for Up to 24 Hours according to apple
SMS Charge Will Apply on Activation Time – So keep Enough Balance
Your Carrier Line Include FaceTime Service or Not
It may take up to 24 hours to activate FaceTime on Apple Server. After that contact your carrier or Apple support center. Maybe your carrier is limited to serve FaceTime on your Data Plan or Region. Also, FaceTime activation will charge you for SMS for the Verification purpose. Apple Will send Messages to your Carrier company. Also, You have to make sure about, Your Carrier line providing Free FaceTime Services with your Plan or not.
Fix 7: Check Device Date/ Time
Check Your Device running at the correct time, set it automatically if you are moving into other countries regularly. Go to the Settings > General > Date & Time (Enable Set Automatically/ Time Zone)
Fix 8: Hard Reboot Your iPhone
No Home button iPhone users:- iPhone 13, iPhone 12, iPhone 11 Series, iPhone XR, iPhone XS/XS Max iPhone 8/8 Plus users can do a hard reboot in this way,
Quickly Press and Release Volume up button.
Now, Quickly Press and Release Volume Down button.
Now, Only Press and Hold the side/Power button until you see the Back screen iPhone.

Turn on Back, Using the Side/Power button only.
Home button iPhone 7/7 Plus
Press and Hold

Volume Up

button and

Side Power Button

until you see a black screen on the iPhone. Wait for 15 seconds and Turn on back using the side button only.
Fix 9: Check Internet Connection
Check your iPhone receiving internet data (Carrier Data Plan or Wi-Fi internet) using the test on your Browser search.
Fix 10: Reset All Settings
This option will remove User settings from your iPhone but not the Data like Messages, Contacts, Photos, and more. This fix really helps the users who set the wrong settings knowingly and unknowingly. Follow the below steps to reset all settings, In this process your iPhone/iPad reboot once. So, don't be afraid about that.
Steps to Reset All Settings in iOS 15 and Later Version
Go to the "Settings" app > Tap "General" > Find and open tap "Transfer or Reset iPhone" > Tap "Reset" > Lastly tap on "Reset All Settings"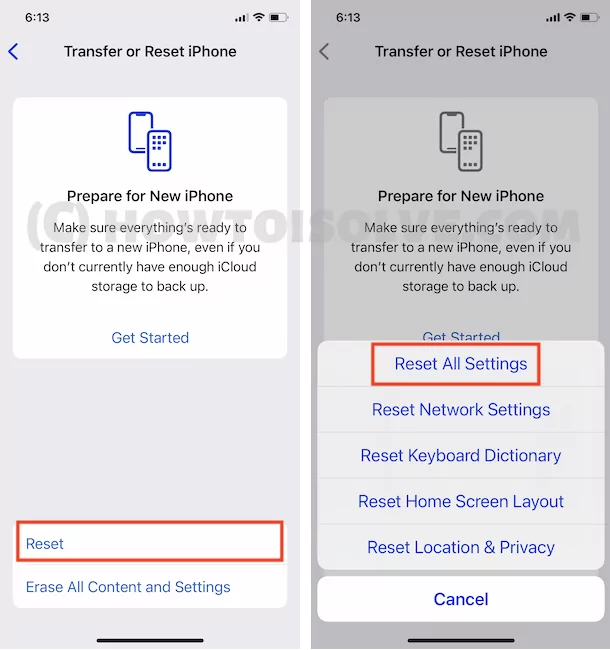 > For security reasons, you will be asked to enter the iPhone Passcode. >Tap Confirm Reset All Settings. > After that iPhone will reboot.
Steps to Reset All Settings in iOS 14 and Version Version
Head to Settings app on iPhone.
Tap on General.
Scroll to last and Tap on Reset.
Next, Reset All Settings. Your phone will ask to enter the passcode to successfully erase the settings only.
Also Useful: Fix weak call Volume on iPhone.
Still not fixed, Contact your Apple Support online or nearest apple store. Share your suggestion if you found an alternate solution on FaceTime Not Working on iPhone.