🗓️
September 12, 2023
By ✍️
Jaysukh patel
The recently released latest iOS has several exciting new features you want to test. The update, however, does not go as quickly as it was anticipated it would. The screen that instructs you to "Swipe up to update" becomes frozen on your iPhone. You have attempted to swipe up on the screen, but it keeps staying on the Apple logo and asking for the password instead of moving. This is happening over and over again.
Suppose you are an Apple customer attempting to update to iOS (beta) or the brand-new iOS that will be released later in September. In that case, you may suddenly run into one of the significant iOS difficulties and discover that you cannot get beyond the "Slide to Upgrade" page. iPhone users often find themselves in a bind after downloading and installing a new iOS system over the air because the device continues to request the password and gives the impression that they will never be able to escape the loop.
It is frustrating to run into such a predicament. This is a quite typical issue that crops up every so then. The "Slide to upgrade" screen appears on iPhone devices before the iPhone 8, including that model. And it instructs users to "Swipe up to update" on the iPhone device itself. Whatever the issue, keep reading to find out how to solve the issue of your iPhone being stuck on the swipe-up to upgrade screen.
Also read: iPhone won't Swipe to Unlock, Power Off.
How to Get Past the "Slide to Upgrade" Screen on an iPhone or iPad After Updating to iOS
When the iOS on your smartphone is updated to the most recent version, you may have a problem in which the screen slides down to update itself. Below, you will find four solutions to this issue in this blog. It is possible to restore your iOS device by using iTunes, and you can also address the problem using an effective third-party solution that will save you both time and effort. So without wasting any time, let's get started.
Solution 1: Restore using Apple's Finder/iTunes
Restoring your iPhone or iPad is the solution to most problems that might occur with an iPhone or iPad. If you follow the procedures listed below, you will receive a comprehensive lesson on using iTunes to restore your iPhone or iPad with simplicity.
Step 1: Launch Finder/iTunes on your Mac/PC after connecting your iPhone.
To use the gadget, press the button.
Step 2: If your iPhone is not displaying in Finder/iTunes, you will need to do a hard restart on it:
For iPhone 8 & Later:- Quickly Press and Release the Volume up button and Volume down button sequentially, At last, only press and Hold the power button until the Apple logo appears on the screen.
For Home Button iPhone: Press the sleep or wake and home buttons for at least ten seconds until the Apple logo appears on the screen.
Step 3: To summarise, choose the Restore Backup option. Then, select a file that was backed up recently. If the backup is secured with a password, you won't be able to access the file until you provide the correct password. After that, you may click the Restore button. You should make a backup copy if you do not already own one.
Solution 2: Force Restart iPhone
One standard piece of advice is to do a hard reset on your device. You may have learned this from your buddies or even from other users. Follow the instructions below to continue with this solution to the "Swipe up to Upgrade" issue so you may have it fixed.
Quickly press and release the "Volume Up" button.
Quickly Press and Release the "Volume Down" Button.
At last, press and hold the "Power" button until the Apple logo is displayed.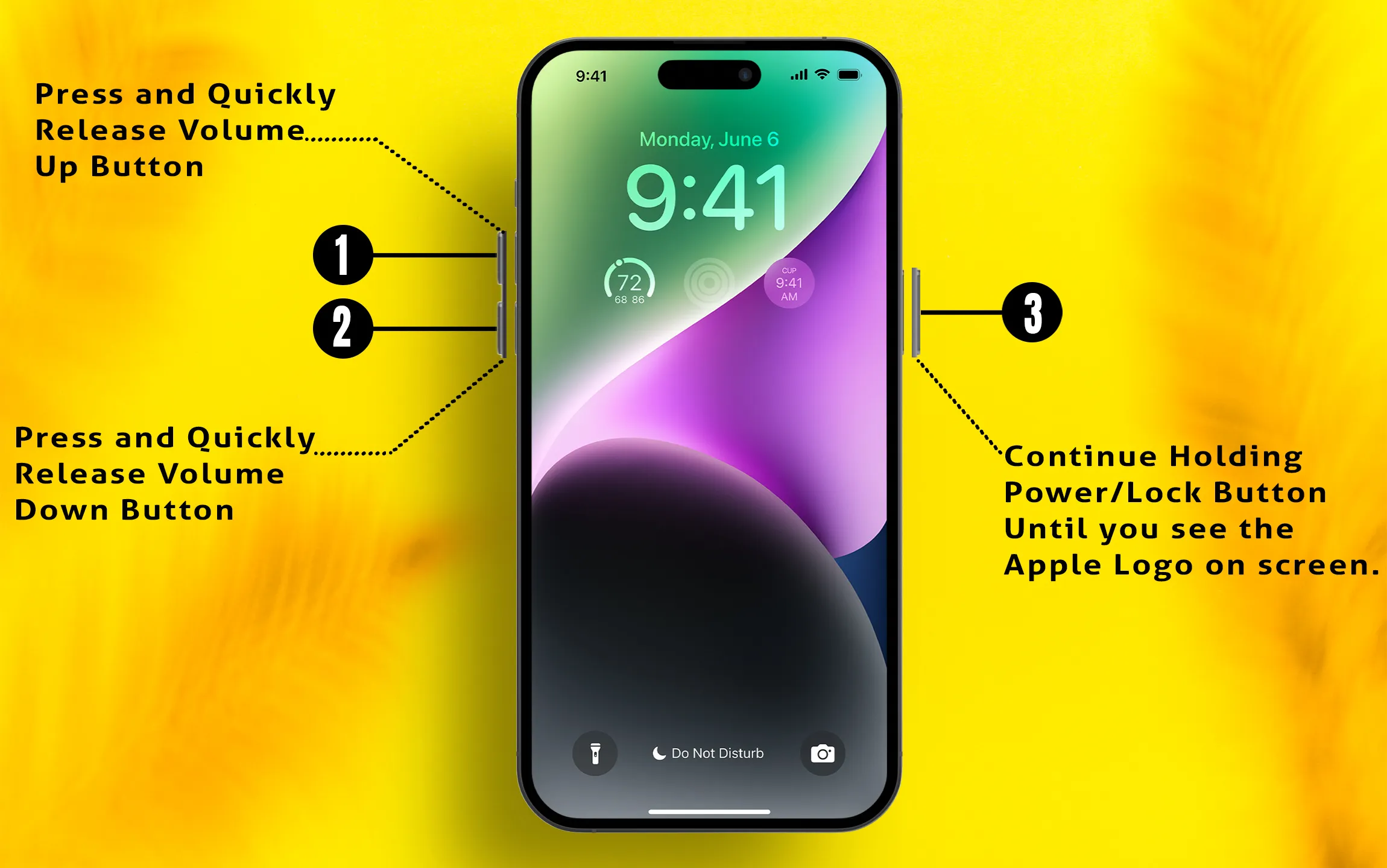 Solution 3: Restore the iPhone while it is in Recovery Mode.
You can restore your iPhone in Recovery Mode if you do not mind the possibility of losing data in the process. It will completely reload your smartphone, and the screen that says "Swipe up to update" will no longer appear.
1. On Mac, Keep your MacOS updated with the latest macOS & for Windows, Ensure that you are using the most recent version of iTunes.
2. Launch the Finder/iTunes app on Mac/PC and connect your iPhone device to your computer.
3. Navigate to the Recovery Mode on your smartphone. This applies to the iPhone's side buttons.
For iPhone 8 & later

Quickly press and release the "Volume Up" button.
Quickly Press and Release the "Volume Down" Button.
At last, press and hold the "Power" button until the Apple logo is displayed.
For iPad:
First, press and rapidly release the button labeled "Volume Up," then press and similarly fast release the button labeled "Volume Down," and so on. While holding down the Top button, wait for your smartphone to begin restarting. Keep pressing and holding the Top button until the recovery mode screen appears on your smartphone. You will get a message asking you if you would instead restore your device or update it. Please choose the Restore button.
Solution 4: Use Third-Party Software App
Fixing an iPhone device stuck in recovery mode requires just one click when you use iMyFone Fixppo. This procedure is simple and does not need any special abilities from you. In addition to that, your data will not be impacted in any way.
Fixppo can solve your iOS system problem using cutting-edge technologies without causing any data loss (excluding Advanced Mode). Connecting your device and making a few clicks are all required of you, and there is no danger of any data being lost on your device.
iMyFone Fixppo provides solutions that are simple and easy to use so that you can reset your iPhone, iPad, or iPod touch. Fixppo's hard-reset solution may help you regain access to your iDevices, even if you have forgotten the password.
Because there must be some issue with the software installation, iMyFone Fixppo iOS System Recovery is going to be your best option for fixing the problem if your iPhone X gets stuck on the "Swipe up to Upgrade" screen while upgrading to the most recent version of iOS 15 or after upgrading to the most current version of iOS. This app has a remarkable function that can repair all iOS issues, such as software malfunctions, a frozen iPhone, an iPhone stuck on ghost touch, and so on. You won't lose any of the data if you use its 'Standard Mode,' which will allow you to fix the problem of your iPhone X being stuck on the "Swipe up to Upgrade" screen. Let's understand how to use this tool.
Step 1: Launch iMyFone iOS System Recovery on your own computer once you have successfully installed it. Once done, connect your device through a lightning wire. When you are brought to the primary user interface, you must choose the "Standard Mode" option.
Step 2: After you have completed this step, you will need to click the "Start" button to obtain the instructions that will guide you through putting your device into DFU mode.
This step is essential for improved detection.
Step 3: At this point, the application should have recognized the device, prompting you to download the appropriate firmware for your device. Simply clicking the 'Download' button will do this, after which the application will provide the proper firmware for your device.
Step 4: The fourth and last stage in the process is to click the button labeled "Start to Fix" and see the enchanted workings of the software. Your device will be fixed, and all bugs will be eliminated; also, you will no longer be unable to advance beyond the "Swipe up to Upgrade" page.
The Bottom Line
Many users face this common issue when their Apple device gets stuck on the Swipe to Upgrade screen. You should try restarting or rebooting the device at home if it can resolve the issue. You should visit the support center if the issue persists and nothing works. That is all you need to do to fix the problem of your iPhone or iPad getting stuck after updating to iOS 15 on an iOS device. 
You can now keep using your iPhone or iPad as you usually would. These methods facilitate the resolution of all iOS devices getting stuck problems. Not only does it cure faults with the iOS system, it also offers a comprehensive answer to problems that may be occurring inside iTunes—for example, resolving iTunes issues. At the same time, the program is being used, downgrading or updating the iOS operating system, and so on.