Last Updated on Jun 20, 2023
Let's how to Enable & use Front flash on iPhone for Selfie Camera. That means, Now we have a great option to take Selfies using Selfie Flash in the Dark area with your iPhone camera. That has been improved so much in the hardware and software performance.
The new iPhone has more than 12 megapixel Wide Angle camera with F/1.8 aperture, optical zoom up to 10X+ portrait mode, and portrait lighting features. Other essential features are autofocus with focus Excel tap to focus directly and highlight your object when we focus in low light.
Also Useful: how to Take 4K Video With 60fps on iPhone
Take a Selfie With Retina Flash on iPhone: Alternate Ways
Does iPhone 8 plus Have Front Flash? The answer is Yes ?.
Does iPhone 6/6 plus have Front camera flash? The answer is No ?. So you have a Great Selfie Back Case, Read on last of this tutorial. Retina Flash is Available on iPhone 6S Plus (which has the model number A1634, A1687 or A1699 on the back) and later iPhone models.
Turning on or enabling Flash for the front-facing camera is the same in All the methods Given Below.
How to Use Selfie Camera With Flash on iPhone
1→ Open the Camera from your iPhone home screen or Use the 3D Touch Popup Selfie Shortcut option by tapping and Holding the camera icon from the home screen camera icon from the controller camera shortcut.
2→ Use the Camera Switch to Switch Between the Front and Rear cameras once you turn on the Selfie camera; before clicking the Picture, Enable Flash mode from your iPhone screen.
3→ Tap on the Flash icon to enable it;
4→ Again, Tap the Flash icon at the bottom Camera app option to Switch from Flash Auto to on (For Instant). Otherwise, Flash will on in Dark area. Now, For the next selfie, click the Shutter button to Capture selfie with flash. To Disable it, follow the same step and disable it.
and Re-Tap on the Flash icon to disable Flash. For one older iPhone Model, You have to select the option On or Off after tapping on the Flash icon for the selfie camera.

That's it. Still want more settings and features for your Choise of selfie? Here are the Best Selfie Camera apps for your iPhone.
Here is the option to turn on or Enable a flash camera at the top left corner of the screen.
How to Take Selfie With The Flash Camera Using Siri Command
Now Siri is more intelligent and fast for access on you speak.
Say, "Hey Siri, take a Selfie." The camera will automatically launch on your lock screen with a front FaceTime camera.
Use the Camera button to click your Selfie and use the flash icon to turn on the front face Selfie.
How to Take a Live Photo With Selfie Flash
Open the camera app more to live photo; please enable live photo by tapping on the live photo icon at the top center.
Write to the site on another icon is the flash step on it to turn on flash.
The brightness of your screen is full at midnight while we are taking a Selfie camera in low light.
Apple design brightness for the camera with front-facing more enough to see and take photos at midnight.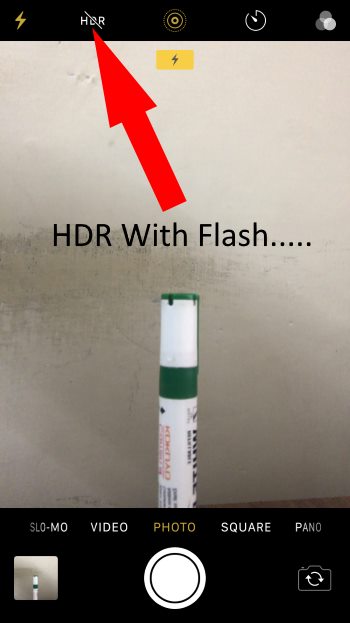 Apple's concentrate and improved camera in the new iPhone 8 edge Plus and iPhone X or later new iPhone models are excellent.
Watch Video on How to increase Your iPhone Camera Brightness
Using a Third-Party App or Accessories (iPhone Case)
We have an alternate solution for try this app for taking Selfie with front flash, That has excellent functions on taking Normal selfie or Video with Front Retina Screen Flash.
Some iPhone Selfie Case help to use and work like Front LED, That Save more power or Battery of iPhone and Easy to use.
The above article is beneficial and easy to implement with your camera, which helps take Selfies with flash on the iPhone.
Don't miss capturing any movement at night or low light used Front Selfie Camera with retina flash on iPhone.
Troubleshooting! Selfie Flash Not Working on iPhone
Sometimes your iPhone doesn't enable or Flash out with a Selfie Flash camera. What are the Reasons? Something stuck or Not available on your iPhone. Restart or hard Reboot your iPhone and Try to Use Selfie Flash with the Selfie camera with the following steps.
If still not fixed, double-check whether your iPhone supports Front flashing or not [Check Your iPhone models specification on the Apple website]. If there is a problem with Hardware, then take it to the apple genius bar. Also, Book Appointment Online, Call, or Chat at the nearby Apple Support center.
Above is the alternate guide on taking a Selfie with Selfie flash on the iPhone.