🗓️
March 7, 2023
By ✍️
Jaysukh patel
In this article, how do I schedule an appointment with an apple genius bar? Apple is already winning people's hearts with its incredible technology in the form of iPhone, iPad, and Mac. On the other side, Apple's Genius Bar is an excellent platform for iOS and macOS device users to bring their issues to Apple's Technician without taking off at the office or waiting in a long queue to fix the problem. However, you'll need to spend 15-20 minutes to make Apple genius bar reservation at Apple Store if you are doing it perfectly.
You can book the Genius Bar appointment in two ways; from the Apple Support app on the iOS device and using the web interface of Apple Support from a web browser. In addition, all the Apple Retail Stores have well-trained Apple Geniuses staff to handle various issues with Apple products.
I've also noticed a few issues cannot make appointments, but their team will assist you over Live Chat and Phone Calls. So don't panic if you don't find an option to schedule an appointment at Apple Store.
Valid Proof of Purchase:
Soft or hard Copy of Purchase Receipt that is available in Your mail, e-Commerce Website account.
Product Box is Also Valid Purchase proof.
Can you Walk into the Genious Bar?
Want to Skip the Pre-Registration available online and Do it with the App or Desktop Website? Yes, Apple Accepts the Walk-ins inside the Genious Bar, But There is a Waiting Time That depends on many factors like Where you live, Time of Day/Week, and the Population. Right now, Apple has Thousands of Genius bars, but somewhere is too much crowd. I hope you understand that Pre-Registration is a Wise Decision. Feel like a Responsible citizen, No West of time. If you don't have a valid document required for some Solutions [Listed Above], you must go again next time.
How to Book the Apple Genius Bar Appointment from Apple's Official Website
If your iPhone is low on storage or doesn't want to download the Apple Support App, go through the web interface to make an appointment at Apple Genius Bar. You'll need Apple ID and Password to book an appointment.
1→ Click on Apple Genius Bar Link, and make sure the PC is connected to an internet connection. And Click on "Sign In" option.
2→ Find your Problem with the Search box or From View your Products, I recommend typing and finding the problem.
3→ Suppose "Battery Charging" issue. Type your problem and get suggestion related to it.
3→ Now, we have the option to take away your device to nearby apple support (Select Find a location)or Directly call or change from the same screen.
4→ Find your Device, From all listed apple products. The entire Apple Ecosystem is listed on the page, select the product for which you want to get support from Apple Technicians.
5→ See your Device that's signed in with the same apple id or add a new device under the option "Enter serial number".
6→ Once the device is selected, See all nearby locations and Select comfortable to reach the Apple Service center. (Address is given with few more details)
Next, find the nearest Apple Store to book an appointment. To make this process quick, you can search by Zipcode or City or by Apple Retail Store.
7→ Here's the option for adding an alternate number to get more assistance on time when you're unable to connect. If you don't have then skip and continue.
8→ Choose the Date & Time for your appointment.
9→ Now, Message with "Your appointment is confirmed." See the details. you will receive a copy of the confirmation in your Mail inbox. check it and save it for future reference.
Keep Noted: Case ID, Date & Time from this screen. That's helpful in rescheduling & Cancel the appointment.
Reschedule & Cancel Apple Genius Bar Appointment
1→ Open the mail account on which you have to receive a Genius Bar Confirmation Email. Within the email, scroll down to Repair Reservation, and click on Manage My Reservation.
2→ Once you do SO, you will be navigated to the What Happen Next Window. From there, within Arrive: Service Location, click on Reschedule Your Reservation.
3→ From the Upcoming Service Provider Appointment, either click on Reschedule or Cancel. Up next, reschedule the genius bar appointment as per your need.
After you place the reservation, a confirmation email will be sent by Apple. Besides, the appointment can be quickly canceled and rescheduled within no time.
Carry-in Appointment Confirmation
The carry-in appointment confirmation is the mail that offers complete information regarding the appointment you have scheduled for support to fix the hardware repair. It includes the information regarding the Product type to be repaired, Problem Description, Serial Number, and Case ID.
Right in the What To Do Next? It informs the users to create a iPhone backup of the data stored in your Apple Device. And below is an address and time to reach out for an appointment. Moreover, you can reschedule or cancel the genius bar appointment from the same section by clicking on Reschedule Your Reservation. 
Note: Always keep a backup of data before going for an appointment, as it can cause the loss of data stored in your Mac, iPhone, or iPad. You can click on Get Your Apple Device Ready For Services for more information.
How do I book a Genius Bar Appointment At Apple Store using Apple Support App
Raise Ticker from your iPhone, iPad Via app- how to make a genius bar reservation on iPhone
The quickest option to book a genius bar appointment at the nearest Apple Store is to download the Apple Support app and follow the on-screen instruction to reserve your seat. However, it would be helpful for you to look at the below-mentioned steps so you won't miss any important points and learn the correct way to schedule an appointment with the Apple Genius bar.
Download and open the Apple Support App on your iPhone or iPad.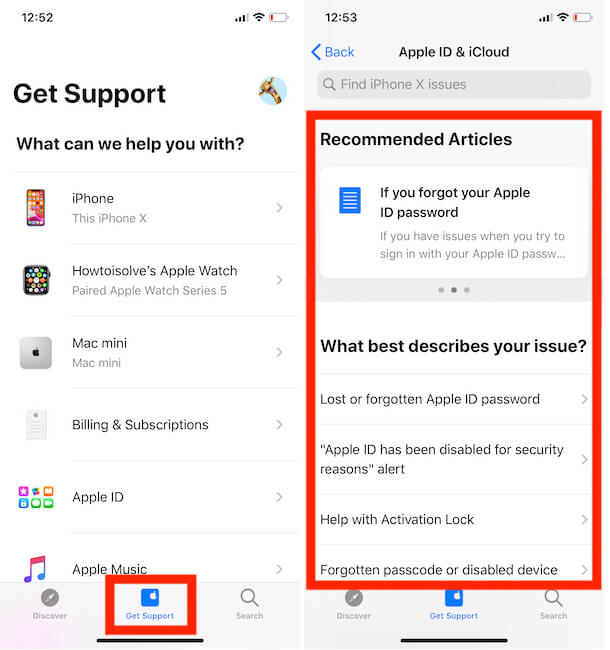 Tap on your device to open the support page.
Now you can see various options including, Repairs & Physical Damage, Battery & Charging, Apple ID & iCloud, Apps & Features and more.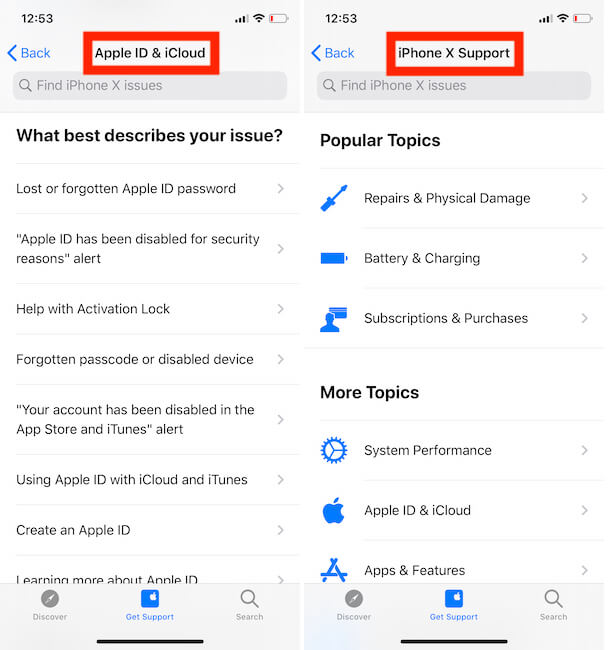 Also, make sure that few problems listed on the Apple Support app may not be available to make a reservation, so in that case, make a call or get connect via Live Chat and describe your issue.
To book an appointment on the Apple Support app, select Bring in for Repair.
Choose Time, Date, Location and lastly, Reserve the appointment at Apple Genius Bar.
You may end up with You don't have any reservations, so tap Find a store and make one.
How do I Cancel Apple appointment? The trick to Canceling Apple Genius Bar Appointment? Cancel Apple shopping appointment?
Yes, if your issue is resolved or changed your mind to visit the Genius Bar, here's how to cancel a genius bar appointment.
Launch the Apple Store app on your iOS device.
Tap on your Profile icon on the upper-right screen.
Select My Reservations and cancel the reservation of the genius bar.
Can't Cancel Genius Bar Appointment?
If you are unable to cancel the genius bar appointment, then try to reschedule the appointment. Go to the Genius Bar Page and reschedule the reservation the same way you have booked the appointment.
What If I Go Late at Genius Bar?
If you are late at Apple Store, there will be no penalty for 15 minutes; they will still take you in but don't worry if time exceeds 15 minutes. You are the priority on their list. Also, there is no charge or punishment for late visiting the Genius Bar.
Also, Read- How to Contact an App Developer
How to Change the Genius Bar Appointment Time?
If you are not convenient to visit Genius Bar at that time, here's the answer on how do I reschedule an Apple Bar Genius Reservation.
Open the Apple Store app on your iPhone.
Tap on your Profile icon.
Select My Reservations.
From there, you can quickly reschedule the Genius Bar appointment.
How do I reschedule a Genius Bar appointment?
Apple Genius Bar Reservation helps a lot to save your time, and Apple's too, and the best part is you get timely resolution of any problem without waiting in a long queue. Rescheduling Apple Genius Bar Reservation is not available on the website interface; however, it can be done through the Apple Store App.
When you open the Apple Store, there you should see the list of Apple Stores, select the one where you have scheduled the appointment, and from there reschedule the Apple Genius Bar reservation.
Download the Apple Store app.
Log in with your Apple ID.
Tap on the store where you've reserved an appointment.
Look for the existing appointment to reschedule or cancel.
What happens if I miss the Apple check-in window?
Booked an in-store pickup of your order from Apple? You must have received a confirmation email with the details, including Ready for Pickup on [date] and Check-in Window: [Time]. This specific time and date are specially reserved for you with the placed order on Apple Store, and of course, to get this, you should check-in in the time slot allotted to you.
In case you missed the check-in time and arrive late at the check-in window, Apple will make unreserved the device that you've booked, and then again, you'll have to book a new in-store pickup.
Can I make a Genius Bar Appointment without an Apple ID?
Ideally, Apple doesn't allow us to book genius bar appointments without an Apple ID. For Apple, Apple ID is a key factor to keep the customer details and records in the system. Therefore, without an Apple ID, you cannot make a Genius Bar Appointment from a website or app. Rather, you can try connecting with the Apple Team overcall and ask them to book an appointment on your behalf, see if this works.
Does Genius Bar Cost Money?
The Genius Bar doesn't charge anything if you just want to show your Apple device or ask for Apple Services. Though there are various cases where you might have to pay to get the device repaired, like the device is damaged, it is not covered under a warranty or anything else. So, taking the device to the Genius Bar and showing them won't cost money.
Why can't I make Apple Genius Bar Appointment online anymore?
Some users are facing issues creating or even submitting genius bar appointments to get support for Apple products software or hardware. Same as written on Apple discussion, Sometimes happens due to server down problems or the database can be in under maintenance in some regions. You can use chat, Call or email support.