🗓️
October 18, 2023
By ✍️
Jaysukh patel
Here's another time-saving tip that helps you enhance your productivity. Unlike other widgets, you can add a Notes widget to your iPhone Home screen. If you don't know the procedure, here's how to add Notes to iPhone Home Screen. So, without any further ado, let's get started.
This article will teach you How to Add Sticky Notes to Your iPhone Home Screen.
Note: To Add the Notes Widget on the iPhone home screen, download the Notes app from App Store.
How to Add Notes Widgets on iPhone Home Screen?
With release of macOS Sonoma, Apple added compatibility to home screen widgets to macOS. And what makes it super convenient is that it lets you access iPhone widgets from your Mac desktop. So, if you have a Mac running latest macOS, read our article on how to add iPhone widgets on Mac.
Step #1. Touch and hold the iPhone home screen, to enable edit mode screen.
Step #2. Tap on the Plus (+) Sign to access iOS widget settings screen.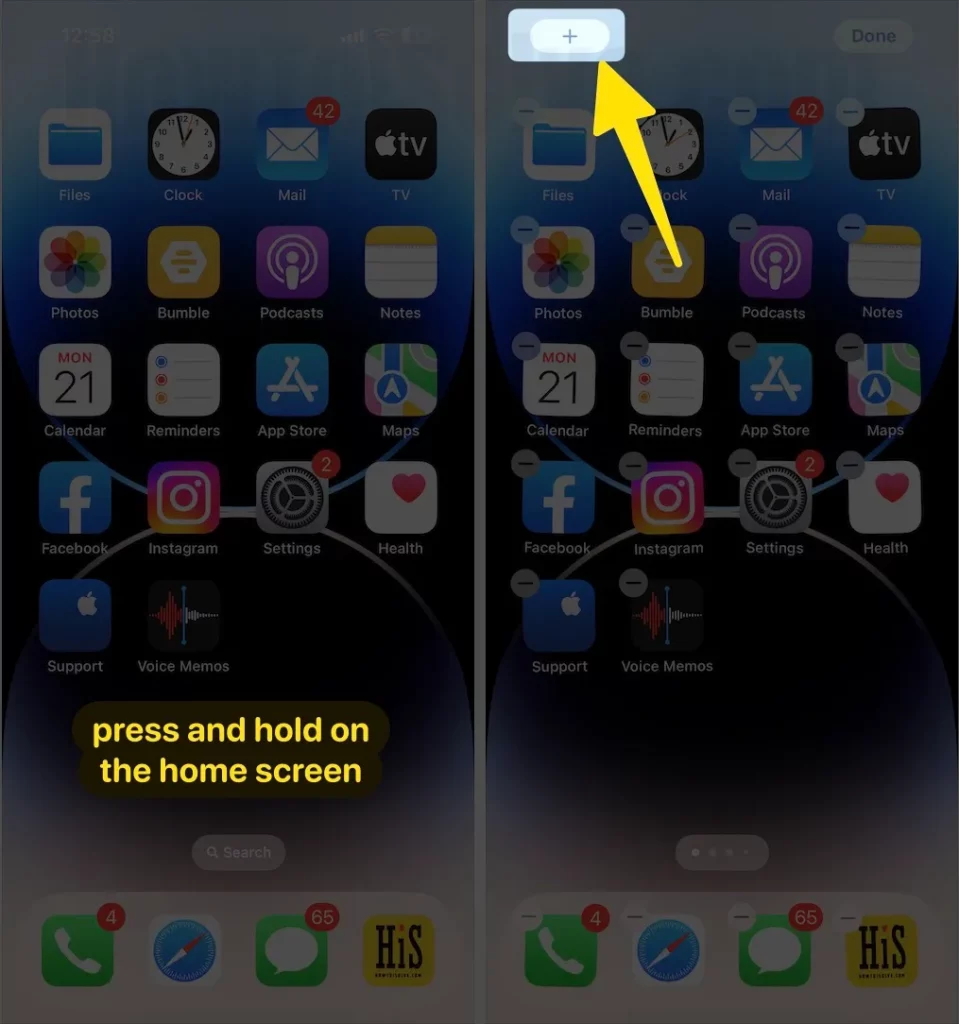 Step #3. Scroll down the screen to tap the Notes option. (Hint – You can search a widget using the widget search bar located on top).
Step #4. Tapping Notes, the next screen will show you the size of the notes widget (small, medium, large, Quick Notes widget), etc. Please swipe to the left or right side to view all available notes widget preview.
Step #5. hold on to your desired notes widget style to tap Add Widget.
Step #6. Once, you are done with adjusting the widget, tap on Done.
How to Edit Notes Widget on Your iPhone?
It's important to choose the Notes folder that you wish to access from the iPhone home screen; here's how to change the Notes folder in the widget.
Step #1. Touch and hold a Notes widget to open the quick actions menu.
Step #2. Tap Edit Widget ℹ️.
Step #3. Tap on the Yellow text, and choose the Notes folder that you want to access on the iPhone home screen.
Step #4. Now tap on the blank screen to go back to the home screen.
That's it.
How to Add Notes on the iPhone Lock Screen?
Can you put Notes widgets on iPhone lock screen? No, Apple's native notes app has not featured a widget on the lock screen. But according to my knowledge, some third-party note apps have a function to put sticky notes on the lock screen; for this, read FAQ given below in this article.
How to Remove Notes Widget from iPhone Home Screen?
Here's the complete procedure to delete the notes widget from the iPhone home screen. Follow only two steps to wipe any widget on iPhone's home screen.
Tap and hold the Notes widget.
Select Remove Widget in a quick option menu
Again tap Remove to confirm.
FAQ:-
Is there a Notes widget for iPhone?
Yes, the Latest iOS 14 & later installed on all iPhones have the feature to put notes as a widget on their Phone's Home Screen. In this blog post, we have tips for adding a notes widget on Apple smartphone Home Screen. However, these steps do not work for Samsung or google android mobile; this is limited to iOS Users. 
If your device runs on iOS 13 or earlier, please upgrade to iOS 14 to utilize the widget feature.
How do I add Notes to widgets on my iPhone?
Refer complete step-step guide, which is described with examples, including pictures. Then, take your phone home screen into Edit mode, and follow the instructions to add Notes to Widget on your iPhone.
Can you have Notes as a widget?
If you don't have notes as a widget on your iPhone, there are two reasons, either your Phone is not installed on the latest iOS, Or your phone might no longer support to iOS 14.
iPhone 6 and earlier users dropped to upgrade their phones to iOS 14. And you know, iOS 14 is a minimum requirement for a widget on the home screen feature. 
Can you add sticky notes to the iPhone Home screen?
Sticky Notes is named a third-party application that will make your wish come true. You can download it from here.
Because yet there isn't Apple's official way to keep notes as a sticky look on your iPhone Home Screen apart from the Widget look.
So download and install the Sticky Notes app from the App Store on your mobile, and follow on-screen instructions for proper installation and utilization.
How do I get my notes back on my iPhone home screen?
Is your Notes app Missing from your iPhone Home Screen? Don't worry, here, I will help you bring it back to Home Screen without any hassle. 
Unlock your iPhone screen, go to App Library, find the Notes app using the search bar, tap and hold on the Notes app icon, and drag it to the Home Screen. 
Does Apple have sticky notes?
No, Apple doesn't have a Sticky Notes feature. However, you can get the Sticky Notes feature on macOS which is Apple's Mac Computer operating system. Users can also use the Notes Widget with the help of the given guide in this article.