Last Updated on Oct 31, 2022
Would you like to manually adjust the screen resolution on Mac? or mac display settings for an external monitor. Sometimes users can't satisfy with his or her Mac's display resolution because toolbar items are too small. It may happen because those users want larger size Text or big objects on Mac display. Default resolution has already been set to show the sharpest text and most detailed image which has been given by Apple in its Mac devices like, MacBook, MacBook Pro or iMac, iMac Pro, Mac Mini, etc.
Get here about manually adjusting resolution if necessary through this tip; you can change primary and connected display resolution in the same Display pane of system preferences of Mac. To learn here, both adjust the resolution for the Primary display as well as the connected display. After increasing the resolution of your screen, you'll get better image resolution, and large text compares to the previous as well which impacts graphics performance depending on which application are you using. Follow beneath the given step to adjust the screen resolution on Mac.
Related: How to Share Screen One Mac to other Mac
Step on Vary/ Adjust Screen Resolution on Mac
On MacOS Ventura
1→ Go to the Apple Logo from the top menu > System Settings.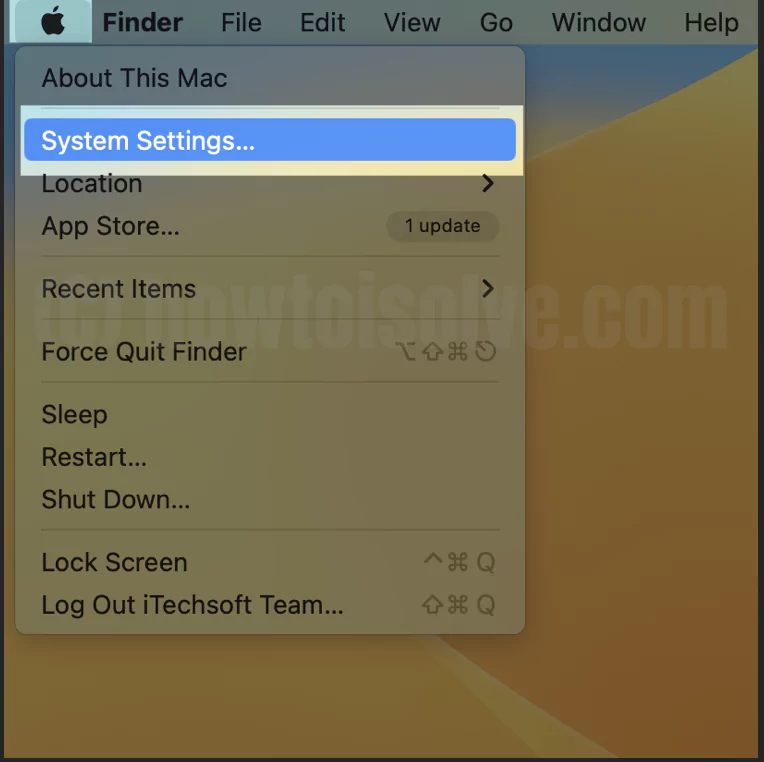 2→ Next, Click on Displays > See the "Larger Text", "Default" and "More Space".
3→ Now, Using a scaled resolution may affect performance. So Apple is not recommended. For the Big screen display or External display, this setting is helpful for the battery viewing experience from a distance.
On MacOS Monterey & Earlier
Step 1. Click on the ''Apple logo'' icon from the top side Menu of your Mac
Step 2. Select ''System Preferences …''
Step 3. Click on ''Display'' Presences.
That's it. In this Display pane of system preference, you can increase/ decrease or adjust Primary and Connected display resolution. At bellow you can learn both kinds of options, you can follow anyone as you've to need.
Here's the Best 4K Monitors for MacBook Pro, Air, Mac Mini
Most common Display Resolution for External Display are, 1920×1080, 1600×900, 1080p, 720p and more..
For, Primary Display- adjust screen Resolution on Mac, in the open Display Pane,
Select Scaled then next select your desired resolution options.
This is the way for Secondary Display; if you've more than one display and you want to change in connecting display resolution, then additional options are also available. A way for Connected Display to adjust Resolution
In the same Display pane
Press the options key while you click on a scaled option to see the additional resolution for the second display, now you can adjust the scaled for a secondary display.
Change Menu Bar Size & toolbar items on Mac
Mac users can change the Top Mac Bar icon size, and Menu Text items size from Mac settings. Here are the steps for changing the menu bar size on Mac. The change is not too big but you can get the advantage of the Limited fixed options from Two different sizes, One is Default and the Second is Larger.
On macOS Ventura
1→ Go to the Apple Logo from top menu > System Settings.
2→ Select Accessibility > Display.
3→ Choose Menu Bar Size (Default or Large). To Apply the changes
The changes to the menu bar font size require a log-out to take effect. Do you want to log out now? Log Out Now and Apply the changes.
On MacOS Monterey & Earlier
1→ Go to the Apple Logo from the top Mac menu > System Preferences.
2→ Select Accessilibity Option.
3→ Select from option box, Menu Bar size "Large" and "Default".
That's it.
After changed resolution, if the image can't appear you can go for the no pictures after changed resolution. Would you like the default resolution which is given by Apple? If no then write us why the resolution you want to change for. As well you can get up to after set manual resolution in your Mac and then leaves your reply on how to see this tip on adjusting screen resolution on Mac OS X.