Get here, How to purge Mac hard drive? If you are a Mac user from the beginning and well known about each corner of the macOS, then you should have noticed the difference between macOS 12 Monterey, macOS Big Sur, macOS Catalina, macOS Sierra, and macOS Mojave. In an earlier version of macOS, there wasn't any term like purgeable file storage. If you have listened to it the first time, then you are eager to know what does Purgeable means. It is nothing but files that can be safely deleted when you choose to optimize storage.
Purgeable files can be like cached movies stored in iTunes, language files, and more. There is no harm in deleting these files, and as a bonus, you will get free space on your MacBook. Moving forward to delete purgeable space in macOS Monterey/Big Sur/Catalina/Mojave.
Delete/Clear Purgeable Space on Mac: Clear Disk Space on Mac
What is Purgeable Space on MacBook, Mac?
The concept of Purgeable Space on MacBook, Mac was introduced back with macOS Sierra. Purgeable space is nothing but the storage taken by the files and documents that haven't been used in a while and targets to reduce redundancy from the Mac. Whenever the Mac is low on storage or needs some space, the files and documents may be removed from the Purgeable Space. Though, it won't delete any important files as far as I know.
What does Purgeable Space Include? What Type of Files?
The common files between the Mac local storage and iCloud storage.
All the full-resolution pictures added in the iCloud.
Cache and temporary files of applications that are necessary of no use for us.
The font files that we don't use.
Also, the dictionaries that haven't been used for a long time.
Watched Movies and TV Shows. No worries, they are still available to download from iTunes.
The Time Machine data on local Mac Storage, that is not part of the backup drive of Time Machine.
All the data stored in the Trash may appear as Purgeable Space.
How to Check Purgeable Space on Mac
Step #1: Click on the "Apple" menu.
Step #2: Open "About This Mac".
Step #3: There, click on the "Storage" tab. Grey Allotted space showing purgeable space. Delete Data from purgeable space we can release Without Terminal Command or Using Terminal Command. Let's check it out one by one. Also, don't miss to share the solution that works for you in the comment box.
Optimize Mac Storage
Many folks are confused about whether the Optimize Storage increases the Purgeable Space or helps you clear the Purgeable Space. Try Optimizing Mac Storage on MacBook, see if it works for you.
Click on the Apple Logo from top menu
Select About This Mac.
Click Storage > Manage
Find out the way to optimize Mac storage in the best way possible.
Clear Purgeable Space on Mac Without Terminal Command
1. Go to the Apple logo on mac menu.
2. Now, Click on the System Preferences option.
3. Next, Click Apple ID under the System Preferences window. Click on iCloud from the sidebar.
4. Now, Nex to the Cloud Drive select options button and click on it.
5. Next, Uncheck all Apple Service using Cloud Drive. And Tap on done to save it.
6. Now, Restart your Mac. Go to the Apple Logo > Restart.
7. Now again open System preferences [Apple logo > System Preferences] and Click on Time machine.
8. From the Time Machine window, uncheck Time Machine Backup automatically. Now the result is showing under the Mac Storage option. Check Purgeable Space using the above steps. Still not clear then try the second method. [Also Check Video Turorial for more help] Clear Purgeable Space Using Terminal Command line.
Clear Purgeable Space on Mac Using Terminal Command [See Video how to perform]
Do you have any trick or software to clear disk space on Mac then reply in the comments! you can get more ideas on the Apple website.
Use CleanMyMac Software
Get help from #1 mac software for cleaning up your Mac and Removing all unused and Junk, Trash, File from your Macs all around the corners.
Just, in a Signal Click find all Mac's Data and Cleanup without any important Data loss.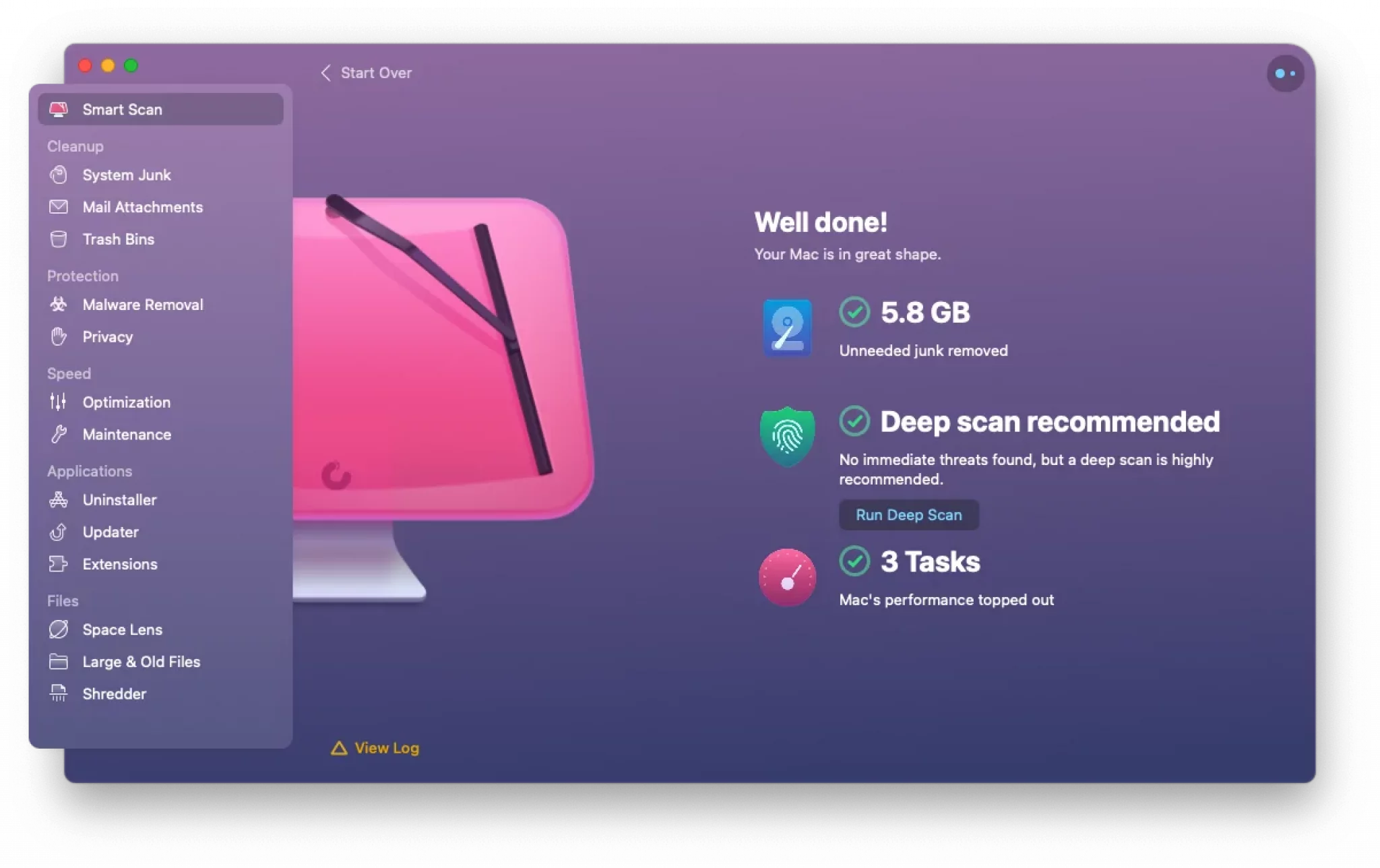 Download and Read more about Clean My Mac Review.
Note: Clean My Mac is compatible with macOS Monterey with M1 Silicon & Intel mac.
Also Get Extra Storage Management, Fastboot, Make your MacOS Error-free in just one click.
Smart Scan

Cleanup
System Junk
Mail Attachments
Trash Bins

Protection
Speed

Optimization
Maintenance > Free Up Purgeable Space

Applications

Uninstaller
Updater
Extensions

Files

Space Lens
Large & Old Files
Shredder
Take Full Advantage of the smart Software of your Mac at Office, Home, or Personal Use without affecting data.