🗓️
November 27, 2023
By ✍️
Jaysukh patel
Hopefully, you are enjoying Memoji Stickers on iPhone & iPad. But this isn't the end of Memoji Stickers, a lot more things you can do with Memoji Stickers. On iPhone/iPad lets you create custom Memoji Stickers, as much as you want. However, making more than the required Memoji is a real waste of time, because you will have to go through the whole list to search for the one Sticker. Instead, why not delete the Custom Memoji Stickers you don't want to use any more?
Unfortunately, Your iPhone/iPad prevents you from deleting default Memoji Stickers. Otherwise, it will be great for you to access stickers. Though you can remove custom stickers from iPhone and iPad from the Sticker Drawing pad, let's move along with it and reduce chaos.
Helpful: Assign Custom Memoji to Contacts.
Steps to Remove Memoji Stickers From iPhone Keyboard
Are you tired? and Finding the Way to Remove Memoji stickers from frequently used. Before that save your precious time because we have an option for Hiding memoji stickers from your Keyboard on iPhone and iPad. So, iOS 13.3 or later iOS/iPadOS users can use this feature.
Remove or Hide Memoji Stickers on iPhones, iPad
First, follow me to remove or hide your Custom Memoji stickers from your iPhone emoji keyboard under the frequently used section; after that, Remove or Hide Memoji from the Keyboard App drawer. So no one can access or open the Memoji keyboard accidentally.
Hide Memoji Stickers from the Keyboard
Launch the Settings app on your iPhone, iPad.
Now, Scroll to the General option.
Next, Scroll to the Keyboard option.
Then, Scroll to last and Disable the toggle "Stickers". That Hide Meoji and Animoji stickers from your emoji stickers.
Hide Memoji Stickers Option from Keyboard App Drawer
Note: iOS 17 Users can't hide Memoji Stickers from the Message app. Follow the below steps for iOS 16 installed users.
Launch the Messages app on your iPhone. Find the App Drawer just above the Keyboard, Scroll to end of App Drawer.
Now, Tap on more (…) option.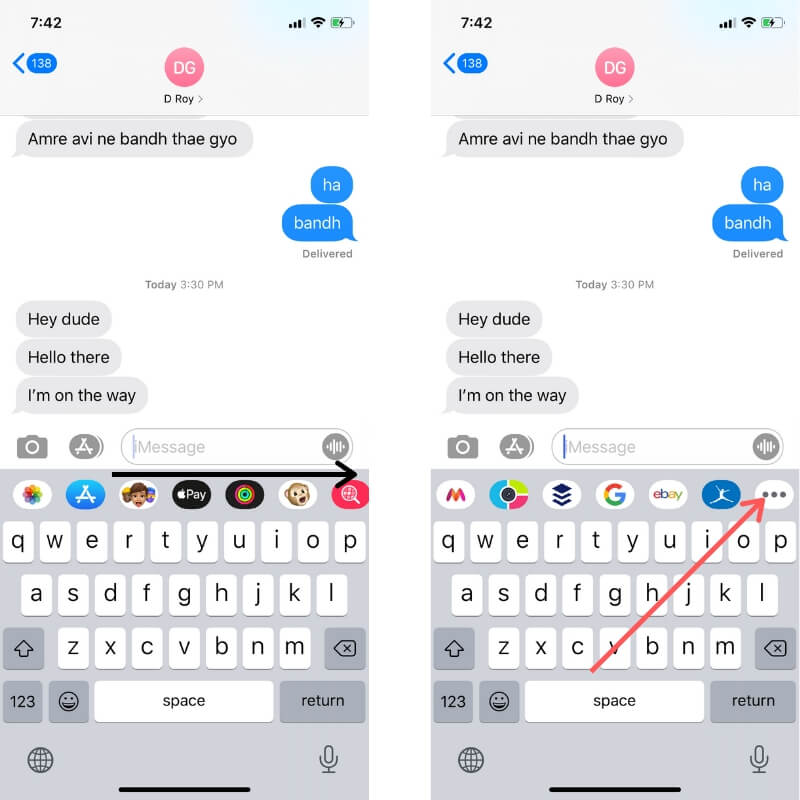 Next, Tap on Edit button from the top right corner of the screen.
Tap on Minus icon to Remove Memoji Sticker from Favorite Apps. Now Scroll to Down and Find Memoji Stickers and disable the toggle to hide from keyboard.

Watch the Full Video for hands-on tips.
How to Complately Delete Memoji Stickers on iPhone, iPad
We can only Delete Custom Memoji created by users only. But can't delete pre-installed Memoji Stickers from Memoji Keyboard. Here is the steps for Cusomplately deleting Custom memoji stickers from iPhone, and iPad Memoji keyboard.
Step #1: Open any App like Message and Open Keyboard.
Step #2: Press the Keyboard by tapping the empty text field.
Step #3: Tap on (+) button next to the message box > Select Stickers.
Step #6: Choose your Custom Memoji > Tap on More (Three Dots Line) Option > Select "Delete" from the Editing options popup.
Step #7: Lastly, Confirm Delete and Tap on Done to move the Keyboard app Drawer. Once you delete Custom memoji you can't recover it.
Note: You can only delete the Custom Memoji Stickers, but not the default Memoji that are provided by Apple.
Don't know what are Custom Memoji Stickers or Default Memoji Stickers? Don't worry, swipe up the Memoji Sticker screen and when you don't see Three Horizontal Dots that means they default Memoji, and Apple won't allow you to delete them. This is the best way to identify which Memoji are Custom and which are the default.
Also, when you tap on More options, their Duplicate tab is available, which helps us to duplicate Memoji Sticker.
If you need more help with iOS device and its new features than, follow our website and be the first to use the all-new iOS features on your iPhone. Also, you can share Custom Memoji Stickers from iPhone to Any iPhone, iPad [Unsupported iOS device]