Last Updated on Feb 20, 2023
iOS 13 allows you to assign magnificent Memoji Stickers to Other Contacts in iPhone Phone app. Create a Memoji for yourself and your other contacts right inside Contacts. Set Different Custom Memoji to Each contact on iPhone that shows on the lock screen or unlocks the screen. Memoji sticker will show on calling screen, Not only the Memoji stickers but also you can assign the picture of your contact or yourself if you wish. Assigning photo for contacts is very useful, no need to read the small contact name when someone calls you. Simply identify who is calling you, by looking at the photo assigned to the contact on Calling Screen.
Probably, iOS 13 is the first ever iOS that allows you to personalized a lot more functions and use it as you want. Back to the topic, apart from Memoji Sticker, if you want to go for Photo, then tap on All Photos which you will find later once you start with the steps.
Ready to Go with your New Custom Emoji Stickers on iPhone.
Follow Steps to Create Memoji for Contacts on iPhone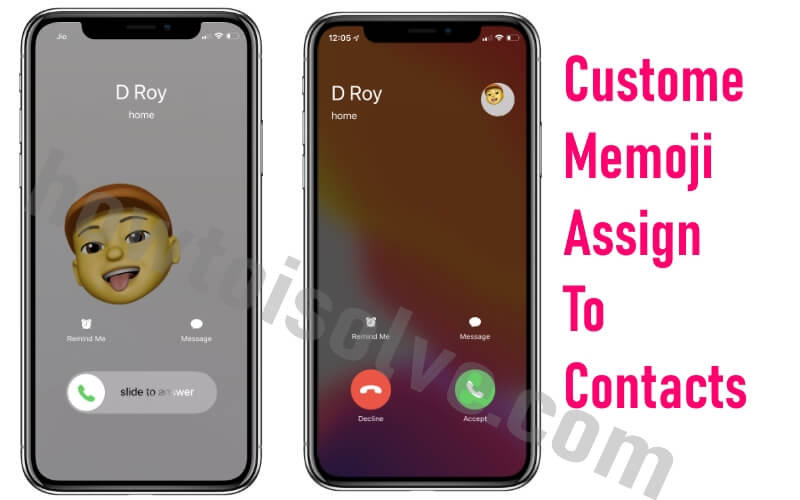 Step #1: Go to the "Contacts" app on your iPhone.
Step #2: Search the contact to assign Memoji Sticker or Photo.
Step #3: Open the contact.
Step #4: Tap "Edit".
Step #5: Tap on Photo icon/Add Photo.
Step #6: A huge list of Memoji Stickers is available to choose from. Or Create Custom Memoji. Tap (+) near to the list of Animoji stickers and then make your custom Memoji Sticker.
Step #7: After selecting Memoji Sticker, it will ask you to "Strike your favorite pose". Show your creativity there.
Step #8: Next, tap on "White Circle" after giving a pose.
Step #9: "Move and Scale," the Memoji.
Step #10: Tap "Choose".
Step #11: Select a background color for the Memoji.
Step #12: That It. Tap "Done".
Step #13: Again tap "Done" on the Contact Info screen.
Alternatively, when you reach step-6, there is one more option that will allow you to select Photo from the Photos app or you can click the picture and set it as Contact picture on iPhone.
This Custom Memoji will Show on iPhone Calling Screen when Screen is locked or unlocked.
How to Remove Memoji Sticker From Contact
If you want to remove assigned Memoji Sticker from Contact, then read on the following steps.
Step #1: Move to the "Contacts" app and select the contact to remove the assigned Memoji sticker.
Step #2: Tap on "Edit".
Step #3: Tap on "Memoji Sticker".
Step #4: Once again hit assigned Memoji Sticker.
Step #5: Select "Delete".
Step #6: Confirm Delete.
Step #7: Save changes by tapping "Done" twice.
Don't miss to share with others, That helps to set or Assign Custom Memoji to Contacts on iPhone and iPad Phone app. That really Entertain you when you receive incoming call.