Make free call on FaceTime in iPhone, iPad running on iOS 8, iOS 9, Not only call but you can also do video call but here is the best way for make FaceTime call in instant way alternatively. After many change in iOS User interface Apple gave easy option for make FaceTime call from contact app and FaceTime app also. Just follow the below steps for call FaceTime useful when your FaceTime app crashed, Showing Black Screen, at launch time in iPhone (iPhone 6, 6 Plus, iPhone 5S/ 5, iPhone 6S or iPhone 6S plus), iPad. Big think is that you can make free audio call from iPhone, iPad to anywhere in the world to your family, Friends and colleague.
But before try FaceTime to any other or unknown person, I want to clarify first your Phone number or Email address will shared at other end when you mace FaceTime Audi/ Video call. Please verify first Current Email address Setting > FaceTime > Apple ID. (And FaceTime toggle must be enabled)
we are happy to help you, submit this Form, if your solution is not covered in this article.
Useful: Record FaceTime call on Mac
Steps for Make video/ audio Call on FaceTime in iPhone, iPad: Alternative Easy ways
Make sure, FaceTime must be enabled from setting app.
1st Make Video/Audio call on FaceTime from contacts
Step 1: Go to the contacts Apps.
Step 2: Find name from top contact search. Tap on name of contact.
Step 3: Now you can all details like name, Email, And FaceTime (if available on FaceTime)
Step 4: Next, Tap on receiver icon (For Audio call) and camera icon (For Video call) in front of FaceTime tab.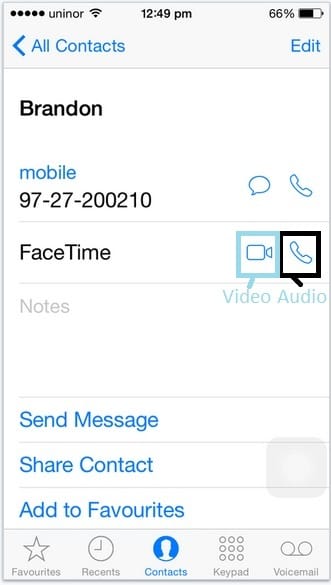 2nd way of make Audio/Video call on FaceTime
Note: Sometimes users have query on FaceTime launching takes more time or FaceTime crash when try to open.
Step 1: Go to the FaceTime app and open it.
Step 2: Now you can search name from search bar and make audio or video call from above selected tab.
Step 3: Tap on contacts for start FaceTime Audio/ Video call.
Useful: Spy Software for FaceTime helps to track FaceTime call (Audio/ Video) remotely.
Have you any confusion about make Video/ Audio Call on FaceTime in iPhone, iPad and iPod touch.
Jaysukh Patel is the founder of howtoisolve. Also self Professional Developer, Techno lover mainly for iPhone, iPad, iPod Touch and iOS, Jaysukh is one of responsible person in his family.
Contact On: [email protected] [OR] [email protected]