Last Updated on Jun 1, 2023
Don't see annoying or Private snapchat notifications on your iPhone. Notifications come in handy when we are busy with work or sleeping; without notifications, there is no way you could get an alert that someone has messaged you or called you unless you manually open each app to see. Well, it's quite impossible and boring to go through all the apps to look for the notifications; that's why everyone prefers notifications.
Nevertheless, the notifications are in the owner's control, whether to turn off, keep on, hide, or whatever. The iPhone is highly customizable, say if you are annoyed by a stalker who always looks into your phone, on the other side due to some personal reasons, you cannot just turn off notifications; what will you do?
In this tutorial line, I'll walk you through the best way to keep the stalker confused while getting all the notifications on the iPhone. The iPhone settings app lets you choose between three options when it comes to notifications. You can Hide Notifications on the Lock Screen, Completely Hide Notifications on iPhone and Use the Default Settings. Of course, when you choose to hide notifications on the Lock Screen, it means the contents will be hidden, but still, you'll receive notifications from Snapchat; somewhat looks like Snapchat Notification, that's it No Preview on the lock screen.
How to Hide Snapchat Notifications on iPhone
Kindly note that to make Snapchat Notifications Private on iPhone, ensure the Passcode for iPhone is enabled. So check out how to enable Passcode on iPhone.
Remember, while setting up Face ID or Touch ID, you'd need to enter Passcode as an alternative; this is what it is. If you already use Face ID or Touch ID, skip Step 2.
Step 1: Make Sure iPhone Passcode is Enabled
Open the Settings app on iOS devices.
Scroll down and tap on Touch ID & Passcode (iPhone with Touch ID) | Face ID & Passcode (iPhone with Face ID).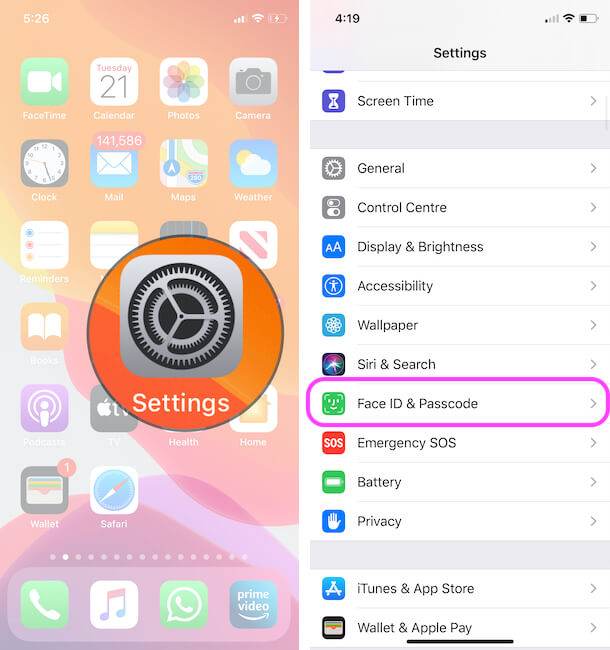 Turn On the Passcode.
If you've already turned on passcode, then enter the passcode to access the Passcode settings and see if the passcode is enabled.
Enter Passcode two times and save successfully.
Step 2: Make Snapchat Notifications Private on iOS
Go back to the Settings App on the iPhone.
Tap Notifications.
Scroll down to the end, and tap Snapchat. The apps are listed in alphabetical orders to direct skip to the S, to locate Snapchat.
I assume Allow Notifications is toggled ON, if yes then tap Show Previews.
By default, Always is selected, switch it to When Unlocked.
From now on, the Snapchat Notifications Preview will not be displayed on the lock screen. However, after unlocking the iPhone, you can still access the Snapchat Messages or Notifications as usual.