Last Updated on Sep 20, 2023
Until now, you may have heard that Facebook stores all of your activities and data like which posts you've liked, what videos you've watched and liked, how long your friend list is, and more. That said, everything is recorded to improve the user experience on Facebook. You can still permanently delete the Facebook Watch History from your account. Apparently, your Facebook watched activities are limited to your account; no one case see what the videos you have watched to date are, but if in case if you want to delete the watched videos from Facebook, continue to read this full guide step-by-step.
The procedure to delete the Facebook Watch History is tedious. You have to delete the videos one by one; as far as we know, there is no option to delete the watched videos simultaneously. However, it can be done from the Facebook App and the Facebook Web Interface; you only need an internet connection. Let's get into the tutorial.
Way to Delete Facebook Account
How to Delete Watched Videos on Facebook on iPhone, Android
The steps are the same for both iPhone and Android phones to delete the watched videos on Facebook.
Step 1: Launch Facebook App on your iPhone and Tap on the Profile Picture at the bottom right corner of the screen.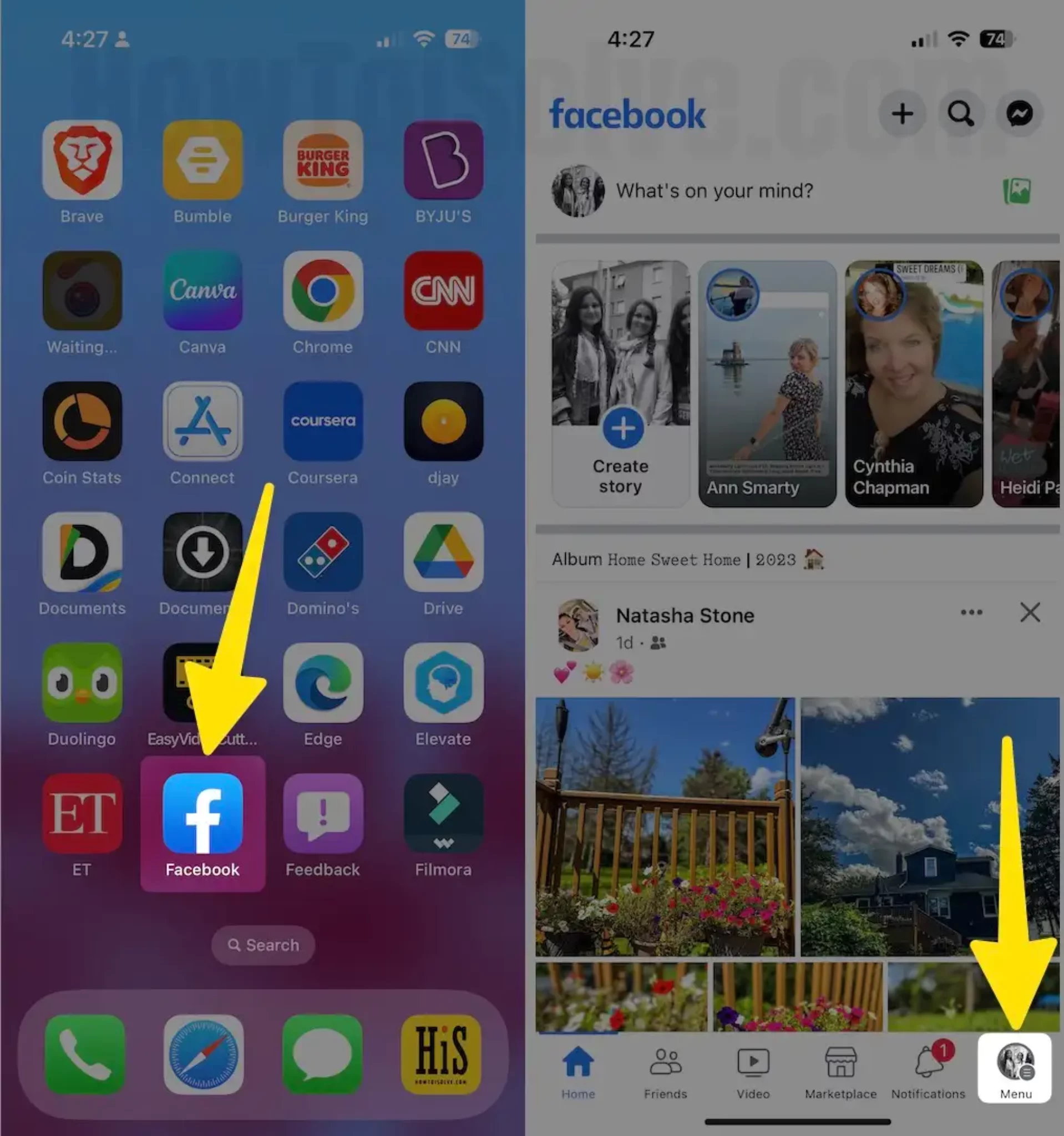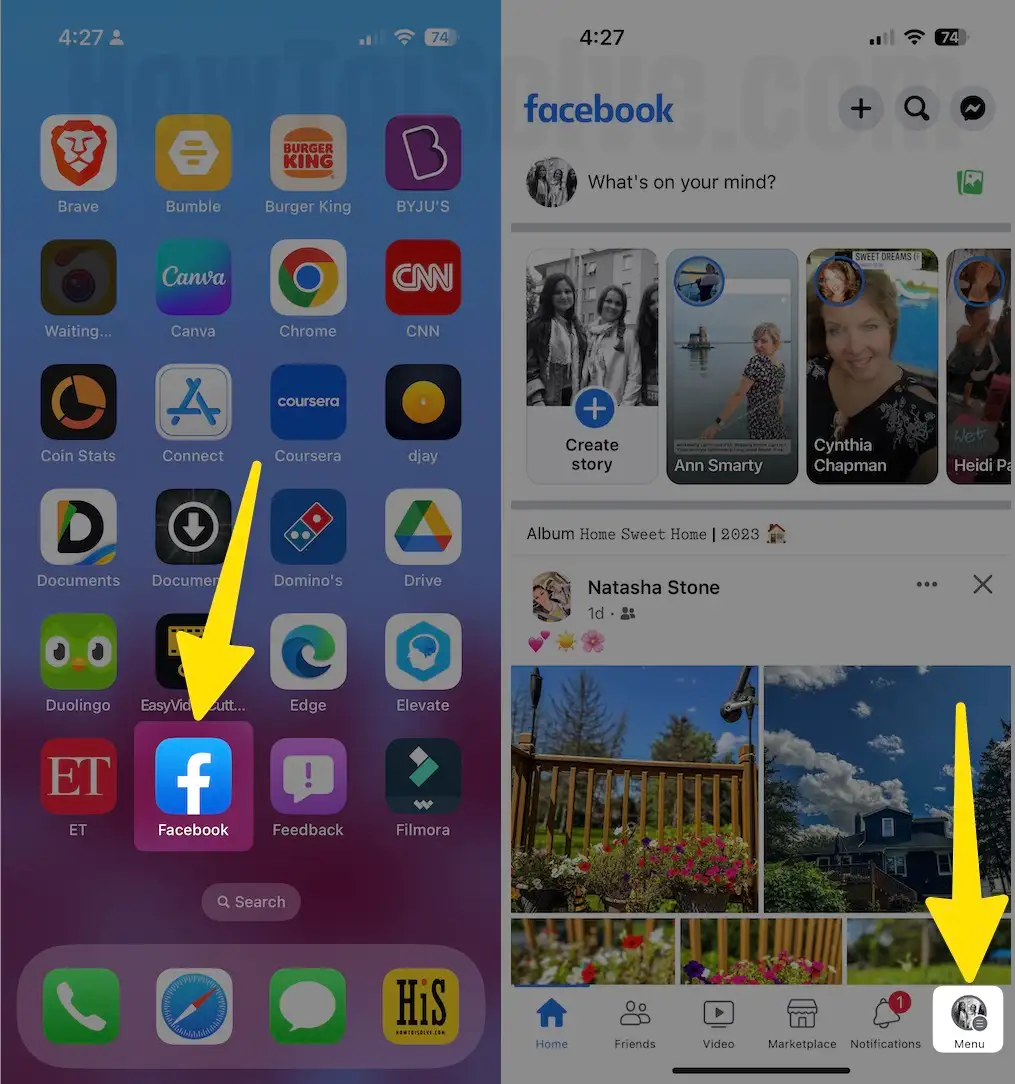 Step 2: Select Settings & Privacy and Expand the List under > Tap on Settings.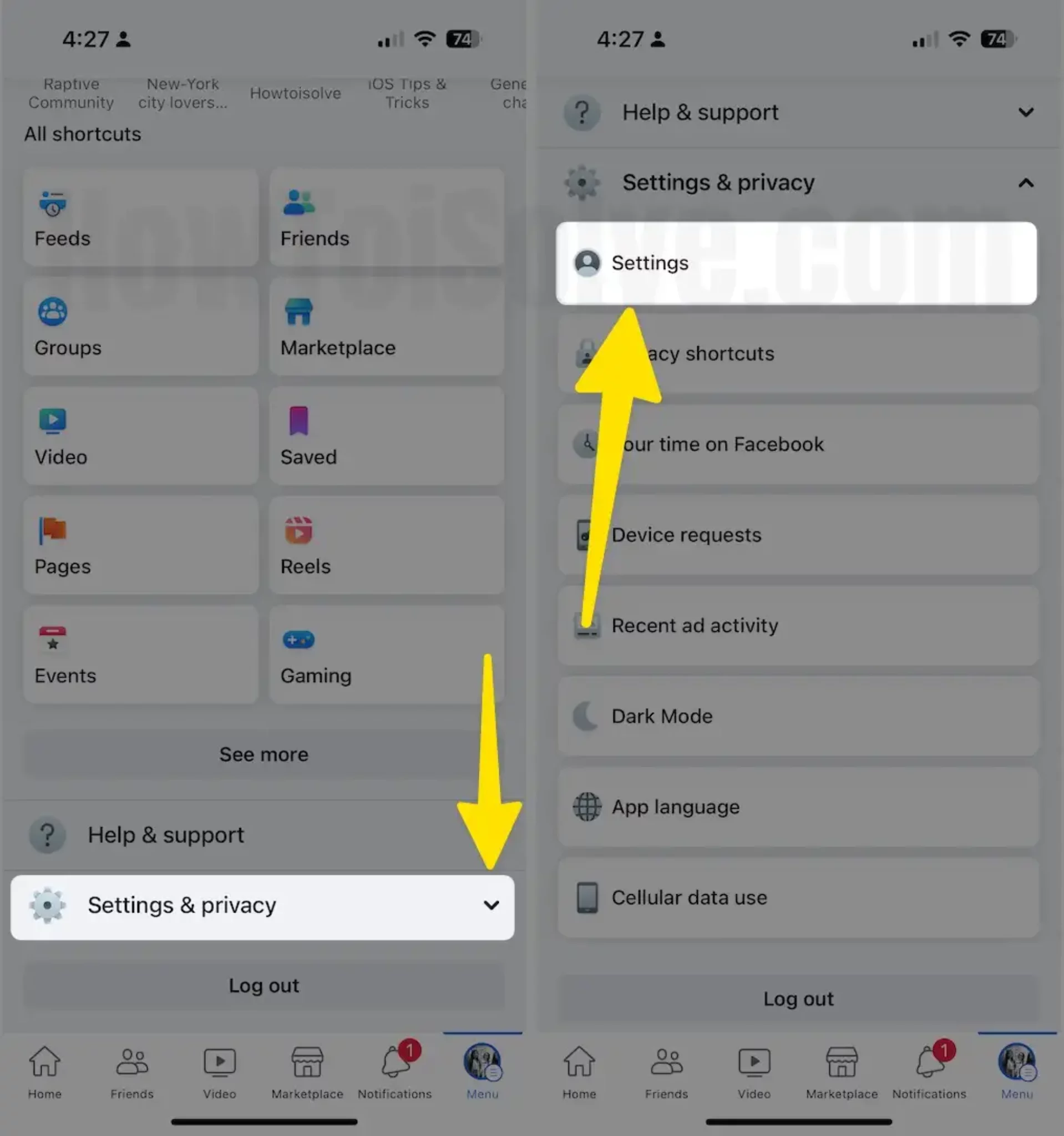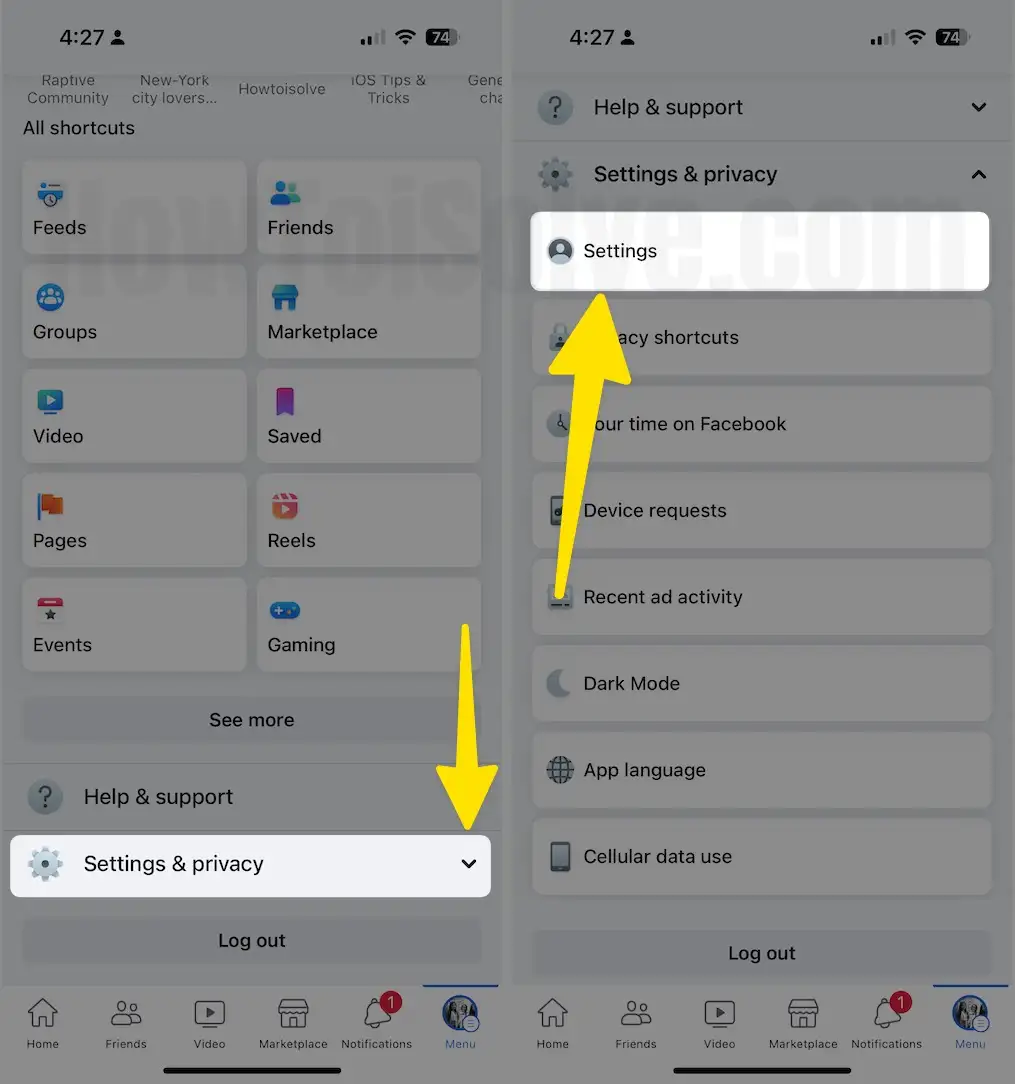 Step 3: Scroll the screen and Tap on Activity Log > Expand the 'Logged actions and other activity' Option.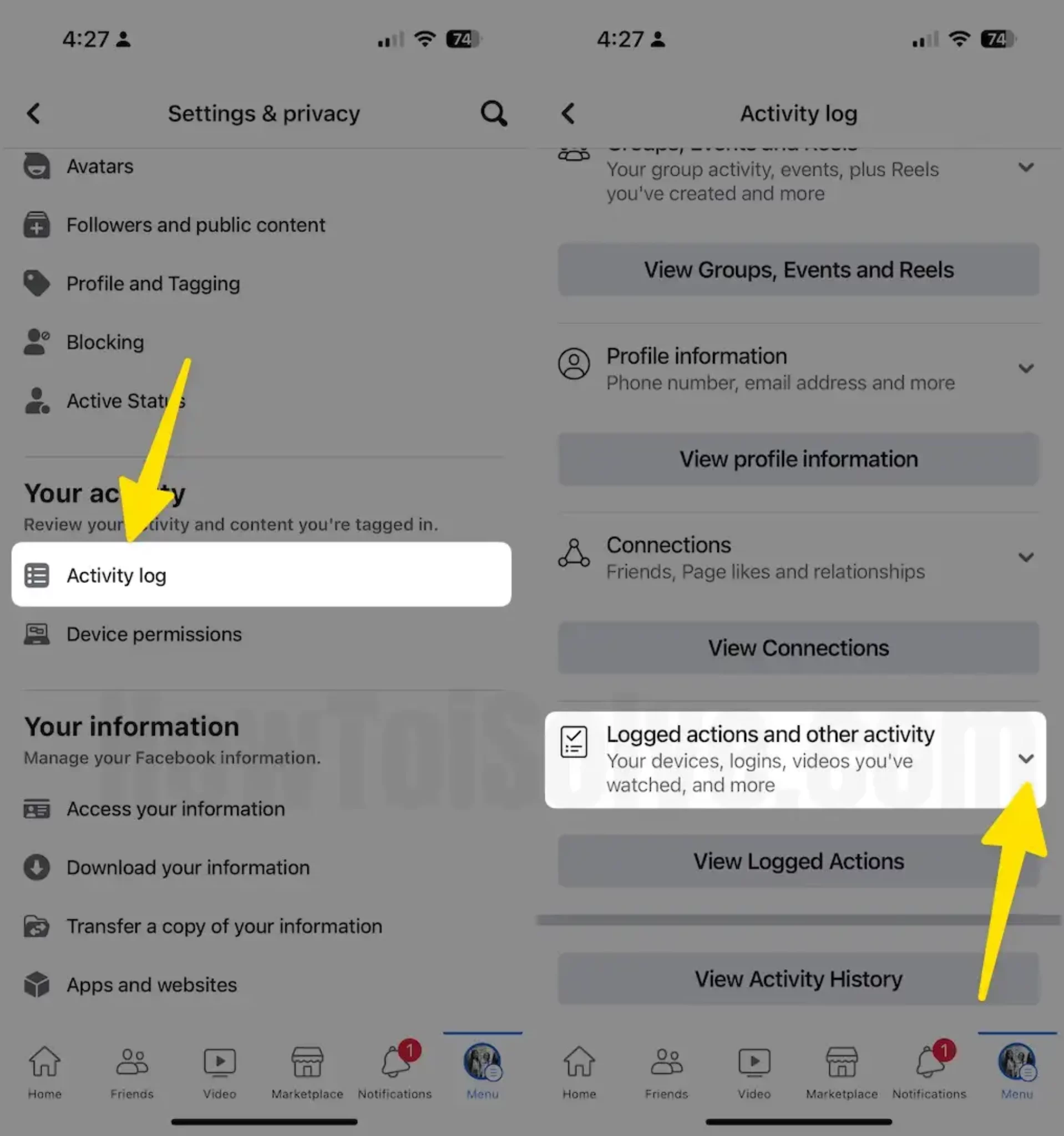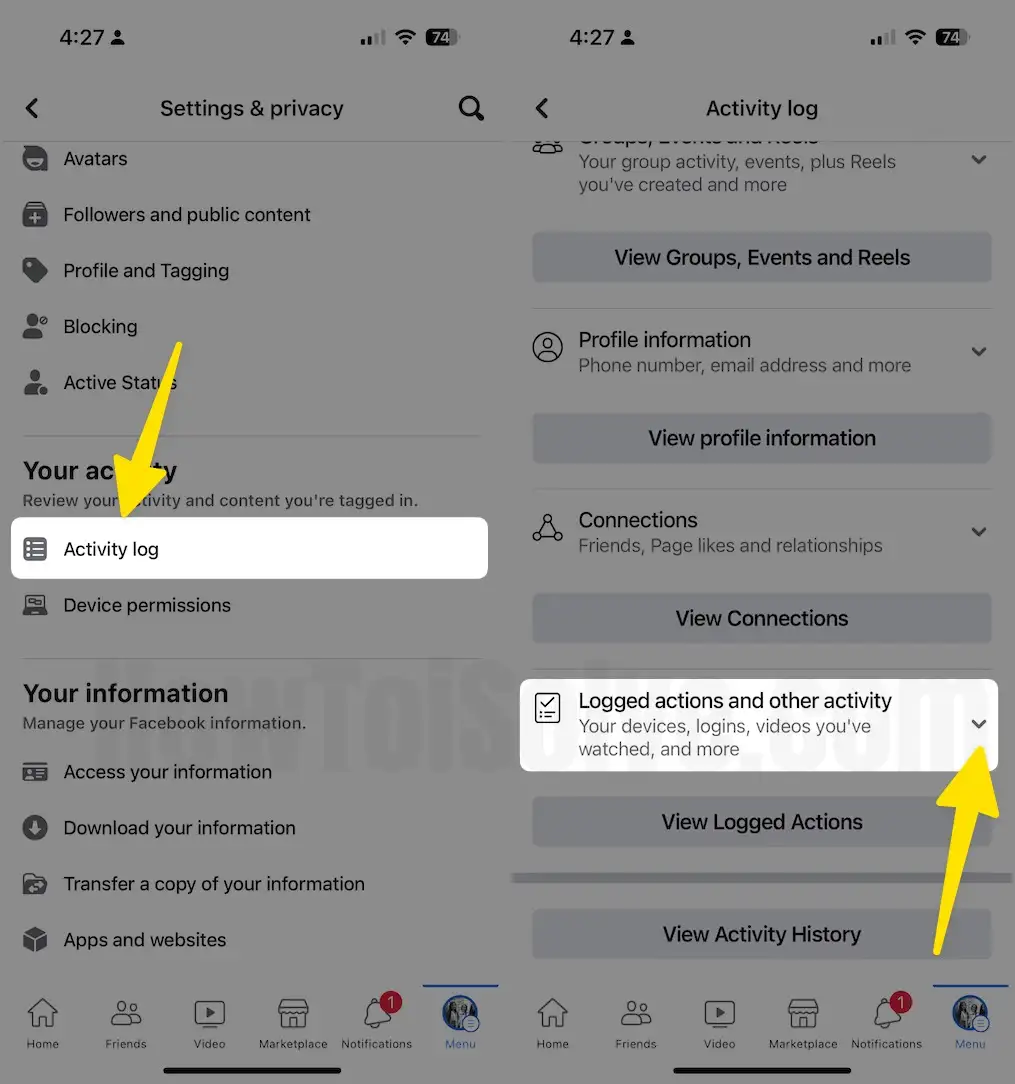 Important!
(if you can't see the specific actions or Options, use the Search feature – In the top right corner. For Example, Type 'Videos' – Videos You've Watched, Videos you've Searcher for, Live Videos You've Watched…and much more…)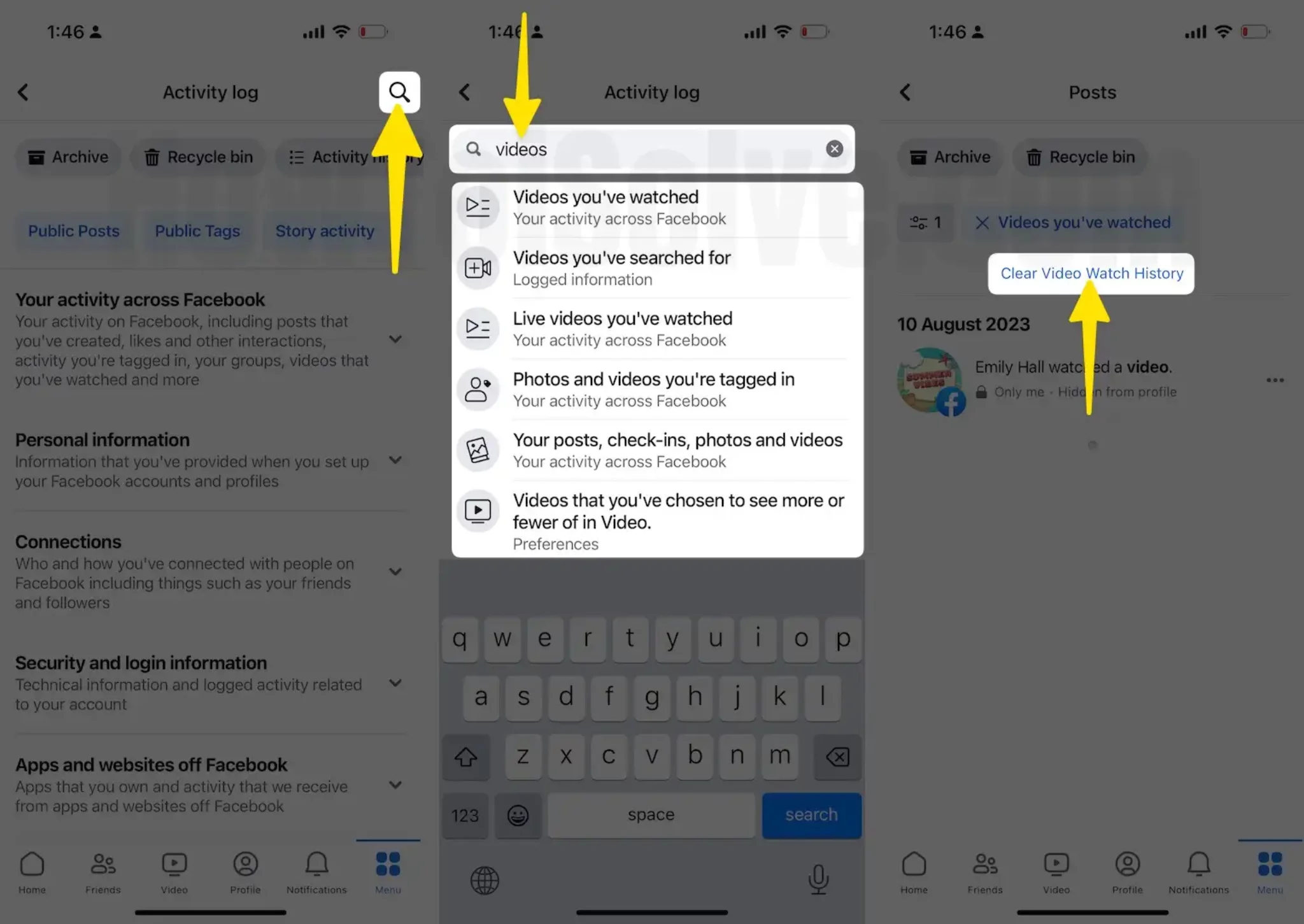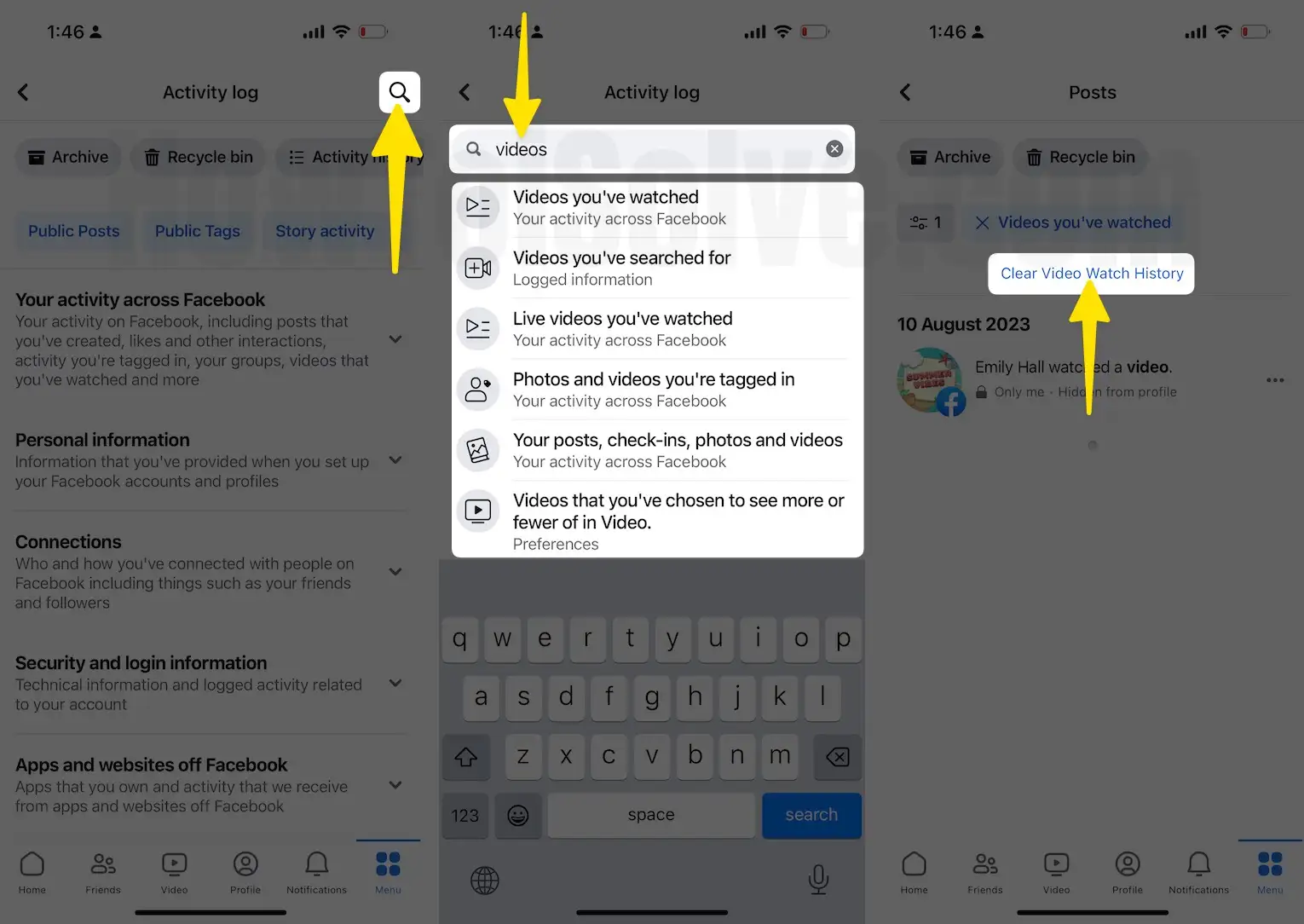 Step 4: Go with the Option 'Videos you've watched' > See Clean Video Watch History > Clear. To Remove specific Videos from History, follow Step 5.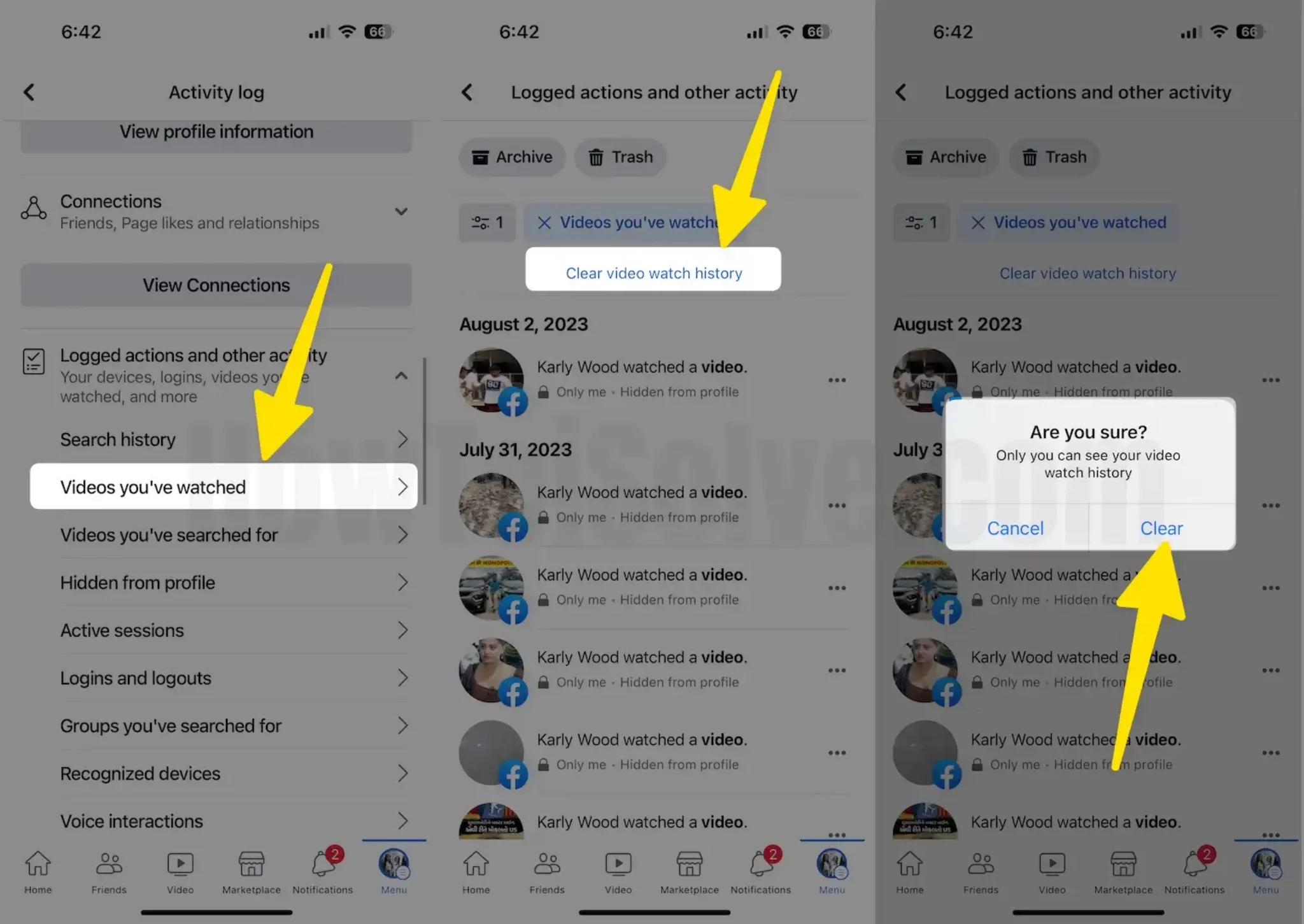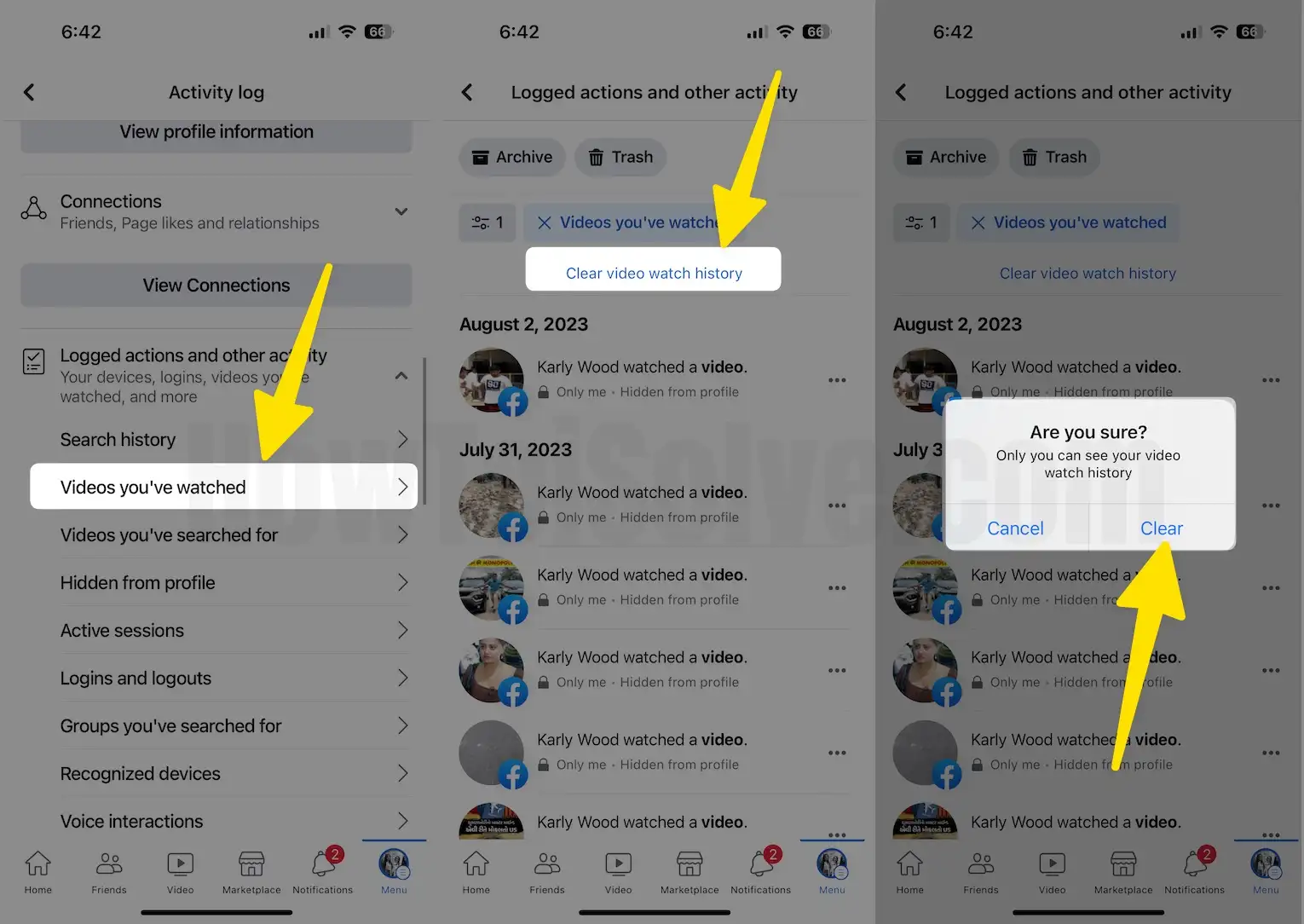 Step 5: Tap on the Videos you've Watched Option > Tap on the Three dots option to remove the specific videos from Watch History List.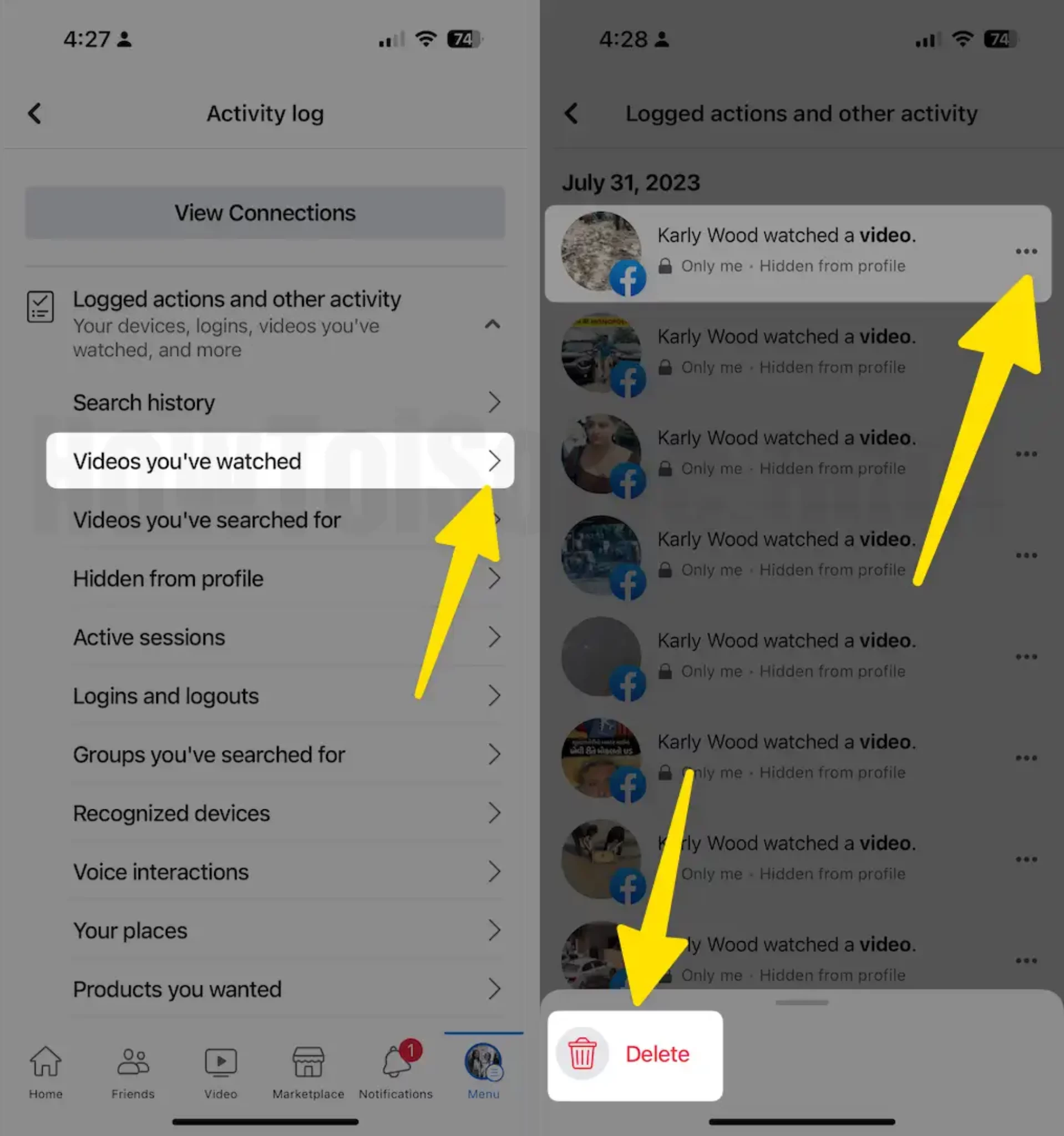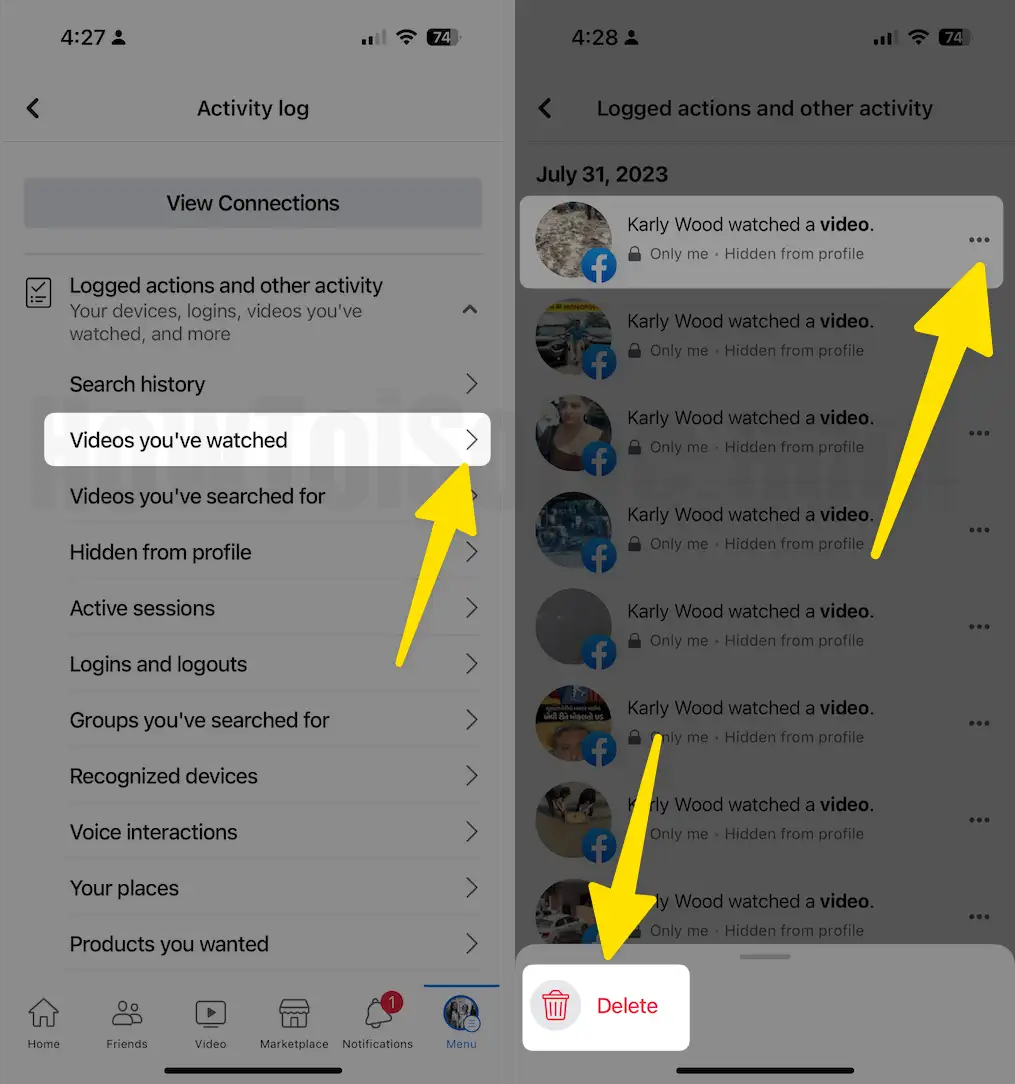 Activity Log on Facebook,
(here, you can view and manage your information and some settings). Appears under the Access Your Information tab.
Now on the page, you can see your FB activity log and above (Filters, Manage Aciticty, Archive, and Trash) options.
If you don't filter by Year, then a whole long list from Today will appear, showing your video watch history on Facebook.
Set filters of Year and Category. Choose the Year of which you want to delete the Facebook Watch history, and the Category is to be set to Videos You've Watched. Click on the Logged Actions and other Activity
That's it! If you have any questions, then write in the comment box below.
Get more: How to Delete a Facebook Avatar
How to clear Facebook Watch History on your Mac/Windows 11 or 10
The recent update has changed the Facebook web interface, bringing all the options and settings of the Facebook app to the web. The same goes for the web interface if Settings is located under Settings & Privacy on Facebook. So, don't get confused; it might look new if you haven't used Facebook for a while.
Step 1: Login to your Facebook account on any browser. Click on the Your Profile Picture next to the bell icon on the upper-right screen. Click on Settings & Privacy.
Step 2: Select Settings.
Step 4: On the left pane, click Your Facebook Information > Access Profile Information Click on View.
Step 5: Click on Your Activity across Facebook > Videos You've watched.
Step 6: Click on Clear Video Watch History to delete Videos from Facebook Watched History.
Step 7: To Delete a Selected Video from the Watch History list, click on the More option next to Video Delete.
To Clean Other Search, Go to Logged Information > Your Search History > Clear Searches.