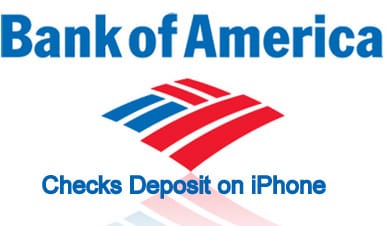 Last Updated on Mar 24, 2018
How to Deposit Checks Bank of America on iPhone? The Bank of America has added feature that allows to you Deposit checks Bank of America from your Apple iPhone Smartphone (Android, Windows phone devices) as well using tablet (iPad Mini, iPad Air) and more. So now, using Mobile Check Deposit feature of bank of America's Holder can check his or her Total amount USD (US Dollars) instant via iPhone or iPad App. even you can view processing deposits under the Account details section of the iPhone or iPad app. if you've not installed app then you can download Bank of America app for your Apple iDevice (iPhone 6, 6 plus and more).
we are happy to help you, submit this Form, if your solution is not covered in this article.
Main advantage of the Mobile Deposit Checks feature
Save Time
You can Deposit your Check without Trip to the bank.
Use Apple Pay as well might allow in Apple Watch
Snap a picture of check as easy as snapping picture on your Phone, with the same type of level of security and protection as Online Banking.  Learn steps for How to Mobile Deposit Checks Bank of America on iPhone app from beneath.
Mobile Deposit Checks Bank of America on iPhone, iPad App
Step 1. Open the Bank of America app on your iPhone, iPad or iPod Touch
Step 2. Select "Deposit Checks"
Step 3. Take a Picture of the front of Check and back of Check in sequence.   
Don't worry:- images are stored securely at the bank and are not saved directly on your Smartphone or tablet.
Step 4. Now, select the Account to receive the deposit and enter the Amount and Tap Done.
Step 5. Verify the deposited amount and account details to ensure correctness.
Step 6. Tap "Make Deposit" and you'll get a confirmation messages in seconds.
That's it. The Updated iOS app of Bank of America features apart from Mobile Checks Deposit:
Transfer money from account to account
Send money in secure way
Pay Bills though iPhone, iPad (Schedule, edit or Cancel payment/ Pay eBills)
Mange You Bank Account through iPhone app
Order replacement of debit or credit card
Bank of America Deals
Note: The Mobile Checks Deposit feature, yet not support or available on the Mobile Website or Amazon Kindle Fire as well Blackberry Device.
Premium Support is Free Now
We are happy to help you! Follow the next Step if Your Solution is not in this article, Submit this form without Sign Up, We will revert back to you via Personal Mail. In Form, Please Use the Description field to Mention our reference Webpage URL which you visited and Describe your problem in detail if possible. We covered your iPhone 11 Pro, iPhone 11 Pro Max, iPhone 11, iPhone 8(Plus), iPhone 7(Plus), iPhone 6S(Plus), iPhone 6(Plus), iPhone SE, SE 2(2020), iPhone 5S, iPhone 5, iPad All Generation, iPad Pro All Models, MacOS Catalina or Earlier MacOS for iMac, Mac Mini, MacBook Pro, WatchOS 6 & Earlier on Apple Watch 5/4/3/2/1, Apple TV. You can also mention iOS/iPadOS/MacOS. To be Continued...
Would you like this help on How to Mobile Deposit Checks Bank of America on iPhone app? You can write us, any time if you've question regarding mobile banking of Bank of America.