🗓️ November 10, 2020 By ✍️ Jaysukh patel
are you disturbing on somewhere coming notification and call on your Apple Watch? put apple watch into silent mode/Mute mode is a complete solution for this trouble. For that, you have to enable silent mode the same operation in two different ways. First one, disable/ Enable watch silent mode using iPhone remotely, and The second one Enable/ Disable watch silent mode within the iPhone.
Moreover, you are in the exam room, Library, on Bad, for a full night you can control your watch through iPhone.
Useful: How to adjust/ change the text size on Apple Watch – Make large Font.
Note: your watch must be paired with iPhone running on the latest iOS compatible with your iPhone and Apple Watch. 
How to Enable Silent Mode in Apple Watch
Enable/Turn off Apple Watch Silent/Mute mode using iPhone
Step 1: Go to the Apple Watch app and launch it.
Step 2: Scroll down and Tap on Sounds & Haptics > Cover to Mute
Now your job is done in the case you won't put your watch into silent mode. Now for disable reverse all the above step and turn off Cover to mute option.
Enable/Turn off Apple Watch Silent mode without iPhone
Without iPhone quite easy compare to using iPhone, for that follow the below steps
from the setting glance on apple watch, Swipe up your finger on Watch screen > swipe left until you will show below screen > Tap on Mute watch. Now thought the setting app given below step.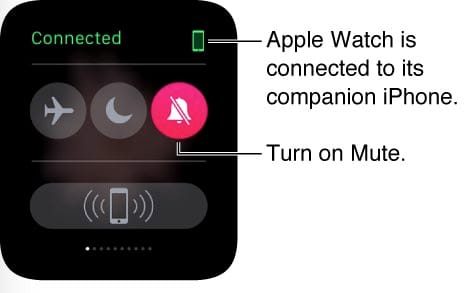 Step 1: Go to the Apple watch Setting app.
Now for the normal mode or put low volume follow the same steps above explained.     
having any confusion on how to put apple watch into the silent mode with above steps, then share with us, we will be glad to assist you.