We can Download, stream or Play Apple Music song offline on Online on iPhone X/8/8 Plus/6. Offline doesn't matter where you are or internet is on or off. But play online on WiFi or Cellular Data plan. Yes, Apple Music use Data depends on settings. However, we can track or check How much GBs or MBs data consume after play Apple Music on iPhone/iPad or iPod Touch running on iOS 11, iOS 12 or later? Here are the steps and guidelines that prevent use Cellular Data or mobile data using while WiFi not available.
Important settings for Apple Music, the Music app is Turn on/Off iCloud Music library (That manage iCloud storage, Enable or Disable Use Cellular Data for Downloads, High-Quality Streaming stop while on Cellular Mode, Streaming, Updating your Library and Loading Artwork, Downloaded Music, Optimize Storage, Automatic Downloads) and more.
Useful: How to Set any Song as iPhone ringtone.
Steps to know apple music use data on iPhone X/8/8 Plus/7
First, Enable Cellular streaming on iPhone for Apple Music, these are the steps.
Go to the Settings app on iPhone/iPad or iPod Touch
Next, Tap on Cellular Data or Mobile data. Scroll down on screen, Disable Music toggle for turn on/Turn off Cellular data use by Apple Music app. Or check the Data Size used by Music app gave just below the name. See image below,
Music App settings on iPhone X/8/8 Plus/7
Go to the Settings app on iPhone.
Scroll at last "Music".
Under music > iCloud Music Library: Add new Playlist and Album in your Music Library across all device automatically by enabling Apple Music Library.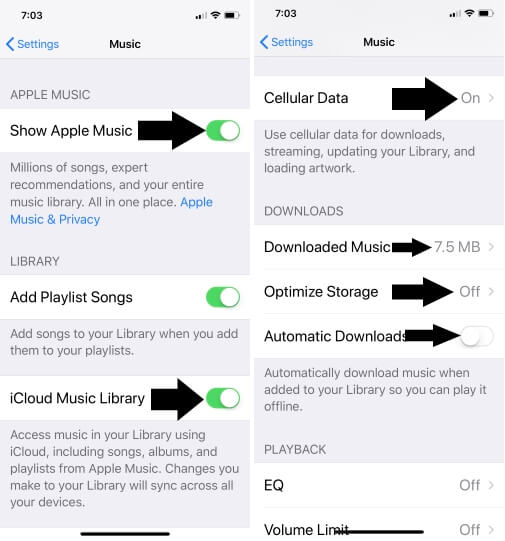 Downloaded Music: Simply edit music and Find the option to delete music from iPhone's Storage. Otherwise, use Optimize Storage and Enable to automatically delete saved music and release space used by downloaded song.
Automatic Downloads: New or recently added song in iCloud Music library will automatically download on your iPhone/iPad or iPod Touch. If you enabled this, You can listen to apple music offline; there is no offline limit. And Play Music without WiFi on your Phone or Stream to other Sound system or Car Play.
There is no any fixed rate or Average Data consuming chart; it depends on Audio quality and Length of songs. Just like Spotify, Pandora, Amazon Music app you can do with your iOS device.
Related: Apple Music Won't Play Offline.
Have you more question in your mind? Share with us on the comment. Hope you are saving data and using custom settings for apple music use data.