🗓️ November 10, 2020 By ✍️ Jaysukh patelin this post, I'm sharing with you Remotely Sign out Apple ID, Remove Apple ID From all Other Apple Devices. In most case, apple users always keep their own apple ID and Password secure, don't try on any unknown device. Unfortunately, you entered your Apple ID to download app from the app store, but you missed signing out. So try this guide for remotely sign out apple id and remove your details all time without verification.
Very easy steps, for that you don't need any technical knowledge or third party software.
Pre-requisite: Mac or PC installed with the latest version of iTunes.
Steps for Remotely Sign Out Apple ID from iPhone, iPad or iPod Touch
Note: if you don't use for the past logged device before 90 days then those devices automatically highlighted with the remove button. Those devices you can remove or remotely sign out Apple ID.
Method 1: From Your iPhone, iPad
New in iOS 11, User can see Apple ID account and Manage easily from iPhone, iPad, or iPod Touch.
Launch Settings App on iPhone, iPad, or iPod.
See Your Profile at top and tap on it for more settings and manage it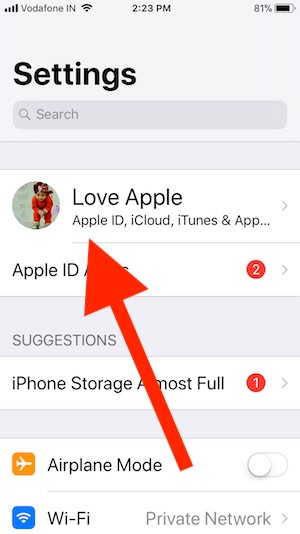 3. Scroll down to the last and see all the devices registered with the same Apple ID being used.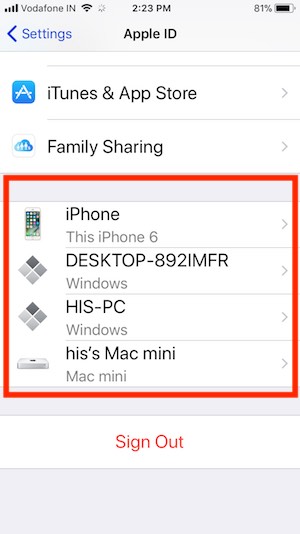 4. Tap on the Device name that we want to sign out.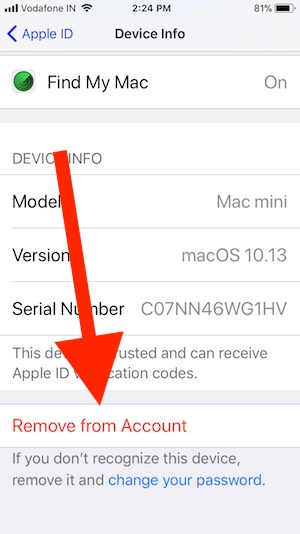 5. Tap on Remove From Account option.
6. That's it.
Having bad luck, by chance you access your Apple ID on another device, Still are you safe because apple wants a password or Touch ID (If enabled), For every single download or change account details.
Method 2: From Mac or PC Browser, Remove Device from Apple ID account
If you are unable to reach your apple device then use these tricks to remove any of your Apple device that is signed in same apple ID. Here's my Apple Watch, Mac Mini, and iPhone are Signed with the same Apple ID account. So I can manage any device from this account remotely through Web login. Follow the below steps, that helps to remove Apple ID from the device remotely. If you don't want to remove, Only disable service related to iCloud accounts like Mail, Keychain and iCloud Drive, and more Then follow the next tricks on change apple ID Password right now.
Go to this link on your Browser, https://appleid.apple.com/.
Next, Login with your Apple ID and Password.
Now, Scroll to Devices section and See all the Apple Device will display here, Click on Device name.
On Device Popup, See Remove From Account.
That's it.
Now you have signed out your Apple ID account from the device remotely.
Method 3: Change Your Apple ID Password
Next is the alternate solution for unauthorized access to your iCloud services from the Remote Apple device. If you are worried about security issues like your Apple Account accessing from another device that is signed in with your Apple ID. Then only change Apple ID password, So All the Services will stop on a remote device, and Ask for Re-Enter Apple ID password.
Change Apple ID password is Easy from iPhone/iPad Device. On your iPhone, iPad,
Open Settings app on iPhone/iPad.
Next, Tap on your Apple ID account name.
Find Password & Security option.
Next, the First is Change Password. Enter a new password.
That's it.
Or
Useful: The same features are also available for Remotely Sign Out Gmail from iPhone or Sign Out iCloud from Mac/PC browser, Remotely Logout Facebook, or Twitter.
Still needs more help on Remotely Sign Out Apple ID or App Store ID Login, for your case specially. We will be glad to assist you.