There are Millions of Apple iWatch users trying to do download and install the new version of getting something new and bug fix. But we have seen many users, they get an error message (like Unable to Check for Update, checking for software update failed because you are not connected to the internet) in meanwhile of the software upgrade process and because having incomplete knowledge about to successfully download and install WatchOS on Apple Watch.
Most of them, due to insufficient charging an Apple Watch does not allow to download and install any recent or future Software Update version. Even you are one of them please follow below given important keys to getting rid of unable to install WatchOS 6 on Apple Watch.
we are happy to help you, submit this Form, if your solution is not covered in this article.
At least there are several important points that you should keep in your mind before you upgrade your Apple Watch software. You could try this troubleshooting for WatchOS 6 and all upcoming future update like bug fix version, latest improvements, etc.
Essentials Guide to resolve Cant install WatchOS 6 on Apple Watch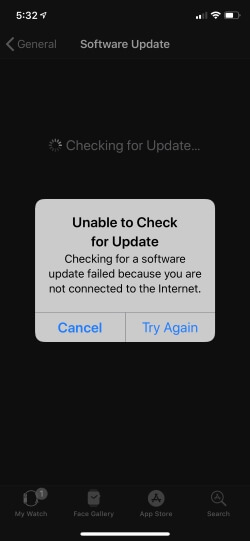 Clue #1. Restart Your iPhone
Your iPhone is stuck and unable to fetch new information from apple server. That means to reboot your iPhone works in many cases. You also make sure that your iPhone has a proper internet connection.
Read more – how to Restart iPhone?
Clue #2. Erase Apple Watch and Settings on Apple Watch
Erase Apple Watch Content and Settings after that Restore old data from the latest backup on your Apple watch with updated WatchOS.
Clue #3. Is your iPhone running latest iOS? If not then update it
To update your iPhone iOS follow steps.
Go to Settings – General – then tap on Software Update. (Latest Update iOS 13)
Clue #4. Internet connection required
Make sure that strong Wi-Fi signal on your iPhone top menu bar next to the carrier name and its connection with Wi-Fi.
Clue #3. Apple Watch needs to be connected to the charger because it must have at least 50 percent of its battery charged until the software update completed.
Clue #5: Cannot Download WatchOS 6
Check apple Server status or Check WiFi connection on iPhone working correctly (WiFi Not Working on iPhone). Also, check after Restart iPhone
Clue #6. Apple Watch software downloaded but won't install or Stuck on installing.
Installation Start, Screen require the passcode for iPhone or Apple Watch.
You should Reboot Apple Watch then check out for Install process again. if doesn't work then go next.
And yeah don't forget to share on which above mentioned trick is useful to solve your problem Unable to install WatchOS 6 on Apple Watch.
Jaysukh Patel is the founder of howtoisolve. Also self Professional Developer, Techno lover mainly for iPhone, iPad, iPod Touch and iOS, Jaysukh is one of responsible person in his family.
Contact On: [email protected] [OR] [email protected]