Location service on iOS device is a primary security of your data and iDevice running on iOS 9, iOS 8 or any other. Apple gave option for manage location service in iPhone and iPad. So you can disable or enable location service from the iOS device's setting app. Beware before you disable location service you have to know about, which app need current location essentially.
Also useful: Share location on Message app. or Share current location on skype
we are happy to help you, submit this Form, if your solution is not covered in this article.
Steps for Disable/ Enable location service in iPhone & iPad: iOS 9
For each app you can enable location service in three different options.
Always use location service (or) App in use location service
Never
Step 1: Go to the Setting app on your iPhone, iPad.
Step 2: Next, Tap on Privacy.
Step 3: Go with Location Services.
Enable/ Disable location services for all apps at once. here I recommended enable location service toggle and apply modification for each app individually listed in below on your screen. 
Must be Enable Location services: Banking apps, Map App, GPS app, Online Store, Cabs apps, Geo apps, Booking apps.
Should not require location services: Social Apps (WhatsApp, Facebook, Twitter), Media,
location tracking through location service by app improve apps or device performance when in use. But you don't want then you can manage it through above steps.
And want more settings on location service then Go to System Services. Like iAds, HomeKit, Wi-Fi networking.
For History of tracked location See under Frequent locations option will be there at last.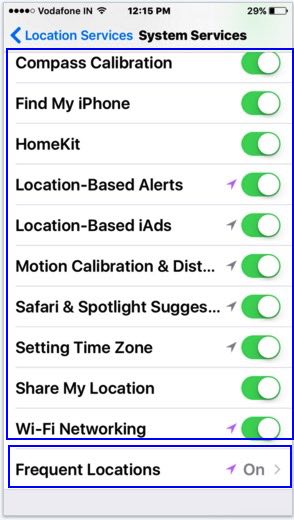 Note: By disable location service, you can save battery life by controlling GPS services on iPhone, iPad. But for the required app you can enabled for app in use option.
Want more tricks and help on your own personal settings on location service in iPhone & iPad share with us on below discussion, we will reach to you with possible solutions.
Jaysukh Patel is the founder of howtoisolve. Also self Professional Developer, Techno lover mainly for iPhone, iPad, iPod Touch and iOS, Jaysukh is one of responsible person in his family.
Contact On: [email protected] [OR] [email protected]