Last Updated on Dec 13, 2022
Don't spend a penny on the Physical Calculator since you can do your task with the Mac using an advanced calculator. Here is the list of best calculators for Mac.
However, the Mac Calculator allows you to do the Scientific and programming calculations after choosing View calculations from the calculator menu bar. But they aren't as advanced as other applications. And in the worst scenario, you get bored using Apple Calculator with the same layout and design.
Besides this, the Apple Calculator App Alternative offers various capabilities, just as a Quick way to open a Calculator on Mac without exiting the current running window, currency exchange calculation, etc. Ever since there are many free and paid Calculators have been available on the App Store. It's undoubtedly tough to select the suitable one. So look at the list of best calculators for Mac mentioned in this article.
Must-Have Best Calculator Apps in macOS (As Alternatives)
A calculator is always required. Due to this, many calculators have been available throughout the years with excellent features. People mostly use it to calculate restaurant bills, and they are used to solve Maths problems. Mean it or Mac calculator are do all your work with an instance. Here is a list of the best calculators for Mac.
1. Pcalc
Are you searching for a scientific calculator that is simple, reliable, and equipped with various features? This paid PCalc calculator for macOS is just what you are searching for.
Whether simple or complicated calculations, this calculator consumes all your needs. It includes an Optional Multi-line Display and RPN Mode, a Choice Button Layout, and an exclusive set of Unit Constant and Conversation. Multiple Redo and Undo, Scientific and Engineering Notation. At last best calculator app for Mac is compatible with Octal, Hexadecimal, and Binary Calculation.
The Paper Tape feature allows you to add Notes and Dates; at the same point, it lets you export the options like TXT. and CSV.
You can access the application directly from the menu bar without exiting the currently running application, and next, you can switch between horizontal and vertical layouts. 
Make it truly yours; select the satisfying Theme. And it's a Vividly Compatible Mac with Touchbar, macOS Monterey & later, and lastly, supports Mac with both Apple Silicone and Intel Chip.
2. Soulver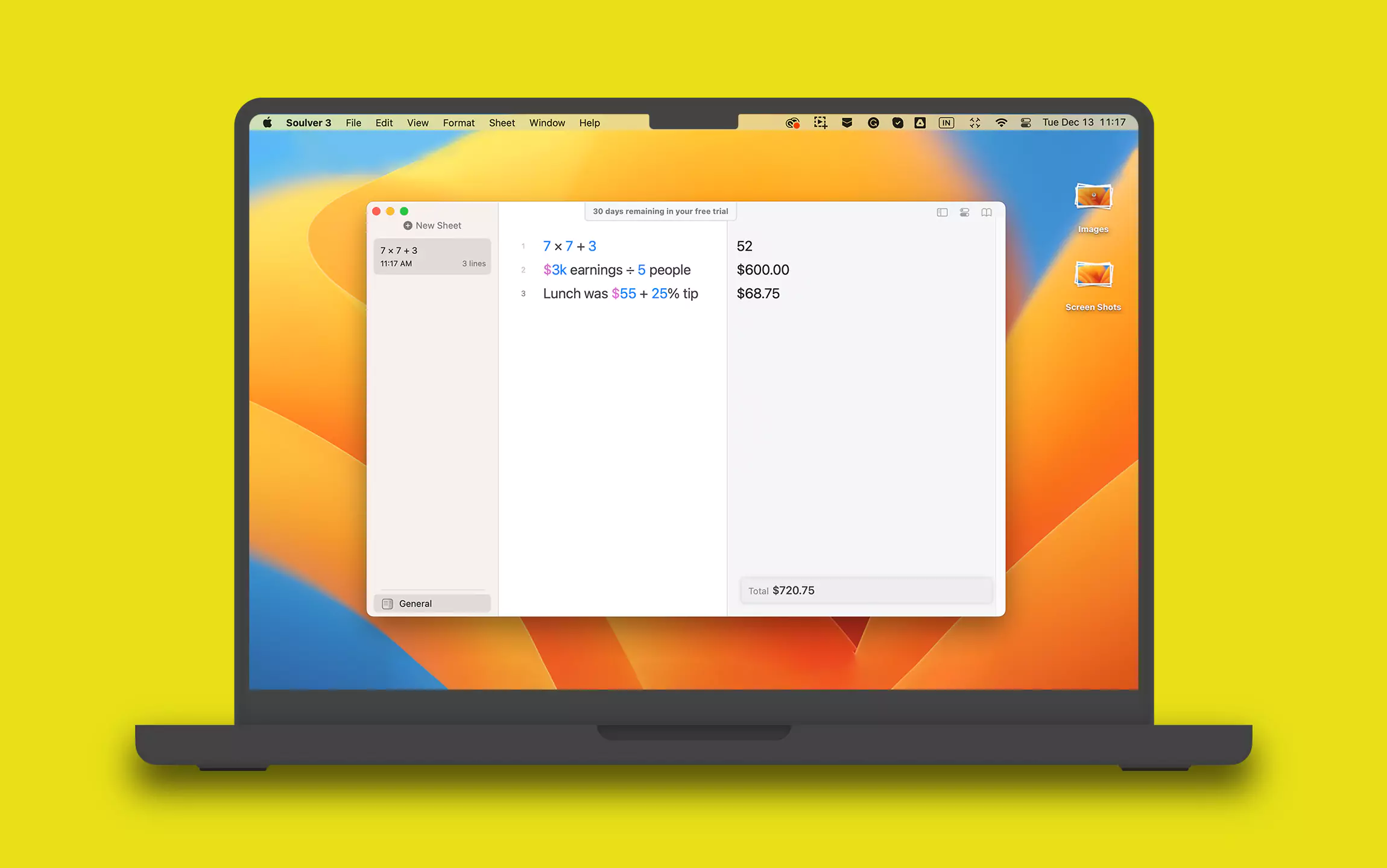 When it comes to alternative Calculator Apps for macOS, the Soulver is the best replacement.
The application, revised for three versions, lets you type in both arithmetic and readable calculation, dates, function, and unit conversation, firmly enter the calculation in the text, and receive the answer on the right-side panel.
And what's great is that all your work gets saved so you can refer to or reference it later.
The notepad calculator app, aka Soulver, was helpful in various scenarios; Compound Interest, Mortgage Repayment, Time Zone Difference, etc.
No more need to download various applications for different units as it is compatible with Time, Length, Volume, CSS Function, Math Operation, and more.
The App includes various formatting functions along with automation tools. As a bonus, you will receive a URL Scheme for adding Automator Action to evaluate text, copying and highlighting the text, and adding content.
3. Calca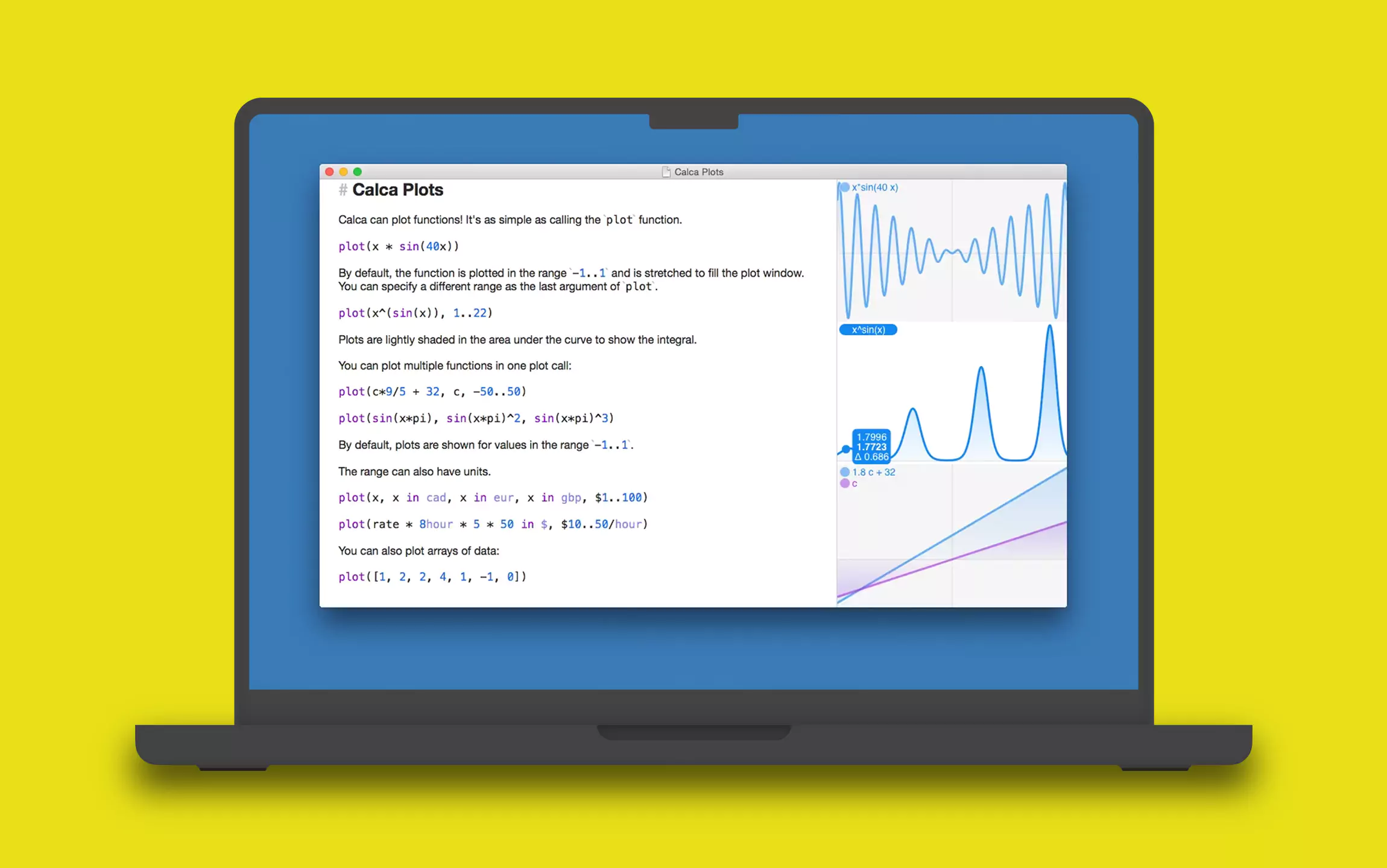 The Calca is the best calculator for Mac, but unfortunately, it's not free. You need to pay a few bucks. Nevertheless, this application is quite powerful as I found to get instant answers right after entering the query, even if it's a Complex Expression, and That's Without Error!
The rich Markdown Text Editor understands the Maths of creating functions and variables with a few keystrokes.
Apart from the usual cumulative equation, you can use the different units; Currency Conversion, Trigonometric and Physics Equations, and more.
Make and store the real-time changes – just like a spreadsheet. Then, you can check the equations, declare variables, and edit the value without a network connection.
Perfect Calculator on Mac for professionals and Students – anyone who spends their day with numbers and equations.
Knowing about it, are you still using the built-in Mac Calculator? Are you still using the calculator with low capabilities? Don't wait! Use it.
4. Numi
Unlike the Soulver, the Numi is a notepad calculator app. Aims to solve Text-Based Expression and Mathematical Expression. Even though it looks the same as the mentioned apps on the list, there are an array of unique features.
It works faster as pen and paper to get the instant answer and copy-paste them to the App you want. And what's great is a built-in JavaScript Plugin to solve complicated expressions. 
The application is lightweight to fit in Mac MenuBar. As of now and forever, the Numi is a text-based calculator; it lets you edit the text and number while there is no export option, and it will store the last edited file.
Precision Number Option in settings to get the accurate value for decimal numerical calculation. Set Hotkey for Numi calculator shortcut. Other important settings are,
Launch Numi at Login
Enable Alfred integration
However, it's pretty complicated when solving multi-step problems. But once you get more familiar with it, the best free calculator for Mac will never let you down. 
5. NCalc Scientific Calculator
In the list of best scientific calculators for Mac, the NCalc ranks at the top. Students develop this application, and it's free to download from the App Store. 
The Keyboard Layout is the same as the Original Calculator. However, at the same point, the display looks the same as a textbook as it allows you to enter equations using Fractions, exponent, roots, and more; Just Like You Are Writing On Paper! 
Unlike the other calculator, it inhales both Numeric and Symbolic. So not worry when there is a Fraction Calculation. Mainly solve the general equation, quadratic, cubic, and quartic equations. Besides this also derives Integration, Derivatives, etc.
Going deep down, the application has six output types; Mixed Fraction, Decimal, Repeat Decimal, Degrees, and Minutes.
For more convenience and understanding, you can draw graphs, solve probability and statistical problems, and generate tables based on Algebraic equations.
The applications were found to be helpful for the science student. But the only drawback is that some features are available only in the premium version.
6. Calculator Pro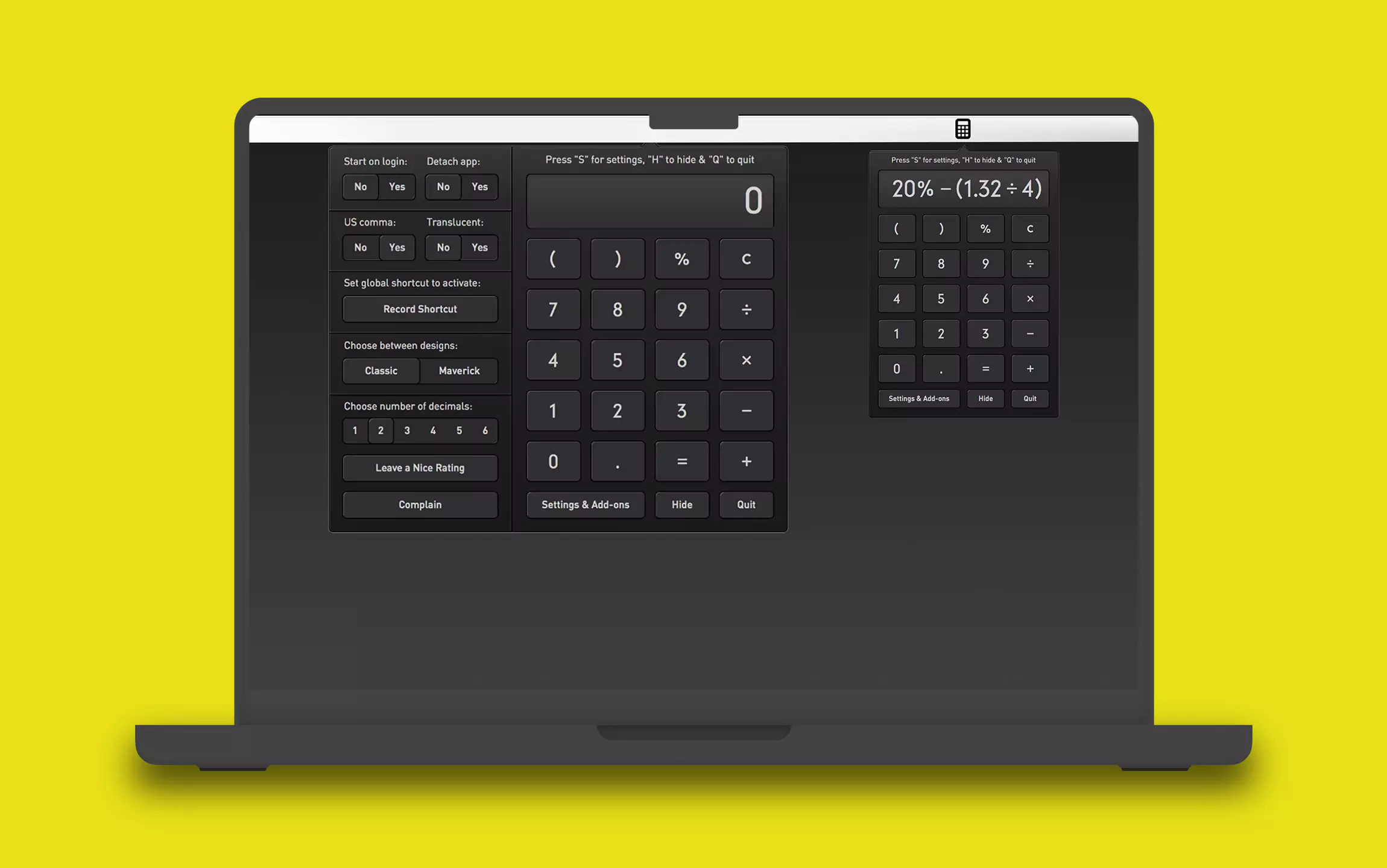 The calculator pro is the smartest and the most advanced calculator for Mac, with an accurate and comprehensive look. This is one of the functional and "State Of Art" Mac calculator applications.
The application is at the top as its retina ready can be stuck on the top bar or can be moved around the screen. Moreover, the transparent feature makes the calculator unnoticeable, even when it's active on the Mac screen. Besides this, you also receive various aspects of Start With Startup Screen, Multiple Design Choices, etc.  
However, this isn't an advanced calculator on a Mac, but when you are searching for the best budget calculator for Mac, the calculator is the best option.
Bottom Line
Identifying the Apple Calculator App Alternative isn't a big task. From now on, we have compiled a list of the best calculators; no matter whether it's a scientific calculation or a normal one, the list above reaches all your needs. 
Also helpful: Best Calculator Apps for Apple Watch.
Q1. Does Mac Have A Built In Calculator?
Yes, the Mac has a built-in calculator. To use it, press Command + Space, and from the spotlight, search for a calculator. From the result, click on it. 
Q2. Does Apple Have A Free Calculator App?
Apple Mac and iPhone have built-in free calculator App. You can do standard subtraction, addition, division, and multiplication. Moreover, the application also supports various decimals.
Q3. Does The Apple Calculator Have Square Root?
With an Apple computer, you will receive three formats Basic, Scientific, and Programmer. To do square root, open the calculator, choose View from the menu bar, and then select Scientific. There you will receive a Square Root Option. 
Q4. Does Chrome Have A Built In Calculator?
No, Chrome doesn't have a built-in calculator. Instead, you can use Apple Calculator on Mac for free.
Q5. How Do I Install Apple Calculator?
Keep a note, the iPad Doesn't Have Apple Calculator, which means you won't allow to install it. And for other Apple Products, iPhone and Mac, the Apple Calculator is by default install. 
Q6. How Do I Add A Calculator To My Desktop?
To add an app to the Mac Desktop, open the Applications. Next, keep pressing on the calculator from the applications window and then drag it to the dock. Once you have done so, right-click on the application, choose Options, and next, Keep In Dock. 
Q7. How Do You Calculate On A Mac?
Open the calculator, and next, choose View from the Menu bar. Now select one from Basic, Scientific, and Programmer in the view drop-down. And then begin the calculation.
Q8. What Is The Best Calculator For Everything?
If you want the best calculator from the list above, select Pcalc, as it's found to be advanced and more flexible compared to other.
Q10. Does Tax Calc Work On Mac?
Yes, Tax Calc firmly works with Apple Mac M1 Chip. However, it is compatible with limited macOS.
13.00 Ventura (v13.1.006 onwards)
12.00 Monterey
11.00 Big Sur
10.15 Catalina
Q11. How Do Get The Apple Calculator App?
There is no way to get an Apple Calculator on an iPad. However, for iPhone and Mac, it is available under the applications folder. 
Q12. Where Is The Calculator On Mac Big Sur?
In Finder under the Application Folder. To use the Calculator on Big Sur, click on the Application Icon from the dock and next search and select Calculator App.