If your iPhone 11 won't turn on after charging overnight, or after iOS update, or it suddenly goes away on a black screen and won't Charge. Find the perfect solution for your case. Follow five Free solutions and watch a video guide that Apple is recommended and works on our iPhone techie guys in our team. In the first case, people face issues after not being used for a couple of weeks and Not Charging the Secondary iPhone. Number two case people are Unable to charge iPhone 11 and Turning off that showing black screen only also Doesn't respond side button and it's completely dead. Third Case people affecting My iPhone 11 not turning on, So iPhone 11 restarting boot loop again and again on App launch or Unlock the iPhone.
If any of the solutions are not helpful for you, you should send your iPhone to the service center. That apple company will officially diagnose the black screen problem that happens with your iPhone.
Follow the trick to fix iPhone 11 Won't Turn On or Charger
Solution 1: Power Charge your iPhone in Right Way
Your iPhone 11 has not had enough power in your iPhone battery, so that can start itself after long days of dead conditions. Now the first requirement is that supply the power to your iPhone using Apple's original Lightning cable that fills the power in a short time [25 to 30 Minutes] after plugged into the socket, without damaging the iPhone in a short time, and your iPhone will wakeup itself. The image below shows that your iPhone is in connection with power and charging the battery. Sometimes the faulty or Broken Lightning cable is doing disconnect the process like Update, Restore, Charging.
Then follow the next solution. That process is Soft Turn on or Hard Reboot.
Solution 2: Force Restart iPhone
Is your iPhone 11 line-up charge but showing a black screen? Don't worry; We suggest force restarting iPhone 11 because it might be possible that it is stuck on the black screen; if it is the case, force rebooting the device would work and turn on the iPhone. This will close all the background services, relieving the load from the processor; hence there are good chances of fixing the problem.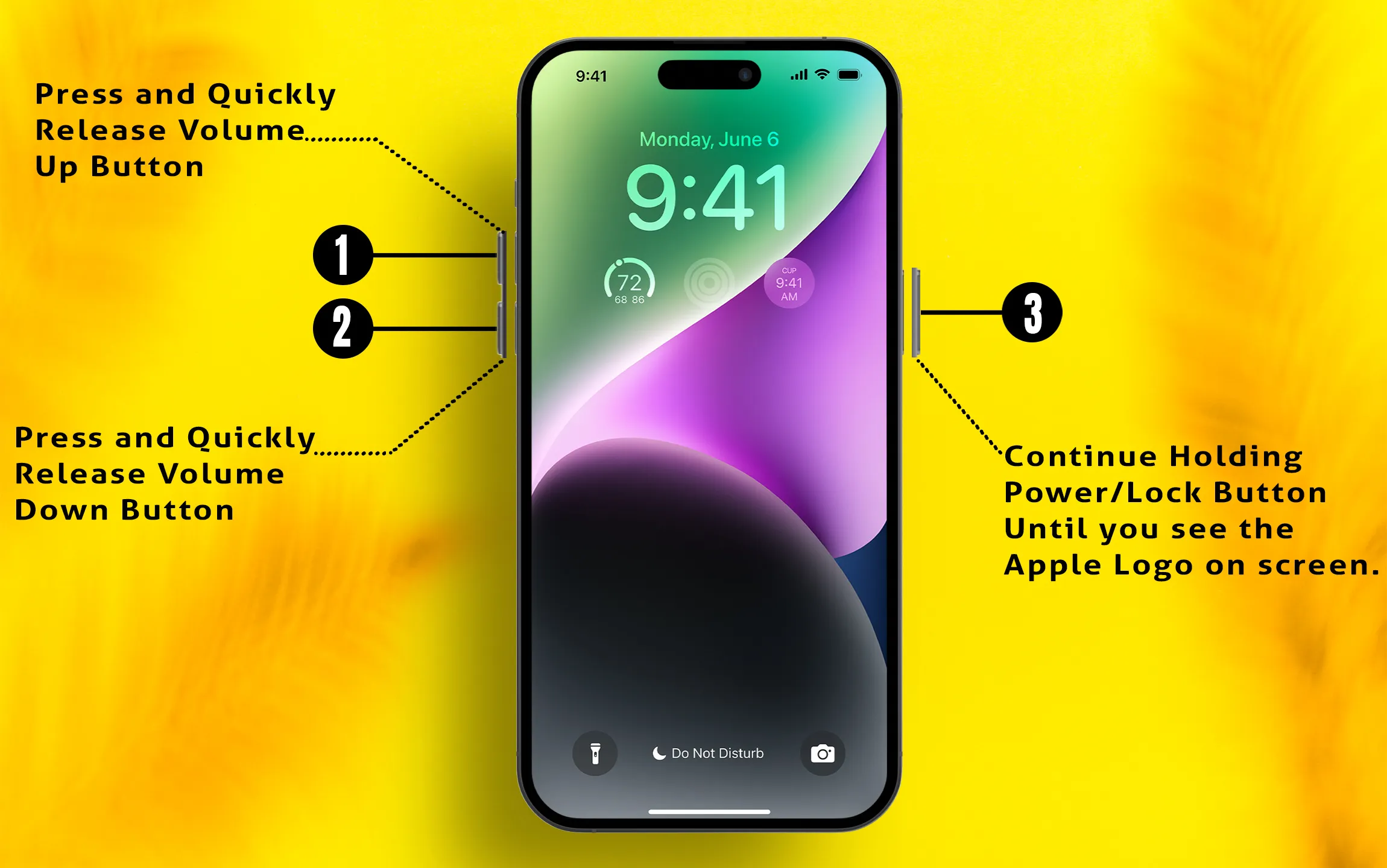 Press and quickly release the Volume Up button.
Press and quickly release the Volume Down button.
Press and Hold the SIDE button until an Apple logo appears on screen and then release the Side button (it can take up to 20 seconds.
(Please DO NOT release Side Button when invited to Slide Power OFF).
Solution 3: Keep your iPhone connected with Charging
Cable and Try Hard Reboot

The force restart method not working to fix iPhone 11 won't turn on, you should go with Hard Reboot is a simple technique that we can try on any Smartphone. So Hard Reboot fixes the software issues and Cleans up all Process cache, That Gives a fresh startup. After that, we can take different actions like the App and iOS update, Restore or delete the app that causes the issues of Not turning on the iPhone.

To Hard Reboot your iPhone, use Three Keys combinations, the Volume Up button, the Volume Down button, and the Side/Power Button.
First Quickly Press and Release the Volume Up button.
After that, Quickly Press and Release the volume down button.
Finally, press and Hold on Side/Power button only until your iPhone show the startup apple logo on the iPhone 11 screen.
After reboot, Unlock the screen using a passcode to authorize access [Face ID or Touch ID will not work after your iPhone restart or Reboot]
Solution 4: Try Alternate Charging Method
The iPhone 11 also supports a wireless charger; if you own a wireless charger, try charging the device on the wireless charger. Doing this will clear confusion either the charging port or lightning cable is damaged.
It's better to borrow a wireless charger from a neighbor or friend just for checking purposes if you don't have any.
Solution 5: Restore iPhone in Recovery mode
Install iOS in Recovery mode will erase the device install a new iOS setup file that's bug-free and repair the existing folder system that disturbs the file system affected with the Third-Party apps. So you are facing the issues like Battery Drain too fast, Crashing App, and your iPhone Rebooting itself. After a few days, this process internally damages your device as well.
For the Developer and public beta iOS users, Apple is not recommending installing the Public or Developer iOS version on your primary device because you might have lost the device after internal hardware damage is a few days.
Here's the process to install iOS 15 in Recovery mode
The restoring process is different for different MacOS versions and PC right now. Because Apple Remove iTunes support on macOS Catalina or later macOS. Earlier macOS and Windows PC users can use iTunes to Restore iPhone/iPad.
Use Finder or iTunes depending on your OS and System.
>Open Finder on macOS Catalina or Later MacOS On Mac
>Open the Latest Version of iTunes on Mac or Windows.
Connect your iPhone 11 to Mac or PC using Original Apple Lightning cable.
After that Unlock your iPhone to Show iPhone on Finder Sidebar or iTunes.
Click on Device that showing in Finder Sidebar or iTunes device.
Now on Device Summary page, Options and Design are the same for Finder or iTunes users.
Put iPhone 11 in recovery mode to restore; use iPhone's side buttons combinations, Use Volume Up, Volume Down button, and side button.
First Quickly Press and Release Volume Up Button.
Then, Quickly press and Release Volume down button.
After that Only Press and hold Side/Power button until iPhone show the Apple Lightning cable with Desktop/iTunes logo on the screen. At the same time, your Mac Finder/iTunes says in a popup that your iPhone is in recovery mode.
Popup has two options first is an update and the second is restore. The second Restore button erases the device [You will lose all data and Restore Backup after using Backup if you have taken it earlier]. So go with the next Restore type; if your iPhone won't detect on iTunes/Finder from the Recovery mode, then DFU Restore iPhone.
Update option in recovery mode update iOS device only, That will not erase the data. Use this option if you know that your iPhone 11 is affected with the Outdate iOS version and Apple Release new update for bug fix, but your iPhone can't install.
Backup and Restore iPhone Using Finder/ Follow the same for iTunes [Reinstall iOS]
Solution 6: How Apple Can Help! & We Are After iPhone 11 Won't turn on
Apple Says customer satisfaction is incredible Because apple Gives free replacement and repair service at the apple store. Before that, you can also ask for an online Chat or mail.
A free Phone call at the service center is also phenomenal. To raise your ticket online Apple Customer agent will ask for a Serial number of your device, Current OS Version, and Total Duration that affected the problem. Along with the apple help, You can also submit the concern with us here; fill up the few details about your device and your location that we analyze from our end; we are back soon with proper suggestions and solutions.