🗓️
November 29, 2023
By ✍️
Jaysukh patel
Stop your iPhone keeps restarting over and over using the below troubleshooting steps for all-time fix iPhone Apps Keep Crashing After iOS 17 Update and App auto close suddenly. Selected apps are over time for too many reasons that I covered in this tutorial, and I hope it help and understand the ideas of what to do with the iPhone app keeps closing itself constantly.
iOS app closes or freezing on specific actions like submitting personal info, signing in, or signing up. Tons of users are experienced on Apple's official applications like Mail, Messages, App Store, Safari, Phone app, Apple Music App, Camera App, brand new File App, News App, Photos, Maps, Calendar as well several popular none-apple like Whatsapp, Facebook, Messenger, Snapchat, Pandora, Google Maps and much more fitness Apps crashing problem.
iPhone Apps Keep Crashing Problems and Troubleshooting Tips: iPhone, iPad
Before getting started this tutorial, Please check your iPhone 14 series, iPhone 13 (Pro Max) Mini, 12 (Pro Max) Mini, 11, 11 Pro, 11 Pro Max, XS Max, iPhone XR, iPhone XS, iPhone X, iPhone 8/ 8 Plus, iPhone 7/ 7 Plus, iPhone 6S/ 6S Plus/ iPhone 6/ 6 Plus/ SE/5S and iPad Pro, Air and Mini devices running on latest iOS version.
Make Sure the Internet is working, Switch Between Mobile data or WiFi to identify the problem. or Use the Safari Browser.
Go to Settings > General > Software Update. (People face app crashing problems on the most recent iOS 17 or iPadOS update to iOS 17 or later – released with important bug fix and unresponsive screen).
---
1st: Check for possible updates in iOS and Apps
Incompatible app version with installed iOS. Especially for Apple (iOS and Mac), users constantly check new updates on apps and iOS because Apple serves the best user experience on compatible iDevices. Right now, for new iOS 17 or earlier.
First, Check App Version and compare it with the last updated app in the app store or Directly update from the app store. Before updating apps, please check it's compatible with your Version (i Mean, Developer Beta or Public Beta)
Let's see how to update an app.
in iOS 15 or later Update App manually:
Helpful: Unable to Update iOS or iPhone App Waiting
---
2nd: Force Quit app & Relaunch
Sometimes short and easy solutions work better than hard ones. This is an outstanding and trusted solution for apps close for lunch or use from the background.
Force Close Apps on iPhone X or Later: Using Gesture Easily and Quickly, Swipe up your Finger from the bottom edge to the center of the iPhone screen, Until you see all the Backgroud app running on your iPhone into the App Switcher screen. Just swipe up a finger on the app to close it. That's it all the app process die and restart but launch it from the home screen.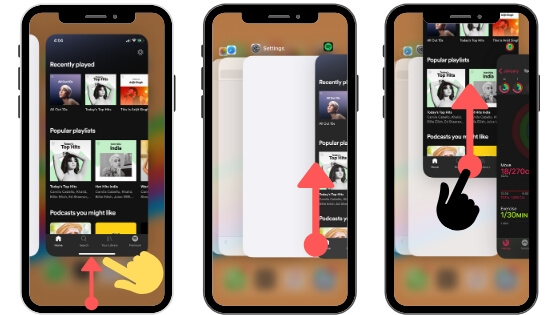 Home Button iPhone: Double-tap on the home button to show the app switcher screen on iPhone, Now Swipe up on App preview to close it from recently opened apps, and running on the background.
Other 3 Methods to Force Quit app on iOS
---
3rd: Reboot or Restart iPhone, iPad
[Hard Reboot or Hard Reset] This technique primarily works on the app is not behaving aspected on the latest iOS. This will not erase data from iPhone.
For iPhone XS Max/XS/XR iPhone X/ iPhone 8 Plus/8 Plus users or latest model:
1: Press and Quickly Release Volume Up button,
2: Press and Quickly Release Volume Down Button,
3: Now only Press and Hold the Side Button until you see the Apple logo on Screen after the black screen.
To Start the iPhone, Again press the Side button until the startup apple logo is on the screen.
For iPhone 7/ 7 Plus users: Press Sleep/ Wake till you see slider: "slide to power off". Force Restart: Press Sleep/ Wake + Volume down button until you see the Apple logo on the screen.
For iPhone 6s and earlier users: Simple restart is the same, but Force Restart (Power button + home button until you see the Apple logo on the screen)
More: Hard Reset iPhone 8/ iPhone X.
Tricks: Access app Data on iPhone Browser: Mobile Version
You are in the middle of the way, Anyhow you need or access your account on your iPhone. So, we have a great trick that you have to remember, use Mobile Browser to open the App account. Nowadays, most app companies allow accessing our account on the mobile browser version. Here I am using a Facebook account on my iPhone Safari browser. My Banking account is often accessed on my mobile browser when none of the solutions work for me, and I should wait for the next update.
We can also access the desktop version of the Website on the Safari browser, Tap on AA next to the Address bar, and Request Desktop Website, That's it. Know more important tricks for request desktop websites on the iPhone.
---
4th: Release or Refresh RAM memory
Free Up Memory and Clear all data in iPhone RAM.
Step 1: Press and hold the power button until you see Slide to Turn off the screen. (For iPhone X: Only press and hold side button)
Step 2: Now, Release the power button but press and hold the home button for 5 to 6 seconds.
To test it, try to open the app running on your iPhone from the multitasking screen. App will reload like you are opening it first time on screen.
---
5th: Make Free up space
Storage space is also an essential role and depends on your gadgets' speed and performance. Make free space by removing unwanted apps, Media files, and other settings that optimize storage in the iOS device automatically.
Quickly Remove Data: Go to Settings > General > iPhone Storage [Reviews storage status and Enable optimization]
I recommended reading my iPhone storage optimization tutorial or removing or moving big media files on Mac or Windows PC.
Due to less storage in iCloud, you might get trouble syncing Messages showing errors and not completing iOS devices (iPhone, iPad). Find a way to remove the large attachment in iOS quickly.
Use Offload App, Auto manage the unwanted app, and Help to save space for the next backup in iCloud.
Also looking for: Free Up iCloud Storage on iPhone. For more Solutions, Keep Continuing below…
---
6th: Backup and Restore iPhone, iPad using a Clean install
Restore and Clean install people are ignoring because it takes more time in the process. Also, Backup must require the whole process.
1. Backup on iTunes or iCloud
For iCloud: Go to App Settings > Tap on Profile name > iCloud > iCloud Backup > Backup Now
For iTunes: Connect iPhone to iTunes via lightning cable > Find iPhone and Tap Summary > Click on the Back now button.
Read full tutorial: Backup iPhone
2. Restore iPhone Using iTunes or iCloud
Restore on iTunes: On the iPhone summary page in iTunes, Find Restore iPhone/ iPad button.
Restore on iCloud: On the startup screen, iPhone will ask to restore all online data from iCloud on iPhone or iPad.
The benefits of this process, clear out all the iOS software problems and install a fresh new iOS version.
At last, restore the previous backup make your iDevice left before a reset.
---
7th: Report to the developer or Apple support
Most of the developers give contact info within the app or on the app store. For a better user experience and to extend app functionality or features, you can share with them. Find that send your problems to it. Here you can get how to contact the App developer?
Sometimes, too old or Dropped apps from the app store app and Third-Party Keyboard apps may crash the app.
---
8th: Downgrade iOS is the option for you! Go for it.
Yes, we can downgrade after an update if you feel the app freezing, Stopping, and Crashing iOS [Spinner and Black screen iPhone, iPad]. Refer to my latest tutorial for your case,
"Not a more help with this article! Write your real time problems in the comment below"
Above all are professional solutions for Apps Crashing In iOS 17 or App Freezing on Screen, Process on App in the loop on iPhone/ iPad.
Have you an alternate solution? Don't miss posting it in the comment box.